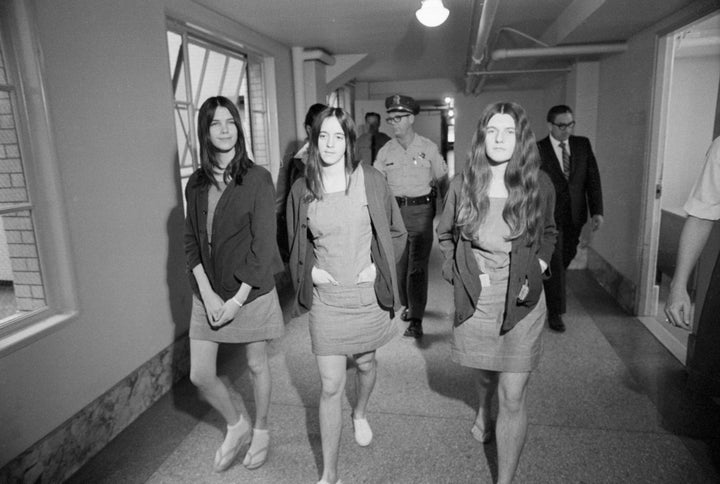 Former Charles Manson cult member Patricia Krenwinkel appeared before a parole board Thursday for the 14th time — 47 years after she helped stab to death pregnant actress Sharon Tate and kill six other people in Los Angeles.
Krenwinkel, 69, claimed at her previous parole hearing in 2011 that she is a changed woman since the gruesome series of murders in 1969.
"Ms. Krenwinkel is fully aware of the difficulty she faces," her attorney, Keith Wattley, told The Associated Press in an email. "But California law officially recognizes a person's capacity to change and to address the factors that contributed to their previous behavior so that they can safely be paroled."
Sharon Tate's sister, Debra Tate, said before the hearing held at the California Institution for Women east of Los Angeles that killers such as Krenwinkel cannot be rehabilitated.
"Society cannot allow this serial killer who committed such horrible, gruesome, random killings back out, and I am asking for your help to let the parole board know you do not want to see her get early release," Tate wrote in a Change.org petition against parole for Krenwinkel that has garnered 100,000 signatures.
Krenwinkel, who has been in a California prison longer than any other female in state history, admitted at her trial that she repeatedly stabbed coffee company heiress Abigail Ann Folger, 26, at Tate's home and helped kill grocer Leno LaBianca and his wife, Rosemary, the next night. Authorities said she wrote in blood "healter skelter" (sic) on the couple's refrigerator and "Death to pigs" on the wall, and helped carve the word "war" into Leno LaBianca's abdomen.
Krenwinkel met cult leader Charles Manson at a party when she was 19 years old and said she became a "monster" after she moved in with him and other female followers.
"I committed myself fully to him. I committed myself to the act of murder," she said at one of her earlier parole hearings. "I was willing to sacrifice others' lives for my own."
Manson has said he planned the shocking murders to ignite a race war during which he and his followers would emerge to rule the world.
Krenwinkel has been a model prisoner, according to prison records. She has a clean disciplinary record and earned a bachelor's degree behind bars. She has trained service dogs for disable people and helped teach fellow inmates to read.
Debra Tate called Krenwinkel a "very prolific killer" at a previous parole hearing, adding: "They may behave well in a controlled environment, but we cannot trust that, given the pressures of life, that they will be able to remain straight" beyond prison walls.
Krenwinkel was initially condemned to death in 1971, but her sentence was commuted to life after the California Supreme Court ruled in 1972 that the death penalty was unconstitutional.
Even if the parole board recommends that Krenwinkel be released, the final decision will be up to Gov. Jerry Brown. Earlier this year, he rejected recommendations to free Manson followers Leslie Van Houten, 67, and Bruce Davis, 74. Brown cited Van Houten's "inability to explain her willing participation in such horrific violence."
Bill Sessa, spokesman for the California Department of Corrections and Rehabilitation, told the San Jose Mercury News that the nature of a prisoner's crimes should not be the basis of denying parole. Remorse is the key, he said.
"Commissioners are not looking for guilt or innocence because the court has determined that," Sessa said. "They are looking for insight from the inmate and a sense of true taking responsibility, contrition, accountability."
But at Krenwinkel's last hearing, parole board Commissioner Susan Melanson said the barbarity of the crimes and Krenwinkel's failure to fully grasp the impact of the Manson killings demanded more time behind bars, the Los Angeles Times noted.
"This crime remains relevant," Melanson said then. "The public is in fear. And that just is a fact of the crime and the consequences of the crime."
Neither Manson nor any other of the seven followers convicted of murder has been paroled. Susan Atkins died in jail in 2009 after being denied "compassionate release" due to her terminal illness.
Van Houten's lawyer, Richard Pfeiffer, told the Mercury News that, while "there's a chance" Krenwinkel would be granted parole, he doesn't believe Brown would allow her to be released.
"If the governor is going to reverse Leslie's [Van Houton], who is far less culpable and her conduct in prison has been so much more exemplary, how could he possibly let Patricia be paroled?" he asked.
Popular in the Community