One Muslim man is hoping to counter misconceptions around his faith with a bold approach: Challenging strangers across America to ask him anything.
Mansoor Shams, a former U.S. Marine who currently resides in Maryland, is traveling the country and standing on street corners in U.S. cities and towns with a sign reading: "I'm Muslim and a U.S. Marine, ask anything." His goal is to educate Americans about Islam, and counter a rise in anti-Muslim bigotry.
"The message is so important for people to see considering what's going on in our political environment," Shams told HuffPost. "There's a consistent lack of knowledge and understanding of people who follow my faith."
"There's no denial it's about Trump ― his candidacy relied on Islamophobic concepts," Shams said. "I guess what I want people to know, a guy who looks like me ― brown skin, black beard, the typical stereotype ― is not a terrorist. He could even be a U.S. Marine!"
So far Shams has traveled to a handful of states, including Texas, Colorado, Washington and New York. His goal is to get to all 50 U.S. states.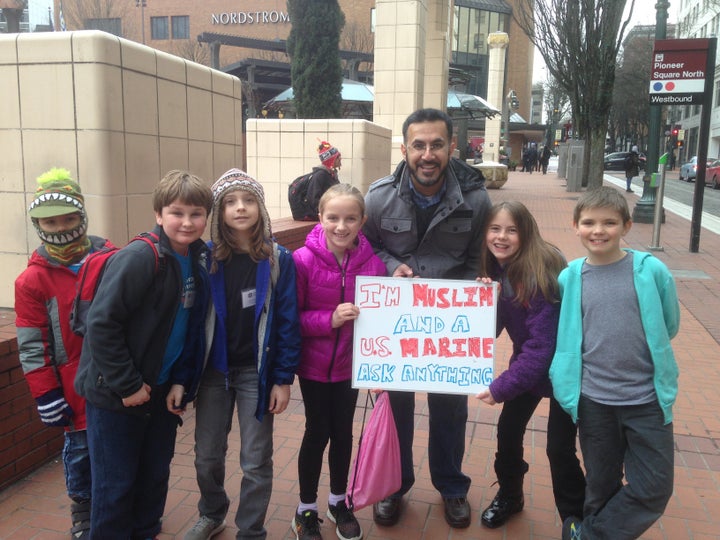 In Shams' journey so far, people have asked him everything from "How are you?" to "Are you American or Sharia law?"
"It's a lack of awareness, lack of knowledge," Shams said. "I respond, 'Sharia law, do you know what Sharia law means? It's a moral code, it tells me to be nice to you, to be a good person, that's what Sharia law is.'"
Shams' project is one of several efforts worldwide in recent years to counter anti-Muslim hate with peer-to-peer education: In Canada, members of the Ahmadiyya Muslim community launched a #MeetAMuslimFamily campaign in 2015, to remove misconceptions around Islam. And earlier this year, in the U.K, the Muslim Council of Britain organized a national "Visit My Mosque" day, inviting the wider community to visit a local mosque.
""Do you know what Sharia law means? It's a moral code, it tells me to be nice to you, to be a good person, that's what Sharia law is.""
One-on-one conversations to counter bigotry have appeared to be beneficial in some cases: One man in Nebraska told news outlets that he once "hated Muslims" ― though he had never met any. But after getting to know his new Muslim refugee neighbors, they supposedly "took the hatred out" of him.
Shams himself has experienced some successes in his own travels. In Houston, for instance, a man walking by his sign gave him a "really evil look," according to Shams. Eventually they got to talking.
"Listen, I want to apologize to you for my behavior," the man reportedly told Shams. "I didn't read the whole sign."
"So if you had just read the first part [that says 'I'm a Muslim' ― but not 'and a U.S. Marine'], you would have walked away like that?" Shams countered.
"I know I'm ignorant ― I feel like I'm being played like a pawn, and people are dividing us," the man conceded, according to Shams. "I want to learn, thank you for standing here and extending friendship to me."
"That to me is priceless," Shams said of the encounter.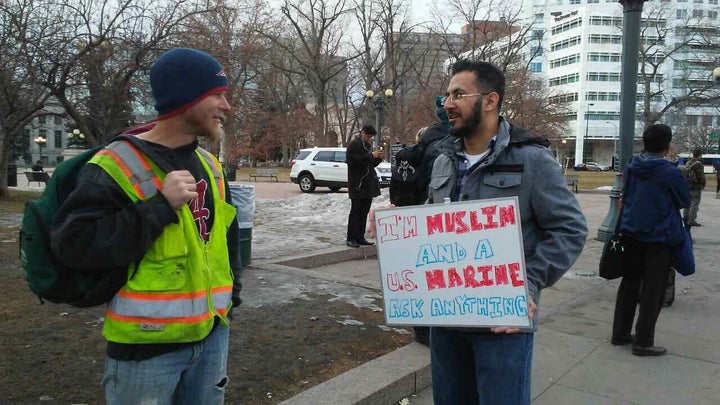 "The Muslim world doesn't have a responsibility to apologize. I don't expect you to apologize for anything white people do, like white supremacy," Shams said. "However, if I can help my country, as a citizen, as a Marine, then I think I do have that responsibility."
For Mansoor, his status as a U.S. citizen and a former Marine places him in a unique position of privilege when it comes to countering anti-Muslim hate ― one he says he can't turn away from.
"People are listening to me because I'm a Marine who served. I get that I earn a level of respect and trust where they can hear what I have to say," Mansoor said. "I would love if the world we lived in was one where it wouldn't matter whether I served."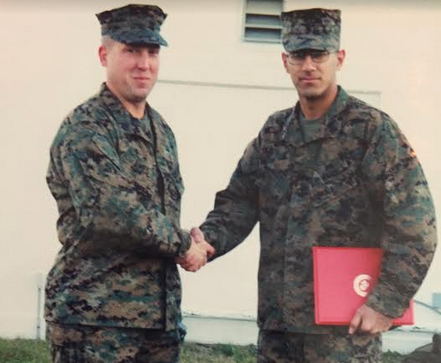 In the coming months, Shams plans to travel to several more states with his sign, including Kentucky, Tennessee, Alabama and Georgia.
With the ultimate goal of making it to all 50 states, Shams has started a GoFundMe page to raise funds to support future travels.
"No matter what I get from the funding, I'm going to do this," Mansoor said. "The need is greater than any dollar amount. I feel like I'm literally serving my country again ― a country that's clearly quite divided these days ― by uniting us through conversation and getting out of my comfort zone."
For HuffPost's #LoveTakesAction series, we're telling stories of how people are standing up to hate and supporting those most threatened. Know a story from your community? Send news tips to lovetips@huffingtonpost.com.
Related
Before You Go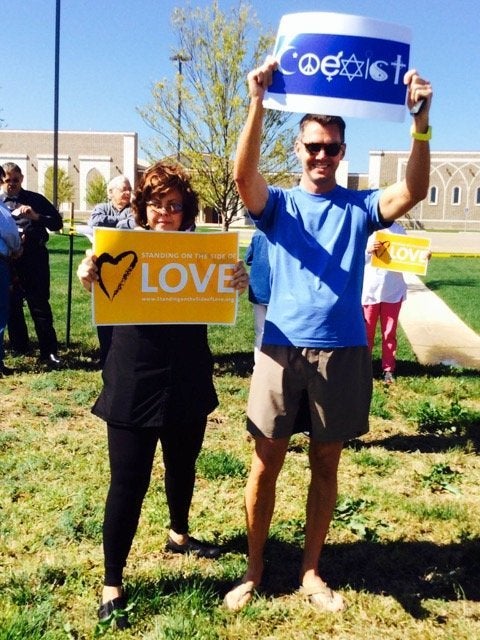 Interfaith Community Stands In Solidarity With American Muslims