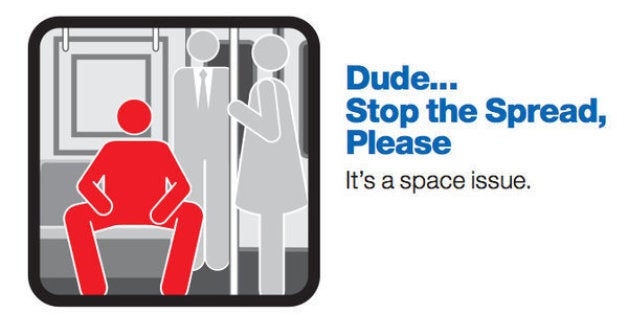 It's bad subway etiquette, sure, but is it an arrest-worthy offense?
"Manspreading" -- the act of a someone, usually a man, taking up two subway seats by spreading his legs -- has rankled many train passengers for years. It became enough of an annoyance that the Metropolitan Transit Authority in New York put anti-manspreading public service announcements on subway cars.
And now, the practice is enough get you cuffed by New York City Police Department officers hungry to make low-level arrests, according to a new report from the Police Reform Organizing Project. The New York-focused advocacy group's report, titled "That's How They Get You," is a series of 117 vignettes highlighting how primarily black and Latino people get swept up in the criminal justice system for committing minor infractions -- like manspreading:
On a recent visit to the arraignment part in Brooklyn's criminal court, PROP volunteers observed that police officers had arrested two Latino men on the charge of 'man spreading' on the subway, presumably because they were taking up more than one seat and therefore inconveniencing other riders. Before issuing a [ticket] for both men, the judge expressed her skepticism about the charge because of the time of the arrests: "12:11AM, I can't believe many were people on the subway."
It's against MTA rules to take up more than one subway seat only if doing so "interfere(s) or tend(s) to interfere with the operation of the Authority's transit system or the comfort of other passengers."
The two arrestees highlighted in the report had previously been issued court summonses for other small crimes, including public urination and being in a park after dark, according to PROP Director Bob Gangi. Neither man showed up in court or paid his fine, so an arrest warrant was issued for each of them. When the officers allegedly saw the men spreading out on the subway and ran their background checks, warrants for the previous petty offenses popped up -- and voila, the officers could make the arrests.
Although the judge in this case reportedly cast doubt on the validity of those arrests, he or she issued what's called an adjournment contemplating dismissal, or ACD, which is an agreement saying the charges will be dropped if the defendant stays out of trouble for a certain period of time.
"It's a classic pattern," Gangi told The Huffington Post. "Somebody gets a summons for a low-level thing, they don't show up in court, the warrant is out. ... A cop stops you a second time, even if for another low-level thing, and it's the policy of the department to arrest you."
There are 1.2 million New Yorkers with outstanding warrants, according to data recently released by the city, a result of over two decades of "broken windows" policing by the NYPD. The broken windows theory holds that aggressively targeting low-level crime -- such as drinking in public, riding a bike on the sidewalk or being in a park after dark -- helps deter more serious crime.
Championed by NYPD Commissioner William Bratton during his first stint as top cop, broken windows was credited with the precipitous drop in the city's crime rate. But that claim has come under fire in recent years. Academics have pointed to the fact that other cities, which didn't implement broken windows policing, have also experienced a steep decline in crime.
Anger has also steadily increased over broken windows' disproportionate effect on black and Latino New Yorkers, especially after the death of 43-year-old Eric Garner last summer. Garner, who was black and unarmed, died after being put into a police chokehold during an arrest for allegedly selling untaxed cigarettes -- a classic example of a broken windows offense.
PROP's report shows a similar trend. The group has observed 850 court cases since 2012 -- of these, 797 included defendants who are people of color.
"One of the things that's fucked up about broken windows... is that it happens virtually only to people of color," Gangi said.
Bratton has argued that this disproportionate enforcement is necessary because of the sad reality that there is more serious crime in poorer, minority neighborhoods. But according to Gangi and other critics, this has resulted in a city where the same low-level offenses that ensnare so many young men of color in the criminal justice system are virtually decriminalized in more affluent, white neighborhoods.
For example, according to a report from the Marijuana Arrest Research Project, there were an average of eight summonses per year for bike-riding on the sidewalk in the largely white neighborhood of Park Slope from 2008 to 2011. During that same period, a couple of miles away in the largely black neighborhood of Bedford-Stuyvesant, police issued an annual average of 2,050 such summonses.
Gangi said the "Kafka-esque quality" of the manspreading arrests is apparent in many of the other cases listed in PROP's report. Like this one:
The police approached an African-American man on the street, stopped, and spoke rudely to him. They then arrested him on a charge of public urination. The man had an outstanding warrant from years prior that he had not cleared up. The court issued an ACD when he explained that because of a kidney ailment he was physically unable to urinate.
On a monitoring visit to the arraignment part in Brooklyn's criminal court, we observed that the police had arrested a young man of color on the charge of being in the park after dusk. After the judge let him go on an ACD, we asked the man why the police had arrested rather than ticketed him. "Because there was a warrant out for me", he explained, for not showing up in court on a previous summons. We asked what the first summons was for. Also [for being in the] park after dark, he said, adding that the same officers had stopped him both times.
Two young women, acting students at NYU's Tisch School, told how officers ticket them for walking through Tompkins Square Park after dark. The women explained that it is safer for them than having to walk the extra blocks to circumvent the park. "Sorry", the officers responded, "we have to meet our quotas".
Although an arrest quota system for police officers is illegal under New York state law, anecdotal evidence, in PROP's report and elsewhere, has suggested it might still exist.
"The Department's prevailing law enforcement strategy, quota-driven 'Broken Windows' policing, helps create a toxic culture, insular and hostile that fosters harsh, aggressive actions by police officers without any sense that sanctions or blowback will result and in effect, offering incentives rather than consequences for bad behavior," Gangi said Thursday in a statement.
The NYPD did not respond to HuffPost's request on Thursday for a comment on the manspreading arrests and PROP's report.
But in an email to Newsweek, Kim Y. Royster, deputy chief commanding officer of the NYPD's Public Information Division, said: "We have not reviewed the report, however, Police Commissioner Bratton's 'Broken Windows Policing' philosophy is not 'zero tolerance' and it never was. It is to stop low-level disorder and petty crime before they can metastasize into more serious crimes. This does not mean arrests and summonses are the only answer."
In recent months, New York City has explored options for reforming broken windows enforcement. A plan from Mayor Bill de Blasio, set to be implemented this summer, will permit people convicted of summons offenses to pay fines online instead of showing up for -- or missing -- a court date.
There's also a proposal before the City Council to decriminalize some minor offenses altogether. Under this program, some petty crimes -- such as public drinking, public urination and jumping a subway turnstile -- would become civil violations, as opposed to criminal violations. That way, police would no longer be able to arrest people for many broken windows offenses, and missed court dates wouldn't result in warrants.

Calling all HuffPost superfans!
Sign up for membership to become a founding member and help shape HuffPost's next chapter