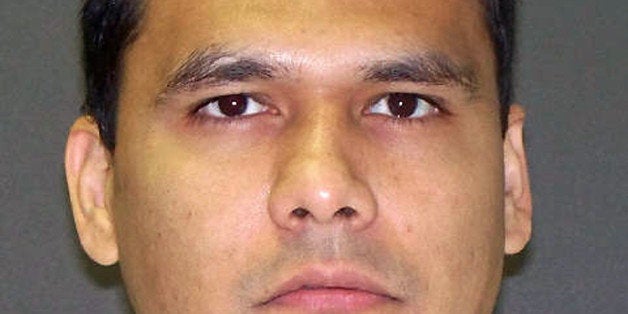 Garza, 34, was pronounced dead at the Texas State Penitentiary at Huntsville at 6:40 p.m., the Texas Department of Criminal Justice said. Asked to make a final statement, Garza said he was sorry for causing pain to his family, friends and "especially police officers," according to the Department of Criminal Justice.
"I know you probably hate me," he said. "What happened between me and Rocky happened too fast. I didn't know what happened. I wish y'all peace and love. I hope you have found God just like I have. God bless y'all. I will see you on the other side. I love you."
Garza was convicted in the February 2001 killing of San Antonio police officer John "Rocky" Riojas, 37, a member of an elite SWAT unit that had been targeting a rash of property crimes at an apartment complex, The Associated Press reports. When Riojas stepped out of his police car to ask Garza for his name, Garza, who had several outstanding arrest warrants, sprinted off.
Riojas caught Garza and a struggle ensued. Garza grabbed the officer's weapon and fired, fatally striking the officer in the head.
Garza later told the AP, "I truly think this was the cop's fault. I don't see why he wanted to pull out his gun."
Garza maintained in an interview taped two weeks ago with San Antonio's KSAT 12 News, that he still believes the shooting accidental, but had accepted his fate.
"We're all going to die, that's how I look at it," Garza said.
Garza told the station "there's no hate in my heart for anybody, even the people who put me here," and said "I made my peace with God many years ago."
The execution was the 524th in Texas since the U.S. Supreme Court reinstated the death penalty in 1976, the most of any state, according to Reuters.
The state executed cop-killer Kent Sprouse on Thursday. It was the first Texas execution using chemicals from a new batch of drugs secured after a shortage of lethal injection chemicals threatened to stall lethal injections.
Calling all HuffPost superfans!
Sign up for membership to become a founding member and help shape HuffPost's next chapter
BEFORE YOU GO
PHOTO GALLERY
The Long Wait For Death Row Inmates