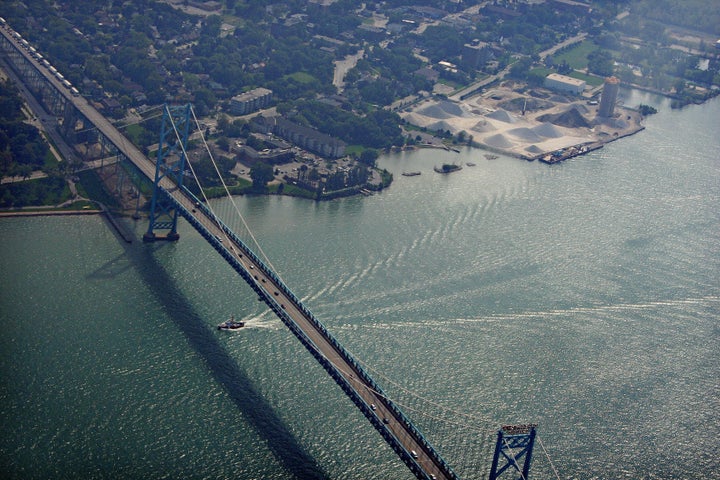 Moroun and Stamper appeared in court Thursday to face sentencing on contempt of court charges in an ongoing dispute between the Ambassador Bridge company and the Michigan Department of Transportation.
Edwards's ruling was expected to place Moroun and Stamper in jail pending completion of DIBC's portion of the Gateway project. Working to avoid extended jail time, lawyers for the two men filed a motion requesting their clients to be released pending appeal. Their initial request was denied on Thursday evening, but according to Crain's Detroit, a court panel put a stay on Judge Edwards's order.
"I'm fine. I love our country," he told reporters. "It's the best country in the world."
The dispute began with a 2004 agreement between MDOT and DIBC that directed the agency and the company to build separate parts of the Gateway project, but MDOT alleges the bridge company did not follow the agreed-upon plan. In February 2010, Judge Edwards ruled in the government agency's favor, ordering DIBC to properly complete the project.
In November, Edwards found Moroun and Stamper in contempt of court for failing to complete the construction work.
In December, Moroun's attorneys filed a motion to excuse him from the case, claiming Moroun is not the owner of DIBC. Instead, DIBC is owned by DIBC Holdings, Inc., attorneys said, and the "Manuel J. Moroun Trust ... is a minority owner of DIBC Holdings."
DIBC and Moroun have long faced intense criticism from residents of the Southwest Detroit neighborhood where the bridge is located. Community members say bridge-related truck traffic on city streets is hazardous, causing air pollution and endangering motorists.
Joe McGuire, a member of Occupy Detroit's Direct Action committee, was part of the Ambassador Bridge protest.
"I'm happy to see the right people being put in jail for once," he said. "Instead of all the people who were protesting the 1 percent and the crimes they commit, you actually have the people who committed those crimes going to jail."
"I'm sure the people in the Southwest community around the bridge are feeling some sort of validation," he added.
This is a developing story.
Calling all HuffPost superfans!
Sign up for membership to become a founding member and help shape HuffPost's next chapter