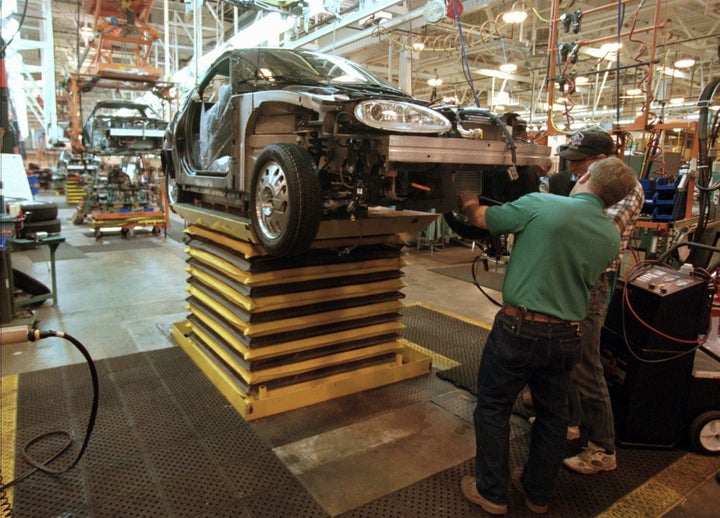 With overall economic growth sluggish, the U.S. manufacturing sector took charge in the first quarter, growing over three times faster than the broader economy. Regardless of growth, however, don't expect manufacturing to solve the jobs crisis.
In the past week, companies across the manufacturing sector released quarterly results beating Wall Street expectations and raising their profit forecasts for the rest of the year, the Wall Street Journal reported. Included among them are Eaton, which makes electrical systems; Honeywell, which makes everything from air conditioners and wind turbines to car care products; and United Technologies, which includes brands like elevator-maker Otis and air conditioner and heater-maker Carrier.
On Thursday, General Electric, the country's largest conglomerate leapt ahead of the competition, posting an 80 percent profit increase in the first quarter of this year. Some of the profit surge can be attributed to rising profits at GE Capital, the firm's financial arm. Revenue on GE's manufacturing side was up 8 percent, the figure that is slightly inflated since the company added 6 days to the first quarter in its' fiscal calendar, Reuters reported. Without the extra six days, GE's industrial revenue would only have risen 6 percent.
Despite modest employment gains in manufacturing, the surge will not likely put a dent in the country's 8.8 percent unemployment rate, economists say. Hiring in manufacturing has risen by only 2 percent since December 2009, leaving the industry far from making up for the 17 percent employment drop during the recession.
With productivity increasing among existing workers, companies might not need to do much hiring to meet growing demand, said William Lazonick, Director at the Center for Industrial Competitiveness at the University of Massachusetts.
"This is what corporations have become good at doing: generating profits without generating a lot of labor costs," said Lazonick. "We're still in a jobless recovery." But, instead of investing in innovation or the labor force, Lazonick continued, companies are focused on using profits to boost stock prices. He added that stock prices had become nearly the sole measure of economic performance for many companies.
That, he added, is "much to the detriment of the whole U.S. economy."
The stock market rose to a three-year high on the reported manufacturing growth early Thursday. And when the Dow Jones Industrial Average rose 1.5 percent to its highest close since 2008 on Wednesday, it was manufacturing stocks like Caterpillar and Boeing that saw some of the biggest gains.
Trading dampened later on Thursday, after the Federal Reserve of Philadelphia released figures finding manufacturing in the Philadelphia region slowed sharply in April. Nonetheless, the results remain impressive, economists say, with demand coming from valuable government contracts, expanding overseas economies and American consumers purchasing big-ticket items.
"Basically, it's pent-up demand," said Daniel Meckstroth, economist at the Virginia-based Manufacturers Alliance/MAPI. "Manufacturers in general are convinced ... that it's alright to go ahead and reopen plants and production lines," he explained. Right now, companies with lots of cash on their balance sheets are investing in new equipment, after cutting back on purchases during the downturn, said Meckstroth.
But with that demand now met, growth could soon slow down again, Meckstroth warned.
"This just can't be maintained," he said. "No one expects manufacturing to sustain the pace that it's been on for the first three months of this year."