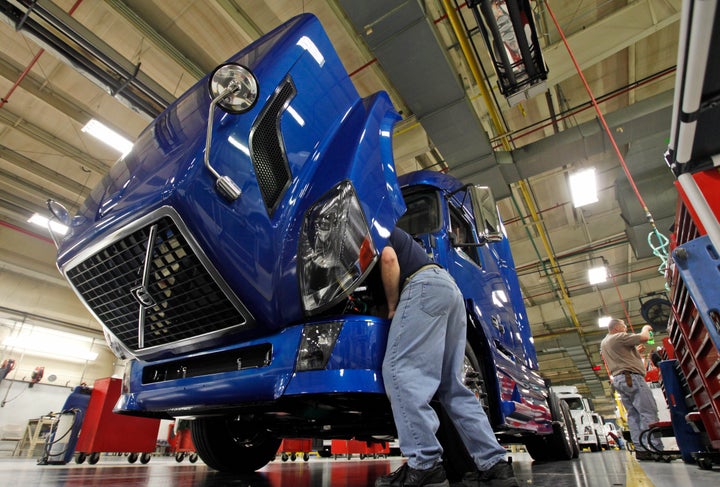 In a sign that the economy continues to recover, albeit unevenly, manufacturing just finished up another strong month.
New orders and production rose at manufacturing companies in February, according to the Institute for Supply Management's monthly Report on Business, released Tuesday. As demand for certain goods appeared to be strengthening, 61.4 percent of manufacturers reported that business in February was better than in the previous month. That figure, which handily beat economists' expectations, is a high unseen since the heady days of May 2004.
"Manufacturing appears to be red hot," said Ryan Sweet, an economist at Moody's Analytics. He added that growth in the sector is "supported by improvement in consumer spending in the U.S., but also by an improvement in global demand."
Indeed, economic activity in the manufacturing sector expanded for the 19th consecutive month, according to the ISM. As exports increased, the majority of survey respondents expressed confidence in the economy. The ISM report is considered an indicator of broader economic trends.
But other forces may challenge this rosy picture. The unemployment rate remains high, at 9 percent, and the strong ISM report doesn't necessarily mean the jobs situation will improve soon. Even as business booms, companies in recent months have shown reluctance to hire.
In addition to the drags posed by falling home values and high unemployment, oil prices have been rising in recent weeks, as unrest in the Middle East has spurred fears of a global supply disruption. Rising oil prices sap dollars from consumers, and hit businesses' bottom lines, as fuel becomes more expensive.
The price of Brent crude, an industry benchmark, hovered just above $100 a barrel for the first few weeks of February. It broke $105 last week and has been climbing. Early this week, the price cleared $114, its highest value since the fall of 2008, after a summer of record-high prices helped drag the economy into recession.
That increase is likely too recent to have been factored into the newest economic data. By the time March is over, consumer spending this quarter may turn out disappointing, Sweet said. Such spending, which makes up the majority of the country's economic activity, is a key driver of growth.
Calling all HuffPost superfans!
Sign up for membership to become a founding member and help shape HuffPost's next chapter