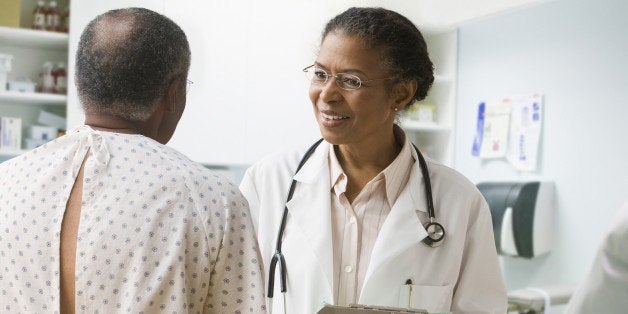 Recently, AARP conducted a study to determine how perceptions of key social issues ranked in importance to African Americans age 50 and over. Ninety-one percent gave the answer "high quality health care." Eighty-nine percent gave the answer, "Access to high quality health care information."
We were not surprised at the high percentage of either response. Why wouldn't the foremost issue on the minds of African Americans be the key issue that would prolong, enhance or save lives? Why wouldn't the dominant issue on the minds of Black people age 50 and over be their health; even more so than education, employment and access to technology.
The only issue that even rivaled health in the survey was "having a financially secure retirement," which also came in at 91 percent. But, it all connects. Among the primary reasons that African Americans worry about health after 50 is because either we or so many of our loved ones don't think we could afford to pay medical bills if we got seriously ill. In fact, in response to a question about whether the outlook is improving on specific issues, optimism was lowest on employment and economic issues -- under 50 percent.
It is the desire of every American to be healthy and happy. As Dr. Martin Luther King Jr. often reminded, even the Declaration of Independence promises, "We hold these truths to be self-evident, that all men are created equal, that they are endowed by their Creator with certain unalienable Rights, that among these are Life, Liberty and the pursuit of Happiness."
But, along with many other issues, America has yet to reach that lofty goal on the issue of health. In this regard, when I think of that powerful proclamation, "Black Lives Matter," I think of the fact that African Americans die sooner and more often in nearly every major disease category from heart disease, cancer and stroke - the three leading causes of death for African-Americans - to diabetes, HIV/AIDS, and respiratory diseases.
The Centers for Disease Control and Prevention confirms that "Health disparities between African Americans and other racial and ethnic populations are striking and apparent in life expectancy, death rates, infant mortality, and other measures of health status and risk conditions and behaviors."
Researchers have found that racial and socio-economic biases and cultural disconnects also play a part in health disparities. The National Institute of Health (NIH) concluded that racial minorities "receive suboptimal care" for heart disease. The NIH also reports that "disparities in the treatment of diabetes mellitus in African Americans, women, patients with less than a high school education, and the elderly have been found."
The knowledge of health disparities have long been entrenched in the Black community. From the Freedman's Bureau's desperate care of former slaves to Booker T. Washington's founding of Negro Health Week a century ago, the issue has long been before us.
On Feb. 10, the Association for the Study of African American Life and History, held a Black History Month forum at the White House. Scholars had the audience spellbound as they discussed the story of the Obama administration and how the legacy of the first Black president will eventually pan out.
Amidst that discussion, Dr. Judy Lubin, a health care historian and policy analyst from American University, declared that the long time policy impact of the Obama administration will no doubt be health care due to his ability to get the Affordable Care Act passed after attempts by many presidents.
She also said the nation is seeing significant progress in the number of insured African Americans and noted that the 24 percent of African Americans uninsured in 2010 decreased to 18 percent last year.
But, Dr. Lubin added something else that was quite riveting. She said, "Our health care story is deeply intertwined with our struggle for civil rights."
To think that hospitals had to be forced to desegregate in order to qualify for federal Medicaid and Medicare funds in the 1960s.
Underscoring her point, she said, "Our health is influenced by other things outside of access to health care. But we know that whether we get those preventative screenings, whether we get the types of information that we need in order to live healthier lives, this is very much related to our ability to access health care."
Our survey reflected the perceptions of African American on other major issues such as access to high quality education at 85 percent; employment discrimination based on race and age at 82 and 74 percent respectively; and access to better employment opportunities at 77 percent.
But that "life, liberty and the pursuit of happiness" that we call high quality health care is foremost in our thoughts. The manner in which Dr. King once described that creed is quite apropos in this instance: "This is the dream. It is a profound, eloquent and unequivocal expression of the dignity and worth of all human personality."
We'll know Black lives matters when the dream of high quality health care for all Americans becomes a reality.
This post is part of the "Black Future Month" series produced by The Huffington Post and Black Lives Matter for Black History Month. Each day in February, this series will look at one of 28 different cultural and political issues affecting Black lives, from education to criminal-justice reform. To follow the conversation on Twitter, view #BlackFutureMonth -- and to see all the posts as part of our Black History Month coverage, read here.
Calling all HuffPost superfans!
Sign up for membership to become a founding member and help shape HuffPost's next chapter