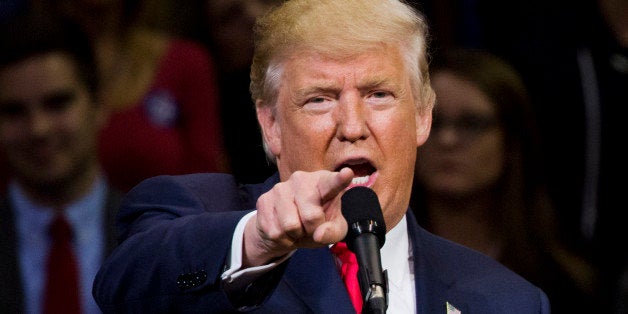 Donald Trump said back in January that he "could stand in the middle of 5th Avenue and shoot somebody" and he still wouldn't lose support. From their words and deeds in recent days, it appears that many evangelical leaders would be among the first to announce their continued allegiance if Trump did such a thing.
They invoke the "we're all sinners" argument when it suits them politically, and apparently now they're even invoking it for a man who has bragged about engaging in sexual violence against women. The ease with which Jerry Falwell Jr., of Liberty University, the largest Christian university; Tony Perkins of the Family Research Council (FRC), which has been labeled as an ant-LGBT hate group by the Southern Poverty Law Center (SPLC); and James Dobson, founder of the equally odious Focus on the Family, almost immediately went public defending Trump was stunning even considering their often warped sense of Christian values. These are the people who crusade against the rights of gay, lesbian, bisexual and transgender people, claiming homosexual acts and transgender identity are "immoral" and "unnatural."
But they hold Trump up as a savior, and thus a paragon of morality who will in fact help them end a woman's right to choose and overturn marriage equality via the radical judges he's promised them he will appoint to the Supreme Court. "We're all sinners, every one of us," Falwell told Rita Cosby on WABC Radio in defending Trump in the aftermath of the tape. "We've all done things we wish we hadn't. "We're never going to have a perfect candidate unless Jesus Christ is on the ballot."
Contrast that with a harsh editorial in the Deseret News, the Utah-based newspaper owned by the Mormon Church, which called for Trump to leave the race following the revelation of the tape. The editors were clear that they weren't speaking as leaders of the Church of Jesus Christ of Latter Days Saints and hadn't consulted them. But it's safe to say they were expressing the same sentiments as the Mormon leaders.
Pope Francis, as the leader of the Catholic Church, hasn't weighed in on the tape but he's made his thoughts clear about Trump and his positions on Muslims and immigrants, labeling the candidate "not Christian." At least one Catholic political group in the U.S., CatholicVote.org, has called for Trump to step aside following the revelation of the tape (though other Catholic leaders have stuck with Trump.)
Prominent evangelicals, however, seem hell-bent on even supporting a candidate who has bragged of engaging in violence, and that is extraordinary. Mike Pence, Trump's running mate, is an evangelical Christian revered by evangelical leaders, having pushed through extreme anti-abortion laws and having signed a widely-condemned anti-LGBT "religious liberty" law in Indiana.
He dismissed Trump's comments as "locker room banter" yesterday, agreeing with Trump, and said he "encouraged Donald Trump on Friday to apologize for them. He did. He expressed his personal remorse."
In the past, evangelical leaders used the "we're all sinners" argument mostly to explain away non-violent action, such as adultery and sexual indiscretions of politicians such as Newt Gingrich, on his third marriage after many infidelities.
But by now excusing the bragging of sexual assault as a "sin" that can easily be forgiven, it's really not a stretch for them to excuse any violent physical attack, even one that results in death.
Franklin Graham, son of evangelist Billy Graham, has rationalized supporting Trump by claiming the bible includes passages depicting God using men who are "flawed" to attain his goals, and said that for that reason evangelicals should excuse Trump's personal behavior and statements. Tony Perkins of FRC made it quite clear his continued support was purely political, a cold calculation that seems far-removed from religious conviction. He told Buzzfeed's Rosie Gray in an email that his support for Trump "has never been based upon shared values, it is based upon shared concerns about issues such as: justices on the Supreme Court that ignore the constitution."
But Christianity Today's editorial writer Andy Crouch, who previously was Inter-Varsity Christian Fellowship campus minister, blows this argument away:

Most Christians who support Trump have done so with reluctant strategic calculation, largely based on the president's power to appoint members of the Supreme Court....But there is a point at which strategy becomes its own form of idolatry -- an attempt to manipulate the levers of history in favor of the causes we support. Strategy becomes idolatry, for ancient Israel and for us today, when we make alliances with those who seem to offer strength -- the chariots of Egypt, the vassal kings of Rome -- at the expense of our dependence on God who judges all nations, and in defiance of God's manifest concern for the stranger, the widow, the orphan, and the oppressed.
And regarding Perkins' rationalization in particular, it should be noted that this isn't solely about Trump's "values;" it's about violent actions.
Trump said in the tape that he pushes himself onto to women by kissing them "like a magnet," making unwanted advances and grabbing them by their vaginas. The evangelical leaders like to say that Trump "apologized." (Falwell,even said he was "contrite," which is laughable.)
But Trump actually hasn't even admitted to the actions he described in the tape, let alone express remorse for the actions. On his campaign website, in a video and at the second presidential debate on Sunday he apologized tepidly for the words themselves, insultingly insisting they are "locker room banter." When debate moderator Anderson Cooper said his words described "sexual assault," Trump responded, "No, I didn't say that at all, I don't think you understood it at all," before veering into a discussion of ISIS. Trump then claimed, only after he was pressed several times by Cooper, that he didn't do what he actually said he did in the tape. (And the evangelical leaders defended Trump, it should be noted, long before he claimed in the debate, after prodding, that he didn't actually engage in these actions.)
All of this means, at the very least, that Trump could have said that he brutally assaulted someone with a baseball bat and smashed the person's head in, enjoying every minute of it, laughing about it in the retelling, or even that he had killed the person, and it might well be excused by many evangelicals leaders -- just as Trump predicted about his supporters excusing him for shooting someone in the middle of 5th Avenue. As long as he agreed to help them put extremists on the Supreme Court, many evangelical leaders would likely dismiss the statements away as just words, and invoke their mantra that "we're all sinners." That is truly twisted, deeply disturbing, and anything but moral.
HUFFPOST READERS: What's happening in your state or district? The Huffington Post wants to know about all the campaign ads, mailers, robocalls, candidate appearances and other interesting campaign news happening by you. Email any tips, videos, audio files or photos to scoops@huffingtonpost.com.
Popular in the Community