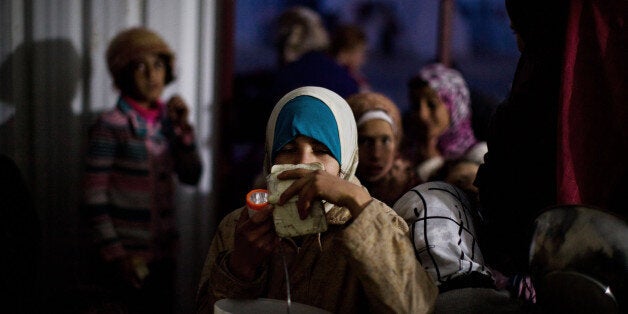 The Syrian refugee exodus of biblical proportions has drawn much-needed renewed attention to the continuing horrors Syrian refugees and the internally displaced confront daily. Global efforts to address the causes of flight have been pitiful, and efforts to address the urgent needs of those in flight -- whether through funding vital services or resettlement programs -- are woefully inadequate. The latter includes suitable and abundant rehabilitative care and critically-needed mental health services for refugees who have survived torture.
In my many years of experience in human rights work, I have witnessed the horrendous repercussions of torture on women, men and children. This includes both the chronic and severe physical aftereffects, as well as the debilitating psychological impact, which survivors tell us can often be even worse. As we have learned, both require appropriate care which is why we have pioneered an interdisciplinary approach. I know from my own experience the absolute truth of Dr. Brock Chisholm's words, "without mental health there can be no true physical health." This belief is at the core of our work at the Center for Victims of Torture (CVT), and because of this we have joined allied organizations in recent weeks to demand actions I believe this Administration and this country can and must take.
In 2014, CVT worked with thousands of clients in our international direct services programs in Ethiopia, Jordan (where we provide care to Syrian, as well as Iraqi refugees) and Kenya. Of those, more than half -- 58 percent -- reported surviving torture or war trauma. Nearly 60 percent were women and, even more horrifically, 24 percent were children. We are certainly not alone in calling out the macabre statistics embedded within the current refugee crisis. Psychotherapists in Germany, working with Syrian refugees arriving there in recent days, indicate that "more than 70 percent had witnessed violence and more than half had become victims of violence, often torture, themselves."
As Syrian refugees enter the United States in larger numbers, as they should, and given their traumatizing experiences, how will their needs for specialized care be addressed? There are more than 40 torture rehabilitation programs in the U.S., operating in 25 states and doing life-saving work with torture survivors -- but each of these already has a waiting list of survivors. Will Syrians in desperate need have to wait months or even years to receive care? If your mother, sister, brother, or child had been tortured, such a waiting period would be intolerable.
That the resources available to address these acute needs, even before this crisis, were grossly insufficient was underscored this week by research that CVT has made public. Our findings indicate that the likely number of torture survivors already living in the U.S. is far, far greater than previously thought. CVT challenged the decades-old estimate that 400,000 - 500,000 refugee torture survivors reside in the United States, and conducted our own meta-analysis of existing studies. We firmly believe that the number of refugee torture survivors in this country could be as high as 1.3 million, significantly higher than previously believed--and not even allowing for the refugees who will be welcomed here in the near future.
In tandem with the release of our torture prevalence analysis, we are calling upon Congress to immediately increase Office of Refugee Resettlement funding for survivor rehabilitation to $16 million as has been requested by 21 members of the Senate. Additionally--and importantly--we call for the Administration to conduct a comprehensive review of the number of survivors in the U.S. in order to develop sustainable physical and mental health policies and care networks for refugee torture survivors.
Today's release is just one way CVT is raising its voice on behalf of refugee survivors of torture. CVT joined with Refugee Council USA in a letter to President Obama, urging the U.S. to increase the number of refugees to be resettled on our shores to 200,000 for FY 2016, with 100,000 of them being Syrian; increase U.S. funding for humanitarian aid while pressing other countries to do likewise to make handling larger numbers of refugees feasible; and engage with major development actors to encourage the expansion of development plans to include refugee and refugee host communities in a further effort to address the extremely dire conditions in which millions are now living throughout the region.
CVT also was one of more than 30 NGOs that signed a letter calling on the president to address the root causes of the ongoing conflict and crisis in Syria. The greatest change will be achieved when Syrians can live in a peaceful country free from terror and torture, free from the fear of persecution and free to build a life for themselves and their families. Until that day comes, the United States has a humanitarian obligation not only to provide safety and shelter for refugees, but to provide the empowerment of rehabilitative care - making it possible for refugees to thrive.
Calling all HuffPost superfans!
Sign up for membership to become a founding member and help shape HuffPost's next chapter