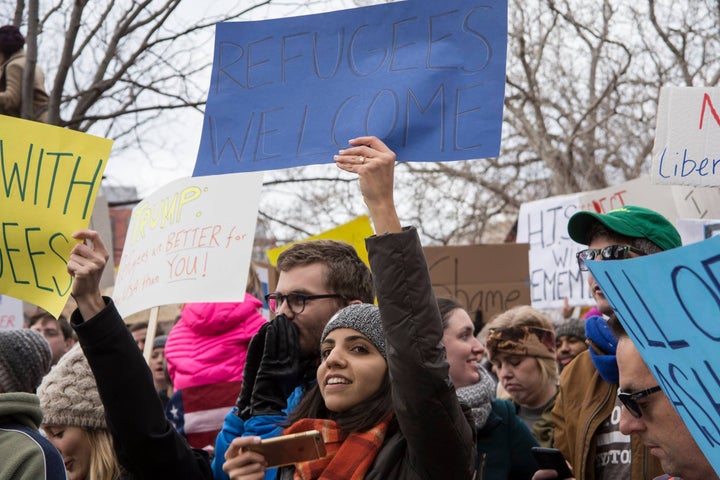 As Co-Founder and President of AsylumConnect (a nonprofit startup creating the first online, centralized resource database for LGBTQ asylum seekers in the U.S.), I can attest first-hand to asylum seekers' and refugees' resilience and heroism. They deserve to be in this country. They are an invaluable asset to the U.S. - not a danger.
Trump's recently signed executive order for "extreme vetting" of refugees flies in the face of everything our nation stands for. It jeopardizes the lives of innocent human beings. This ban is a disaster for our nation, for the global community, and for justice.
The U.S. was not built on hate. This is a country comprised of proud, hard-working, and deserving immigrants. This is the land of the free and the home of the brave. We cannot allow the Trump administration to destroy what has made America flourish.
"...keep radical Islamic terrorists out of the United States of America."
"Of the almost 400 individuals accused of jihadist terrorism crimes since 9/11 in the United States ― ranging from crimes such as murder to less serious crimes such as sending small sums of money to a terrorist organization ― almost half are native-born American citizens, and more than 80 percent are US citizens or legal permanent residents."
Refugees are not terrorists. Refugees are human beings who wish to exercise their fundamental right to live peacefully and freely. In the words of a gay man from Syria, who came to the U.S. in 2012:
"I believe that everyone that's coming here as a refugee are coming just to live, just to have a real life."
The only thing Trump's executive order will accomplish is ripping away safety and freedom from innocent people in desperate need of assistance.
"It should go without saying, but the violence, extremism and oppression that Americans fear Syrian refugees will bring to the United States are the very same dangers that Syrian refugees fled their country to escape. The Trump administration is now completely closing the doors to honest people fleeing unimaginable conditions — people I know intimately, people who want nothing more than peace and opportunity for themselves and their families. If we let these policies stand, the United States will abandon any claim it holds as a moral leader in the world, and abandon millions of refugees to a life of pain and suffering."
Although it may be temporary (at least for now), Trump's refugee ban is still a life-or-death issue for many refugees who need help today. These people don't have months. This is effectively a death sentence.
One such category of people is LGBTQ refugees. Trump's ban overlooks the life-or-death need of persecuted LGBTQ people to escape the seven countries (Syria, Iran, Iraq, Somalia, Libya, Sudan and Yemen) where Trump just suspended visa entry into the U.S. What will happen now to the LGBTQ people suffocating in these homophobic and transphobic countries?
In BuzzFeed News, Neil Grungras, Executive Director of Organization for Refuge, Asylum & Migration (ORAM), predicts increased suicide rates:
"Refugees who have just been hanging on waiting to be resettled … are going to become absolutely despondent — I expect people will commit suicide."
According to IraQueer (the first and only organization for the LGBT+ community in Iraq and Kurdistan region), Trump's ban not only jeopardizes the lives of LGBTQ individuals but also threatens the progress of the global LGBTQ rights movement:
"This ban won't only affect LGBT+ individuals attempting to seek asylum in the states, but it will also influence the LGBT+ movement in Iraq/Kurdistan as a whole since a large part of the advocacy work is done in New York by working with government missions and UN agencies who can put pressure on the Iraqi and Kurdish governments to make reforms. Losing access to these venues limits the possibilities for change for the LGBT+ community especially because any kind of local advocacy efforts are not possible in Iraq/Kurdistan Region."
Many refugees remain trapped in perilous situations - LGBTQ refugees are just one example. Yet, Trump continues to portray all of these innocent lives as mere casualties:
"Some people have come in with evil intentions. Most haven't, I guess, but we can't take chances."
Trump continues to choose spreading hate and fear mongering over acknowledging reality. In doing so, Trump is allowing xenophobia and Islamophobia - two ideologies which have no place in the U.S. - to dictate our country's policy.
Every human being - regardless of race, ethnicity, religion, gender identity, sexual orientation, disability, legal status or country of origin - deserves safety, freedom, opportunity, and equality. This is what our country stands for.
During my time leading AsylumConnect, I have been proud to help welcome incredibly brave and deserving individuals to the U.S. I have been proud to be part of a nation which provides much needed refuge, hope and new beginnings.
But today, I am ashamed. This is not my America. The America that I have been so proud to be a part of would never turn away persecuted people searching for a safe place to call "home."
Many refugees don't have months.
*TAKE ACTION: Sign this petition to help protect LGBTQ asylum seekers and refugees in the U.S.
Popular in the Community