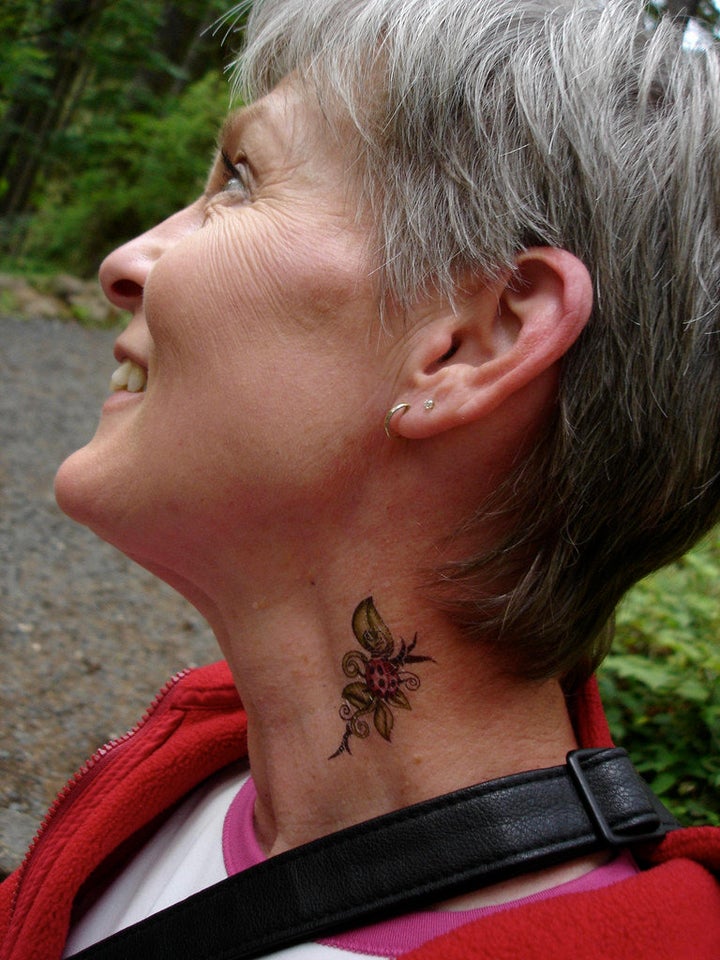 After four years of deliberation, 99-year-old Mimi Rosenthal swapped the support of her Winnie Walker for the comfort of a black leather chair at Requiem Body Art in Spring Hill, Fla.
Rosenthal, now 101, did not always like tattoos. Blame it on the generational divide: according to Life magazine, only 6 percent of the population had a tattoo in 1936 -- a number that has more than tripled since. When her granddaughter Meredith got her first tattoo at 17, Rosenthal, then 85, did not approve.
As Meredith steadily accumulated more and more ink, however, Rosenthal came around.
"Mimi really started toying with the idea of getting a tattoo when she was 95," said close family friend and, as luck would have it, tattoo artist Michelle Gallo-Kohlas, 39. "I told her, 'Mimi you aren't getting any younger, if you want a tattoo, you should probably get it now.'" Gallo-Kohlas gave Rosenthal her first tattoo: a dime-sized butterfly on her ankle. Rosenthal now has two more: a larger butterfly she got on her 100th birthday and a sunflower she had inked for her 101st.
"I don't know if it's because we are in Florida and everyone comes here to retire, but most of my clients are in the older bracket," Gallo-Kohlas told The Huffington Post. "We see a lot of women in their sixties and seventies getting their first tattoos." Gallo-Kohlas recalls a woman in her sixties who got a tattoo because everyone in the golf clique at her gated community had one. It seemed like the thing to do in order to fit in.
With 6 percent of the 64 and up crowd, fifteen percent of Baby Boomers (44-64), and 32 percent of Gen Xers (30-45) sporting tattoos, Florida retirees are hardly the only mature first-time tattoo seekers.
First-timer Susan Sarandon got inscribed with her children's initials at 61, rationalizing, "Why not? I turned 60 and after a while you think, 'Well I've only got my body for a few more years anyway.'" Gloria Steinem toyed with the idea of getting a tattoo for her 70th birthday, telling Slate about her partiality to the " art nouveau-looking ones that I see on women's backs just below their jeans… rebelliously known as a tramp stamp." Jennifer Aniston, 42, got her first tattoo last week in memory of her deceased pooch Norman.
Sailor Bill Johnson, the Vice President of the National Tattoo Association (NTA) told The Huffington Post that, although the organization doesn't record figures, over the last eight to ten years there has been a noticeable increase in women coming in to get their first tattoo at more advanced ages.
"Tattooing has become more in vogue, and people are releasing any inhibitions they might have had," Johnson said. "I'll always remember, it was 25 years ago a woman in her mid-70s walked in and said, 'I want a tattoo; I want a rose on my breast.' Her husband had been less enthusiastic, so she got it when he had passed."
Women's motivations for getting inked later in life vary. For some it's a way of asserting independence or an act of self-expression. Others do it to remember or honor someone else, and still others do it on a whim.
Lois Schoenbrun, 58, got hers while on a vacation with her son Yoki in Hawaii. "Everyone on the wait staff had visible tattoos, and when our waitress came to our table, I asked where on the island we could go to get one," Schoenbrun said.
"My son looked at me and said, you're going to let me get a tattoo?" she recalls. "And I said, this isn't for you -- it's for me."
Schoenbrun's son, 16 at the time, got the Chinese symbol for dream and then-50-year-old Schoenbrun got a rurbrum lily, also known as a stargazer. "It is something that always brought me happiness and a feeling of calm," she explained.
An executive at an international nonprofit, Schoenbrun said that her tattoo isn't visible at work and she isn't disclosing its location, "not because it is risqué, but rather it is nobody's business."
Getting a tattoo later in life definitely has its advantages: those who do so are unlikely to be told that they'll regret it when they're older, and the tattoos are less likely to fade or migrate within their lifetimes.
"I thought, I'm old enough now that, even if it does change a little bit, it won't be 40 or 50 years of changing," said Mary Fischer, 58. Growing up, she thought of tattoos as only for "bikers and gangsters." Since taking up motorcycling with her husband three years ago, Fischer has changed her tune, and the equestrian-turned-biker chick got her first tattoo last week to honor her recently deceased mother.
"With more mature women getting their first tattoos, they aren't getting one to show off at the beach," Gallo-Kohlas said. "It can be an angel in memory of a loved one or a design that they have always wanted -- their tattoos are meaningful."
Popular in the Community