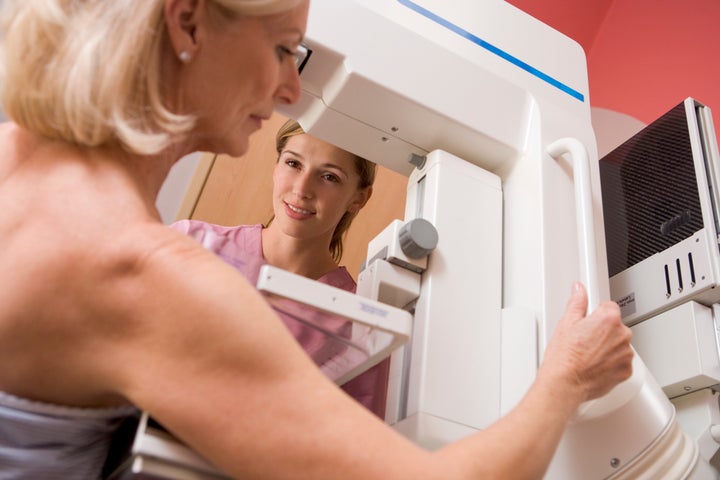 (Reuters Health) - Women with physical and mental disabilities may be less likely to receive recommended screenings for breast or bowel cancers than other patients, a UK study suggests.
Among nearly one million older women invited to get either breast or bowel screening, 23 percent had a physical disability limiting mobility, impaired vision or hearing, cognitive difficulties or challenges with daily tasks like dressing, bathing and eating, the study found.
Compared to women without any of these problems, women with disabilities were 36 percent less likely to get breast cancer screening and 25 percent less likely to get bowel cancer screening, researchers report in the British Journal of Cancer.
It's possible that the location of screening and the logistics of getting evaluated may have influenced whether women got recommended tests, said lead study author Sarah Floud of the University of Oxford.
"We wanted to compare participation in bowel screening with participation in breast screening, as breast screening is done in special clinics to which people have to travel and bowel screening is done at home using a kit posted to their home which has to be posted back to the screening centers," Floud said by email.
"For disabled women, we found that not having access to a car was associated with especially low participation in breast screening but not in bowel screening, which makes sense," Floud added.
For the study, researchers focused on older women who were offered screenings under UK guidelines.
During the study period from 2006 to 2011, the guidelines recommended breast cancer tests every three years for all women age 50 to 70. Bowel cancer screenings were recommended every year for adults from age 60 to 69 at the start of the study, and the age limit was raised to 74 in 2010.
Researchers examined data on 445,579 women offered breast cancer screenings and 449,058 women offered bowel cancer screenings.
Women with disabilities that affected eyesight, mobility and the ability to take care of themselves were the least likely to take part in cancer screening, the study found.
People who reported any disability and also did not have access to a car were more likely to miss breast screenings.
With self-care difficulties, women were 54 percent less likely to get breast cancer screenings than women without disabilities. With vision impairment, women were 47 percent less likely to get breast screenings.
Self-care difficulties also accounted for the biggest disparities in bowel cancer screenings; women with this type of disability were 38 percent less likely to get tested than women without disabilities.
One limitation of the study is that all of the participants were recruited through breast screening programs, so they had done this at least once in the past. This means the disparities might be more pronounced in the general population than in the study group, the authors note.
Researchers also lacked data on the reasons women didn't get screening, which might be due to factors not explored in the study such as other medical conditions.
"If you have significant health or social problems in your life, cancer screening which offers a chance of benefit for only 1 in 1,000 or less may not be a priority for you," said Dr. Karsten Juhl Jorgensen, deputy director of the Nordic Cochrane Centre and a researcher at Rigshospitalet in Copenhagen, who wasn't involved in the study.
"If a disability is linked to substantially shorter life expectancy, screening may be less relevant as its benefits often materialize only several years after the screening itself, Jorgensen said by email. "There may therefore be valid reasons for some of the disparity."
Costs might also keep women from getting screenings in countries outside the UK, where national health insurance pays for tests, Jorgensen said.
"Women with disabilities more often have socioeconomic challenges, have shorter education, and are less often married or have strong social networks than women without disabilities, all of which are associated with low participation," Jorgensen added.
SOURCE: http://go.nature.com/2y2Gz1N British Journal of Cancer, online October 3, 2017.