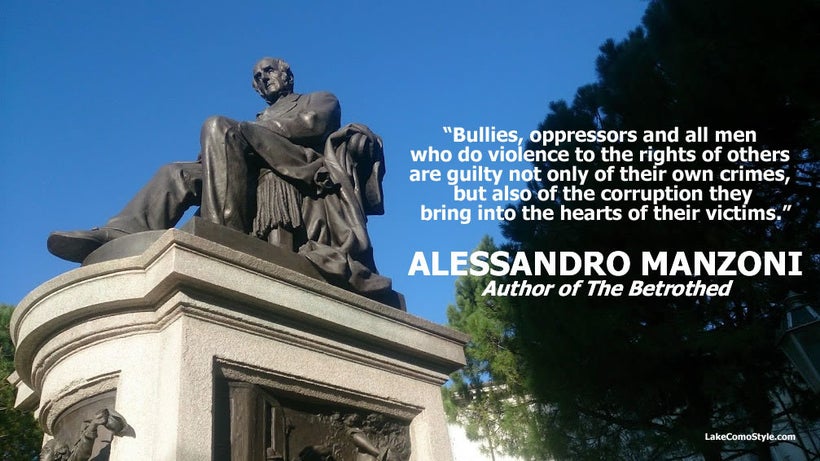 At the 2017 Golden Globe Awards, Los Angeles, California, in her speech denouncing abuse of power by the influential, Meryl Streep said something that resonated strong feelings of familiarity with the people of Lecco, Italy. She said:
"Disrespect invites disrespect. Violence incites violence. When the powerful use their position to bully others, we all lose."
Alessandro Manzoni wrote  similar words almost over 200 years ago (1827) in The Betrothed, Italian literature's most romantic love tragedy. It's the story of Lucia and Renzo, a young, peasant couple from Lecco. Despite war, famine and disease, they fall in love and would like to get married, but the powerful, local baron, Don Rodrigo forbids it and uses his influence to separate them and stop their marriage so he can have Lucia for himself. In describing the corruption and selfish acts of man, Manzoni writes:
"Bullies, oppressors and all men who do violence to the rights of others are guilty not only of their own crimes, but also of the corruption they bring into the hearts of their victims."
The words and message of Meryl Streep echo the very same reminder that abuse of power holds grave consequences, not only for the people victim to the abuse, but for all of us.   If he were alive today, Manzoni would have surely applauded Ms. Streep's declaration.
Manzoni (1785-1873) was a man of honor and morality. He was not only a poet and novelist but was considered one of the great thinkers of his time. Alessandro Manzoni spent his formative years of childhood and adolescences in Lecco and is celebrated and honored with a statue and city square in his name. International travelers come to visit the Villa Manzoni and the picturesque scenery and locations described in The Betrothed (I Promessi Sposi).
Video Meryl Streep at the Golden Gold Awards 2017
Celia lives on Lake Como, Italy.  She shares her discoveries of her travels and experiences in Italy and beyond, giving readers an insider's view of what to do, where to go and how to do it in style. More: www.travelpostrepeat.com
Calling all HuffPost superfans!
Sign up for membership to become a founding member and help shape HuffPost's next chapter
This post was published on the now-closed HuffPost Contributor platform. Contributors control their own work and posted freely to our site. If you need to flag this entry as abusive,
send us an email
.