Ever been to Cambodia Town? How about the Far Eastside or Little Seoul?
Eric Brightwell's been there, mapped it and possibly even coined the name. To date, he's drawn 118 maps of LA neighborhoods and still figures he's only mapped about 10% of the city's 'hoods.
An Iowa native, Brightwell never wanted to live in LA but is now in love with the place. He's lived in quite a few cities across the country and believes LA may be the most misunderstood of them all.
Over the last decade, Brightwell has explored forgotten pockets of Los Angeles and, three years ago, began drawing what he saw. Now, as Pendersleigh & Sons Cartography, Brightwell is a modern-day cartographer, deciphering the patchwork of neighborhoods that make up LA's colorful identity.
He discovers new neighborhoods, names overlooked neighborhoods and pencils little-known attractions in long-recognized neighborhoods.
Brightwell says he hopes his maps help people see their communities in a way that makes more sense than a vast grid of streets. He also hopes that they inspire Angelenos to get out and exploring the city they live in.
Click through Brightwell's maps, and don't overlook his clever, fun-facts captions. Below the slideshow, see his Q & A with HuffPostLA about the "behind-the-scenes" of his map-making.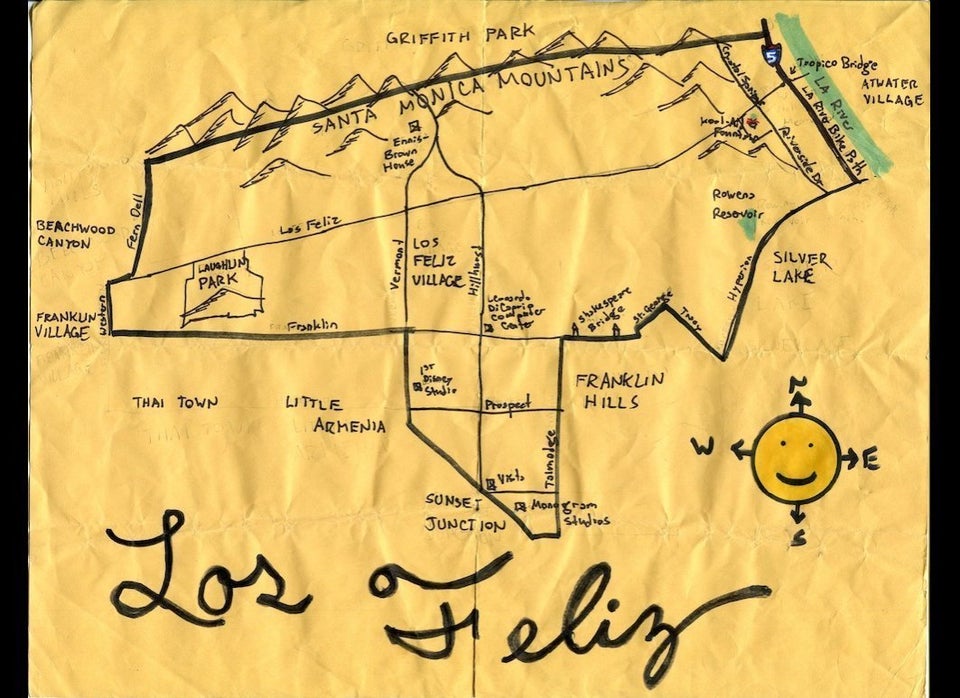 How do you map a neighborhood?
I'll look to see if there are pre-existing maps. Usually, for cities, there are. In that case, I prioritize things like parks, bodies of water, hills and odd features.
For neighborhoods, it's becoming more common to have maps online. I noticed Google Maps has just added some neighborhood boundaries, although I'm not sure whose definition they are. Sometimes I'll look at city records and see where the neighborhood signs are or just decide on my own definition. If the sign says "Arts District," for example, but there is only a sushi academy or a Japanese temple on the block, then I might just call it part of Little Tokyo.
What's unique about your maps?
I usually try to make neighborhoods seem like they're in some way disconnected from their surroundings. One of the things I like about old maps is how the immediate surroundings are accurate and then get more and more distorted or vague -- there might be Cyclopes in the neighboring community -- we just don't know! I also sometimes play with and mock stereotypes or insert little in-jokes to myself and locals who get them.
Have your maps been disputed?
Oh yeah. People will say "I don't think of that neighborhood as South Bay," or "Your map tells me I live in Mar Vista but I tell everyone Venice," or even "That's not a real neighborhood!" People can get pretty riled up but usually they're cool and often want to point out something I might find interesting or useful.
What are you working on right now?
I'm currently working on making a large print of the entire county with every LA neighborhood, including Catalina and San Clemente Islands drawn to scale. I'm also working on t-shirts. And hopefully postcards and a book in the future!
How would you describe LA to someone who's never been (or to those of us who live here but are ignorant)?
LA is huge and varied yet even people who live here blindly accept mischaracterizations and pass along stereotypes that have almost nothing to do with most Angelenos' reality.
LA does have seasons. The climate is chaparral. If you're from a temperate climate, you may not recognize them but they're here, and no less "real seasons" than you get in the Midwest or Northeast.
About 40% of Angelenos are foreign born -- mostly from Latin America and Asia. There are more Latinos than white people and more Asians than black people.
If you think the people are shallow and the city is culture-less, that's a reflection on you and your people, not LA.
Most importantly, you will never know LA if you don't get out of your car!
Popular in the Community