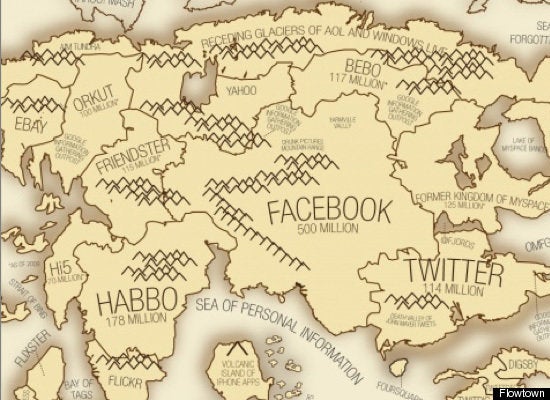 In 2007, XKCD produced a just-for-fun map of online communities, representing the relative size of each social network as differently-sized states. MySpace was huge, AOL smaller, and Facebook was half the size of Xanga.
Three years later, Flowtown has created an updated "map" of social networks that reflects current trends in 2010.
Based on data collected from Wikipedia, the Wall Street Journal, Alexa.com, and Facebook (among other sites), each network analyzed appears as a "landmass" on this "2010 Social Networking Map" that is a tribute to XKCD's version (and based more on hard data than the original, which was reportedly "based on the whims of XKCD's author"). The size of each "region" reflects the estimated number of user accounts.
Facebook, with its 500 million members, is now a dominant presence on the map. Twitter and Habbo (a network geared toward teens) flank Facebook and occupy the next largest "territories," with 114 million and 178 million users respectively. The troubled MySpace network (population: 125 million) is labeled "Former Kingdom of MySpace" on the map. Despite its large size, a note on the map next to the MySpace "region" reveals the following information: "Not all users are active."
Toward the top of the map is a large "region" titled "Receding Glaciers of AOL and Windows Live," next to the tiny "AIM Tundra." At the very top of the map is a nether region, the "Land of Defunct Social Networks," which includes Yahoo! 360, Bahu, and Soundpedia.
There are also humorous nods to pornography-sharing communities, YouTube memes, and more.
You can view the entire "map" below, or you can view Flowtown's larger version by clicking here. Scroll down to see the 2007 version, then check out the nine coolest social media maps on the web here.

2010: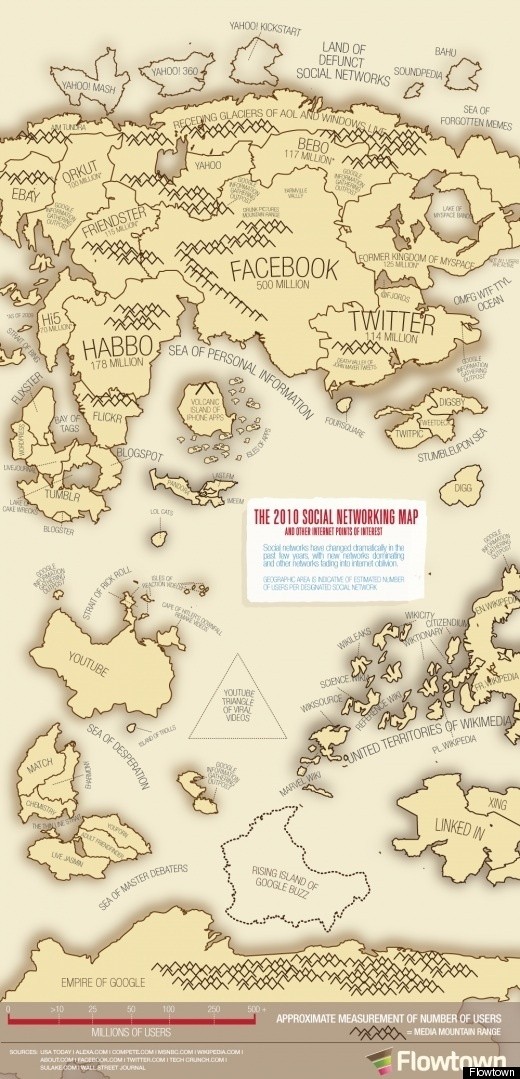 2007: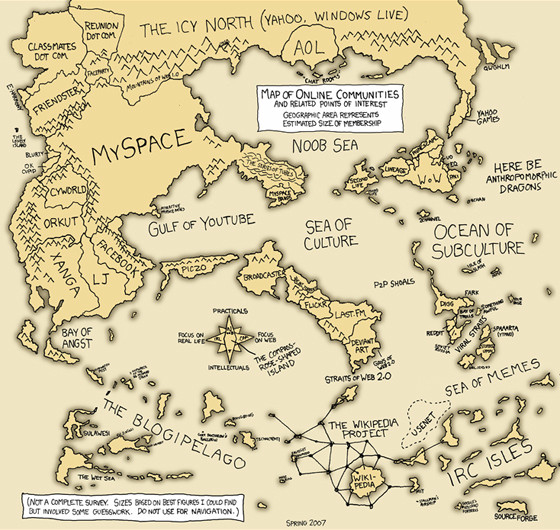 via XKCD
http://imgs.xkcd.com/comics/online_communities_small.png
Click here to see a map of Facebook, titled "The Republic of Facebook."
Calling all HuffPost superfans!
Sign up for membership to become a founding member and help shape HuffPost's next chapter