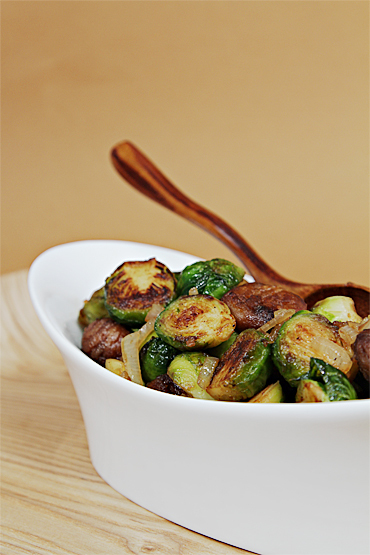 These perfectly shaped petit cabbages are irresistible when pan-roasted. Sweet, nutty and slightly crunchy, they're intensely flavorful tiny packages.
But when you add a drop of maple syrup to the pan, their sweetness gets intensified, making them even more delectable.
Roasted with whole chestnuts, the Brussels sprouts acquire an earthy flavor that adds another dimension to the dish -- and makes for a superb and versatile side dish that, come fall, almost always ends up on the menu.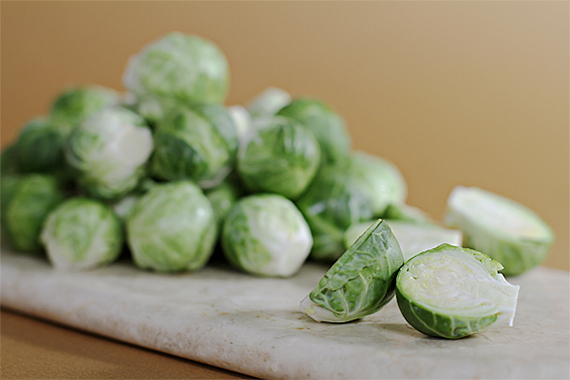 Maple-Glazed Pan-Roasted Brussels Sprouts with Chestnuts
serves 4
active time: 30 min
1 tablespoon sea salt for the blanching water
1 1/4 lbs (560 g) Brussels sprouts -- trimmed and cut in half
1 tablespoon unsalted butter
3 tablespoons extra virgin olive oil
1 tablespoon maple syrup (or brown sugar)
4 oz (115 g) vacuum-packed whole roasted chestnuts
2 large shallots -- skinned, quartered and finely sliced (1/2 cup)
1/2 teaspoon sea salt
freshly ground black pepper to taste
Step 1: Fill a large bowl with cold water and several ice cubes.
Step 2: Fill a medium pot with water and bring to a boil. Add the salt and blanch the Brussels sprouts for 3 1/2 to 4 minutes (depending on their size) until tender. Scoop them out with a slotted spoon and transfer to the ice water bath until cool. Drain on paper towels. Once dry, transfer to a bowl and set aside.
Cook's note: The Brussels sprouts can be blanched up to 1 day ahead. Refrigerate until ready to use.
Step 3: Heat a large heavy-bottomed skillet over high heat. Add the butter, olive oil and maple syrup, stir well. As soon as the butter is melted, add the Brussels sprouts and chestnuts and toss carefully with two wooden spoons (so as not to break the chestnuts) until the ingredients are well coated with the oil. Sauté for 6 to 7 minutes until golden-brown, tossing occasionally. Reduce heat to medium-high, add the shallots, salt and pepper and sauté for 1 to 2 minutes until shallots have softened. Transfer to a serving platter and serve immediately.