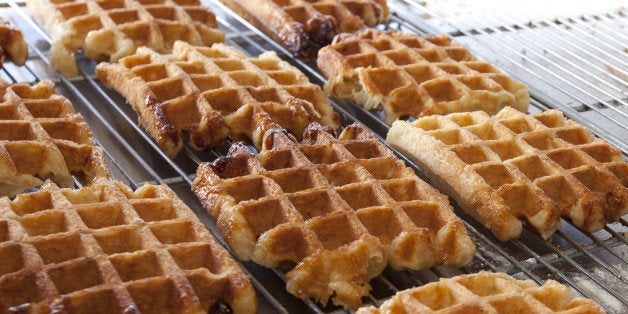 Let's face it, we all say we like to eat perfectly healthy foods all the time. But in reality? We like to indulge.
As long as you're not doing it too much, a little treat now and again is what makes life good.
And if you're going to indulge, we suggest these scrumptious breakfast bites that combine the best things about maple donuts and waffles. This maple-glazed waffle recipe is about to blow the rest of your breakfast treats away!
This dish involves cooking donut batter just like a waffle. Sound delicious enough? Wait until you add the mouthwatering maple glaze!
And if you don't have time in the morning, these are sweet enough to make great snacks any time of day. Or you can always whip up some batter and keep it in a jug in the fridge, so come morning, you just pour it into your waffle iron for a delicious breakfast in a few short minutes.
Check out this recipe and video below. If you're feeling really indulgent, you might even try them for dessert with a scoop of ice cream!
Cook: 3 minutes | Prep: 14 minutes | Serves: 5
1/3 cup granulated sugar
2 tsps. baking powder
3/4 tsp. fine salt
1/2 tsp. ground nutmeg
1 whole egg
1 egg yolk
6 Tbsps. unsalted melted butter
Milk
1 tsp. vanilla extract
1 1/2 cups flour
1 cup powdered sugar
8 Tbsps. maple syrup
In a large bowl, combine the granulated sugar, baking powder, salt, and nutmeg.
Add in the egg, yolk, 2 Tbsps. melted butter, 1/2 cup milk, and vanilla extract, and stir until smooth.
Add the flour, stirring to create a thick, smooth batter.
In separate bowl, whisk together powdered sugar, maple syrup, 4 Tbsps. of melted butter, and 1 to 2 Tbsps. milk.
Place 1 Tbsp. of batter into each section of waffle iron, and cook 2 to 3 minutes or until golden brown.
Dunk the waffles into the maple glaze.
Serve and enjoy!
These maple-glazed waffles are so much fun to make, and the results are absolutely delicious.
Watch the video below to see this yummy recipe in action, and be sure to SHARE with your sweet-loving friends!
: