If you could conjure a future past, a time both technologically advanced and bucolic, would passionate data shepherds still prove digitally-rendered pleasures of valleys, groves, hills and fields while gamboling on beds of roses? You may fetch up on such a golden shore while lost in Wild, the new release by The Inner Banks. A musical pastoral from Caroline Schutz and David Gould, Wild paints its landscapes with American and English folk traditions, lush strings, keyboards and periodic rock eruptions. The 13 songs depict a winding path with winsome pop songs, mini-concertos for lap steel, and pensive English folk-rock. The Inner Banks debuted Wild on July 2 at New York's Mercury Lounge, appearing with the return of underground chamber-pop masters Cardinal (as well as serving as nearly accidental members of its reincarnation).
The Inner Banks's various musical and visual references spring from past experience. David applied his ethnomusicology and composition studies to the hectic eclecticism of The Bootleg Remedy, in which he played banjo and upright bass. Caroline was a painter and designer before turning to writing and singing, including with Folksongs for the Afterlife. She also creates the Inner Banks's found-footage video collages. Married since 2004, and bandmates since 2006, they released two prior records. While those pointed in a similar direction, Wild set sail for far distant shores. I talked to Caroline and David as they prepared for the record-release show.
While most tonal instrumental music is allusive, if only because listeners seek the familiar in the abstract, pastoralists evoke a golden past to dispel a chaotic present (Charles Ives? "Sugar Magnolia"?). Those echoes of the past are heard in the instruments chosen, for example, or settings of traditional songs. Because David plays lap steel, banjo, and fingerpicked guitars, some describe Inner Banks as Americana (or, most interestingly, by Terrascope in the UK, as "Americana played by Air"). While he knows his way around rural traditions, David's after something broader.
"First, I use 'Americana' in the sense of American roots music, artifacts, and so forth," David says. He continues:
Prior to the Inner Banks, I was leading a band called The Bootleg Remedy that drew heavily on all things American: early mountain music, bluegrass, Dixieland, western swing. A little Hawaiian, even. To me, though, the underlying principle was to bring an improvisatory attitude to the material: our performances were heavily steeped in the jazz concept that no two renditions of a single piece should ever be the same. The Inner Banks was created as a reaction to the chaos of my previous band's music. And we got completely away from covering traditional songs, so the repertoire wasn't particularly American. But we did make some effort to continue integrating instruments such as the banjo and lap steel. And we did feel a connection to artists who, while not being original folk and bluesmen per se, had re-interpreted that music in the '60s and '70s. From the very beginning, we were very into Love, for example, which combined those folky acoustic guitars with strings and horns so amazingly.
Americana, by definition, places music in specific locales, whether the hills and hollers of Appalachia or Woody's dusty plains (or even his New York skyscrapers). Caroline agrees:
My music is definitely rooted in all forms of landscape, visual and aural. When I was a painter, most of my imagery was pastoral just as it is now in my lyrics. I have never written lyrics with any urban imagery whatsoever. Kind of funny for a girl who grew up in the city. Landscapes are naturally imbued with history and emotion and longing while the city is a constant cycle of reinvention with little sense of the past. For me, any 'Americana' influence is less about a connection to specific American musical traditions, and more about the American landscape itself and music that successfully evokes it. I think there is something about the sound of slide and steel guitar that's good at doing that: John Fahey, Ry Cooder's Paris, Texas. Even Yo La Tengo's, Painful, did it pretty well in my mind.
I'm not usually coming to a piece with a visual idea, but often there will be a mood I'm trying to stay within. I think I'll do the opposite of conveying a landscape: I like to turn the listener inward so they can internalize something about the music rather than trying to create something resembling a wide open physical space.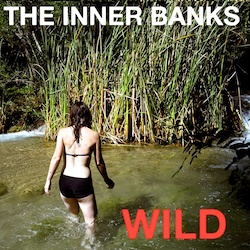 Marriages can be dysfunction factories or playgrounds (or both at once). Working and playing together adds another dimension to the possibilities (and kids add gravity as well as mass). Does the music reflect a balance in the family relationship?
David and I have very different musical backgrounds. His background is very diverse: he's studied African music, early jazz, avant garde, bluegrass. I am really a rock and roll girl at heart. British folk-rock, Krautrock, 60s pop ... but Neil Young and The Rolling Stones are still my favorite, just as they were when I was a kid. So part of what keeps The Inner Banks interesting is trying to synthesize those disparate backgrounds and aesthetics that David and I have into something cohesive. When we manage to do that is when we are at our strongest. I think in some songs, when we veer more towards one person's influences, the songs are probably not as interesting. We both love instrumental music and soundscapes but we come to it from a different place. For me, instrumentals have to have a strong melodic hook or it doesn't hold my interest. David is a real composer so when he writes an instrumental, he is usually consciously trying out a new theory or experiment of some sort. My training is in visual art. I was a painter and an animator. So I have no real method for writing, just a lifelong obsession with music that culminated in the sheer will to create it despite my lack of training. I think my ability to write melodies specifically comes from pure osmosis, having grown up listening to a lot of AM radio. My mother and grandmother were singers, too. I think that helped encourage me to pursue it despite my lack of formal training.
Perhaps close listening is training. I first met Caroline when she worked at Boston's Mystery Train Records. There she was exposed to the record-obsessed staff's manias of the moment, including, for a moment, British folk-rock from the '60s. "The first time I heard Fairport Convention," she remembers, "it was definitely one of those 'Aha!' moments when everything changed for me, musically speaking. I had already heard some British folk music but only bad cover versions. Then, one day at Mystery Train, Fairport's version of 'Matty Groves' was playing. I couldn't believe how propulsive and addictive that song was. That got me heavily into British folk for a long time. Sandy Denny's voice was immensely powerful and raw. Then when I heard bands like Pentangle adding sitar, it blew my mind."
Caroline's videos sustain the temporal dislocation. Found footage and distressed new video recall moments from the past and set them against modern sounds that have their own echoes of the past. Are we looking back from the future to images of a dimly remembered Arcadia? As with Stereolab, amid the neo-ye ye bounce and space-age keyboards, there is a strain of resignation, a reminder of what awaits us in the future: et in Arcadia ego.
REAL LIFE. REAL NEWS. REAL VOICES.
Help us tell more of the stories that matter from voices that too often remain unheard.