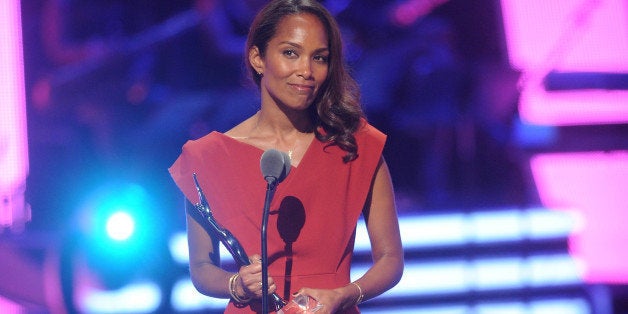 This is one woman's story. Sometimes we are saying one thing, but we are living something else. Sometimes we don't act out something, but we are feeling something else. Or we can speak the truth to someone else's condition but we can never speak to our own -- Mara Brock-Akil, Creator, Being Mary Jane
Brock Akil is known for bringing black voices to network television with a body of work that includes working as a writer and producer on Moesha and The Jamie Foxx Show and creator of game-changing shows Girlfriends (executive produced by Kelsey Grammer) and The Game, which taught mainstream Hollywood that black audiences do matter. After the unceremonious cancellation of fan favorite, The Game, viewers took to social networks launching a campaign to bring back the beloved show. BET heard the call and picked up the show, debuting on the cable network with 7.7 million viewers. Brock Akil's tenacity was matched by that of her audience, largely black women, who wanted to see more complicated images of themselves portrayed on the small screen.
Not one to rest on her laurels, Brock Akil took on the task of producing a remake of the iconic film, Sparkle in what would be music legend Whitney Houston's last role. Ironically, it was on the day that Houston passed that Brock Akil met with actress Gabrielle Union to discuss her taking on Brock Akil's newest creation, Being Mary Jane. Being Mary Jane is an episodic show centering around the complicated home and romantic life of a network television news anchor. It was in this context that Brock Akil and Union discussed what legacy they wanted to have in the entertainment business. They both decided that they wanted to do this show and they wanted to "swing big" according to Brock Akil. "We decided that we want to leave a mark, a mark that people will remember quite fondly and hopefully in a way that is also challenging. We're trying to expand the conversation about our humanity as black women."
Fast forward to 2014 and the debut of the episodic series Being Mary Jane is literally around the corner. Brock Akil, whose next goals include Emmys, not because she needs them but because she wants them, is excited about seeing her show debut at this particular moment in time. A moment when black television creators and filmmakers are making it happen in a major way (Felicia Henderson, Malcolm D. Lee, Shonda Rhimes, Ava Duvernay, Steve McQueen, Issa Rae and Ryan Coogler to name a few). Brock Akil's contemporaries are creating programming in independent and mainstream spaces that are having a major impact on audiences, ratings analysts and the box office. Brock Akil, who has been working steadily in the business for two decades, is on what she calls the precipice of her best work. "Don't get me wrong. I love me some Girlfriends and The Game -- those are my babies. I just think I'm better in this space, the space of Being Mary Jane."
Always pushing the envelope, Brock Akil debuted the show back in July with a 90-minute film pilot of the same name. Being Mary Jane scored an impressive 2.0 rating with adults 18-49 and 4 million viewers. Among the targeted demographic, only NBC's America's Got Talent (2.3 adults rating) bested Being Mary Jane across all of television. The success of the pilot reflected Brock Akil's strong relationship with BET.
I found a place that gets the show, wants it and knows how to support it. I mean they went from zero to 60 in terms of spend which is great for a network just getting into the scripted game. It's very important to note that we're spending some money and treating it with the quality it deserves in order to tell the story correctly. All the stars have aligned to do the show right, which is why we're swinging so hard.
A television veteran, Brock Akil, knows what it takes for a show to succeed. She also sees herself as a bit of a sociologist that uses her ability to observe and learn from women in her work. This helps her to understand not only what people need to see, but also why the Being Mary Jane pilot film resonated with audiences, and it isn't all pretty. "The show resonated with audiences because they could relate to the characters. I really feel as though we (women) are liars and we have become liars for our own survival. Now we're at a tipping point where it is no longer serving us but it is hurting us and now I'm finding that a lot of us are lost. I don't mean just single women. I mean women, married women, women across the board. We are lost, losing ourselves a little bit. I think men can relate too. They don't have to lie in the same way or deal with life in the same way, but I think they will recognize themselves even in Mary Jane if not the other characters that are present in the piece."
Brock Akil, whose moving acceptance speech at the 2013 BET Black Girls Rock! Awards spoke of the need to see the full humanity of ourselves on the big and little screen, elaborates on this notion of black women as liars to themselves. She says, "Obviously that's not everybody's story. This is one woman's story. Sometimes we are saying one thing, but we are living something else. Sometimes we don't act out something, but we are feeling something else. Or we can speak the truth to someone else's condition but we can never speak to our own." Brock Akil adds, "But that's not particular to black women. I think that's why I'm so interested in black women. I think we're trying to right so many wrongs in history, but history is gone. It's over. It's behind us. We're still trying to fix something that happened before and we are missing out on our now."
Brock Akil's now includes working closely with her contemporaries, whether it's her counterparts including husband Salim to make sure that this moment in black programming continues. "How beautiful is it now that we're more than just in fashion? We're becoming classic, a little black dress and we're here and we're making money. Our collective experience, the fact that all of these people (Prince Bythewood, Akil, Lee, Rhimes) are part of each other's lives, looking at each other's cuts, reading each other's scripts, trying to help everybody be here so that we stay here, making our art, making money so that we can continue to work in this business that we're in is inspiring," adds Brock Akil.
The woman who writes exceptional women characters and is finishing her film Abandonment Issues wants the show, its actors (Gabrielle Union, Omari Hardwick, Stephen Bishop, Lisa Vidal, Margaret Avery) and the network to receive the accolades it deserves. "What that means is harder work and I have to dig deeper there. I also want to usher in new showrunner voices as well. Someone was there for me. I want to be there for someone else. It's a part of the moment that I want to keep. I think it's great for me to have a voice, but I also think it's great to create a legacy or an infrastructure for others to get their voices out there as well. Those things are next."

Being Mary Jane debuts on BET on Tuesday, January 7 at 10P/9C.
Nsenga K. Burton, Ph.D. is founder & editor-in-chief of the award-winning news site The Burton Wire.
Popular in the Community