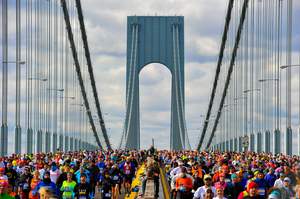 On Sunday I'll run my third New York City Marathon. If my training logs and weekly long runs are any indication, I'm on schedule to run faster than I did five years ago -- when I ran my second NYC Marathon -- and will definitely be fleeter on my feet than when I dragged myself over the finish line the first time, 10 years ago.
What's so remarkable about this is that in one month I'll be 60. Sure, there are lots of marathoners all over the world who are older than me and finishing in under five hours, even well below four. Me? I hope to bring it on home before 5 hours and 30 minutes, which will be 10 minutes faster than the last time, and I-don't-want-to-say-how-much-faster than the first. But, even if I don't, I'll be thrilled to say I did it.
For you, this may not be such an achievement. But for me, it's a miracle.
I hated running since I could walk. I dreaded Field Day in elementary school and secretly scorned friends who joined the cross country team in high school. Who are these people? I used to ask myself. Are they insane?
Then when I moved into Manhattan and would spot joggers and runners of all shapes, sizes and ages, who all seemed to have one thing in common: that pained look on their faces. Again I asked myself, Who are these people?
Fast forward a few decades to my last year as a 40-something woman. I was gaining weight, completing my tour of menopause duty, and feeling, how can I put it delicately? Yucky. So this is what hitting 50 is all about, I thought?
So, I did the logical thing: I pulled myself together and started running.
The weight came off, my body got stronger, and I felt really good about myself. So good, in fact, that I signed up to run the NYC Marathon at the age of 50. Back of the pack and slow as molasses, I managed to cross the finish line with a big smile on my face, knowing that I had just accomplished what less than 1 percent of the population ever will. It was a true feel-good moment.
Five years later when I was almost 55, a good friend passed on from pancreatic cancer. Grieving, and with a strong desire to do something about it, I decided to run my second NYC Marathon to raise money for pancreatic cancer research. I trained a bit better (using the Galloway Run/Walk/Run Method), but not by much. While I dallied with the idea of joining a running group for motivation, and tried to stick to a regular training program, I didn't do either. The truth was, even though I was more fit than five years earlier thanks to regular running, I still wasn't properly preparing myself to face the challenge that the NYC Marathon really is. But, face it I did, enjoying every second of the route, with the nagging knowledge that had I only trained a little smarter, I would have done a lot better.
Now, I once again find myself running the NYC Marathon for a cause. My motivation this time was to join the fight against colon cancer after my brother-in-law succumbed to this dreadful disease a few months ago, and so I'm running for Fred's Team, which raises funds for Memorial Sloan Kettering Cancer Research Center.
But, things are a little different now. There were new challenges I had to confront this time around, that didn't exist a few years ago. in addition to the fact that I was inching towards 60, my body was changing in ways I hadn't anticipated: picking up a too-heavy box the wrong way caused a painful herniated disc; nagging pain in my right hip revealed a touch of arthritis; similar discomfort in my toe also showed arthritis. I now had physical limitations that did not exist for me only a few short years ago.
However, by now I was a regular runner who relished the many physical and emotional benefits it offers. But, there's a huge difference between running three or four miles every other day at a nice pace to stay fit and healthy, and training for one of the most demanding marathon courses in the world.
This time, I had a plan. This time, I thought, I will train smarter. Here's what I did that I didn't do before:
Joined a running group: There are running clubs all across the country that will meet the needs of runners of all levels. The NYC Galloway Club became my go-to group for more than just having company on the weekly long training rains. They were -- and are -- my community, the voice of reason when I doubted myself, the supplier of solid info on socks, bras, and energy gels, and one of the greatest weekly gifts I give myself, better than any therapy session.
Didn't let physical discomfort stop me: My arthritis is now a given. It's a part of my life but I won't let it stop me. It's not debilitating or particularly painful, but a presence that can sometimes make itself known, especially when it gets cold. In fact, I urge all my friends (and my mother, too) to fight the urge to stop doing things they feel passionate about because of common physical conditions, like arthritis. Whether it's exercise, playing music, or knitting (another one of my passions, even though I have a bit of arthritis in my thumb, too!), it's critical to keep doing what we love to do, especially as we get older. Take a look at the video below, and prepared to be inspired to keep going, no matter what.
Ran 30 miles: This was a huge accomplishment for me. I took Jeff Galloway's advice to heart and scheduled a 30-mile training run a few weeks ago -- my longest ever. It made me think that running the 26.2 marathon will be a walk in the park by comparison. Maybe an ultra-marathon is in my future?
Entered shorter races: To stay competitive and motivated, I entered and ran in shorter races during my six-month training period -- 5K, 10K, half marathons, sometimes with my daughters. They were a great complement to the general training I was doing, and helped me forge new friendships with people in the running community. I've already decided to make running shorter races a regular part of my life in 2017 and beyond to stay fit and have fun. And after all, who doesn't like getting a medal?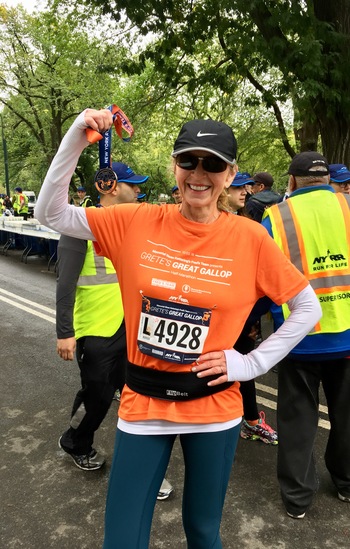 Paid closer to attention to the food I ate: When you're training for a marathon, and especially as you get closer to race day, eating the right foods is critical. Keeping tabs on protein after long training runs, and making sure to eat enough healthy carbs (not to be confused with the outdated idea of 'carbo-loading' on pasta the night before) in the days leading up to the big event could help push you over the finish line feeling fabulous instead of fatigued.
Cross-trained: I run every other day, even when training, so I don't wear myself (or my knees!) out. On non-running days I weight-train or exercise on an Elliptical or bike. Sometimes a pleasant fast-paced walk does the trick, but the key is to move my body every single day, which includes doing 20 push-ups, a two-minute plank, and 20 squats. Simple!
Made a marathon day plan: I am a lot smarter about planning my strategy for marathon day this year. Instead of taking off like a rocket (albeit a very slow one) at the start of the race -- as I did the other times -- I will run very slowly for the first 5 miles, speed up a bit during the next 13, and then give it my all for the remaining 8.2. Slow-to-fast is my mantra this year. And, I'll do the run/walk/run program throughout.
But the most important thing I'll do in a few days when I run my third NYC Marathon -- one month before my 60th birthday -- is rejoice in what my body is capable of doing. In a million years I never imagined I would run in a marathon, let alone three. Heck, not that long ago, I couldn't even imaging running at all. But I do. All it took was a small step in the right direction and the commitment to keep moving for the rest of my life.
Want to track my run? Download the TCS NYC Marathon app (it's free) and you can track up to 20 runners!
Barbara Hannah Grufferman's next book -- "STAY YOUNGER LONGER: 100+ HEALTHY HABITS TO LOOK GREAT, GET STRONG, STRESS LESS, LAUGH MORE, & OWN YOUR LIFE -- STARTING NOW" -- will be out in 2017 and co-published by National Geographic and AARP.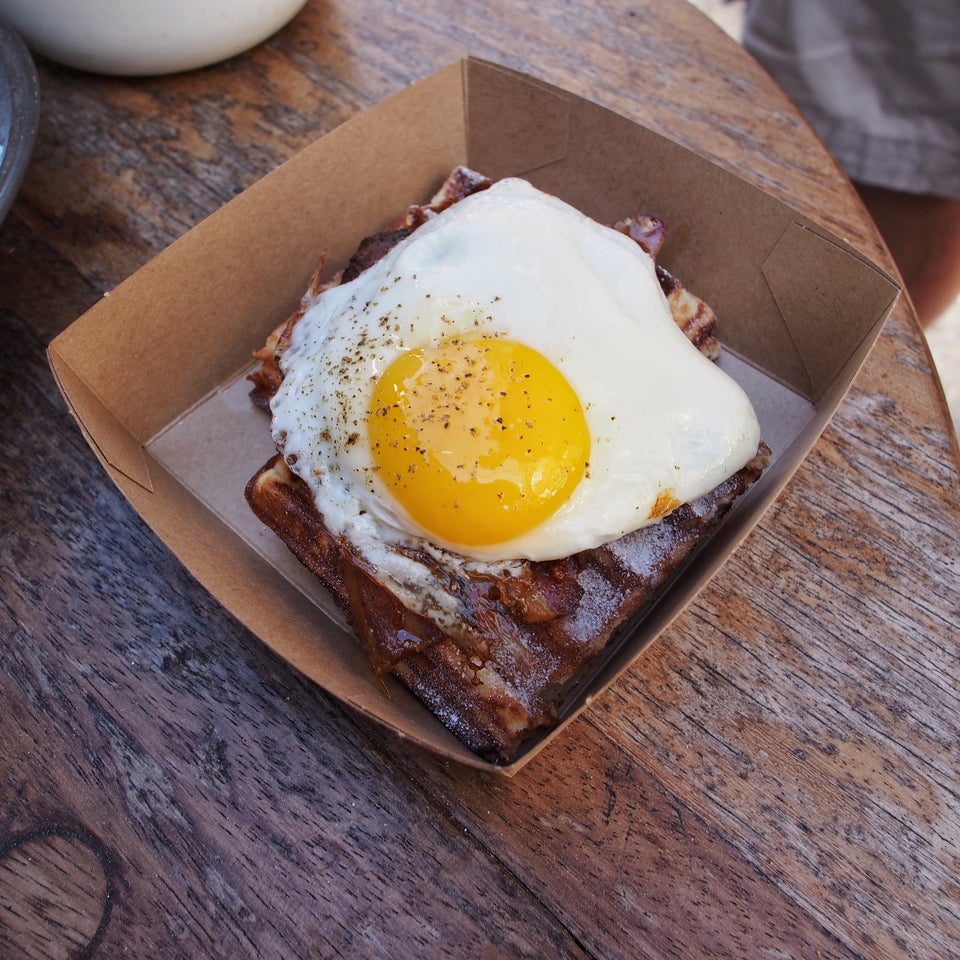 8 Ways To Wake Up With More Energy