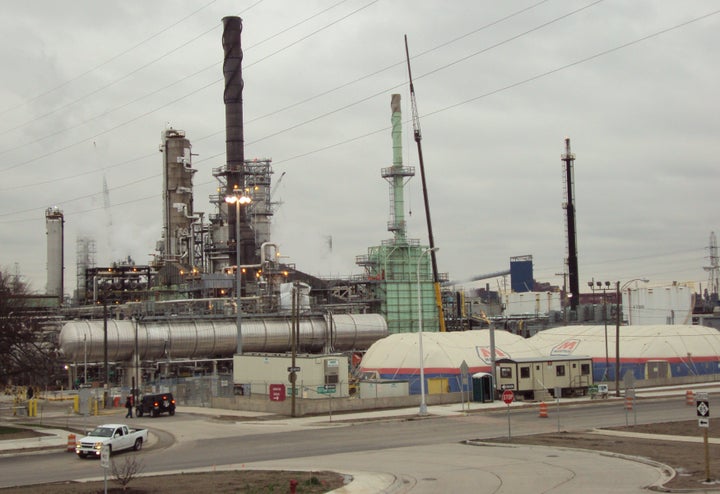 It seems that residents in Detroit's Oakwood Heights neighborhood are overwhelmingly taking up Marathon Petroleum Company on the offer to purchase, and then demolish, their homes.
Marathon is sending offers in two stages. The second stage will not receive offers until November of 2012, while appraisals for the first stage of homes are underway.
Residents in both zones have until Feb. 29 to enroll in the program. They will receive cash offers -- the minimum was recently upped from $40,000 to $50,000 -- from Marathon, though they are under no obligation to accept them.
Construction for Marathon's Detroit Heavy Oil Upgrade Project, which will allow the refinery to process more crude oil, has been ongoing since 2008 and is expected to finish late this year. Part of the plan is to construct a 1.5-mile pipeline that will connect to a crude oil supply in Canada.
The company, which won an Energy Star award in 2007 for improving its energy efficiency, has hired approximately 60 full time employees and 75 full time contractors for the project.
A 2010 report from the University of Michigan showed that the 48217 zipcode, which includes Oakwood Heights and Boynton, was the most polluted in the state, at 45 times the average. The neighborhood is heavily industrial, with the Severstal Steel plant, Detroit Salt Company and the Detroit Edison Coal Plant also nearby.
Michigan does not have any laws on the books that regulate the distance between industrial operations and school and residential areas.
According to Curbed, residents are already starting to move out of Oakwood Heights, leaving it feeling emptier, and less safe, for residents who decide to stay or will not be offered buyouts until later this year.
CORRECTION: An earlier version of this article stated Marathon's expansion project was announced in November. The expansion was announced in 2008 but the Oakwood Heights resident buyout program was announced in November.

The earlier version of this article also stated that 80 percent of property owners in the first of two phases of the Oakwood Heights buyout program have enrolled. Instead, 80 percent of all property owners have enrolled in the program. Residents in both phases of the program have until Feb. 29 to enroll.
Related
Popular in the Community