 Across the country, running shops -- along with their Facebook and Twitter accounts -- became de facto hubs for questions and condolences on Monday afternoon after two explosions disrupted the Boston Marathon, killing at least two people and injuring dozens more.
The first blast went off near Marathon Sports' location on Boylston Street in Boston, blasting out the store windows, according to reports.
Phone calls to several of Marathon Sports' Boston locations by The Huffington Post went unanswered, but the company's website featured hashtag #prayforboston along with a link to donate to the Red Cross on Monday afternoon. The company also used its Facebook and Twitter accounts to communicate with runners.
"Incredible tragedy, and at a loss for words. It is a small consolation, but our staff are all safe. Please #prayforboston," Marathon Sports posted on its Facebook page Monday afternoon. The post then became a sort of open guest book for runners and others looking to express horror and shock at the day's tragic events.
No words.Small consolation - but staff is okay.

— Marathon Sports (@Marathon_Sports) April 15, 2013
Marathon days are typically big for local running shops, at least in terms of foot traffic as the race and related festivities bring running to mind, said John Raveling, manager at the Greater Boston Running Company in Lexington, Mass. But on Monday, visitors to local stores had far more sober thoughts in mind.
"We have had a couple people come in just to talk about it," said Raveling. "Everybody is trying to find out all the information that they can. Everybody is just asking questions."
News of the explosions rippled through the running community, even shops far away from Boston, as groups of runners from their local communities had traveled together to compete in the elite marathon. Twenty runners from the Track Shop, based in Orlando, Fla., were in Boston when the disaster hit, according to the Orlando Sentinel.
"We heard a huge, loud blast and didn't know what had happened," Jon Hughes, who co-owns Track Shack, told the Sentinel. "We could see the aftermath from our room and it reminded me of what you saw at 9-11 when the World Trade Center came down."
Several runners from Milwaukee's InStep Running were participating in the race, according to WISN, a local news network in Milwaukee. "First thought I had was I hope not just the people I know are okay," Jaime Jacoby, who works at InStep, told the news channel. "I hope everyone's okay."
A branch of CitySports located about five miles from the site of the marathon declined to comment on activity in its stores Monday, but a store clerk said the mood of Boston generally was "nervous." The chain store, which has eight locations in the Boston area, posted a statement from the company's CEO, Eddie Albertian, saying that staffers were safe.
"On behalf of everyone at City Sports, we want to express our deepest sympathies and condolences to those touched by this senseless tragedy. Our thoughts and prayers go out to all who have been affected," Albertian said on Facebook.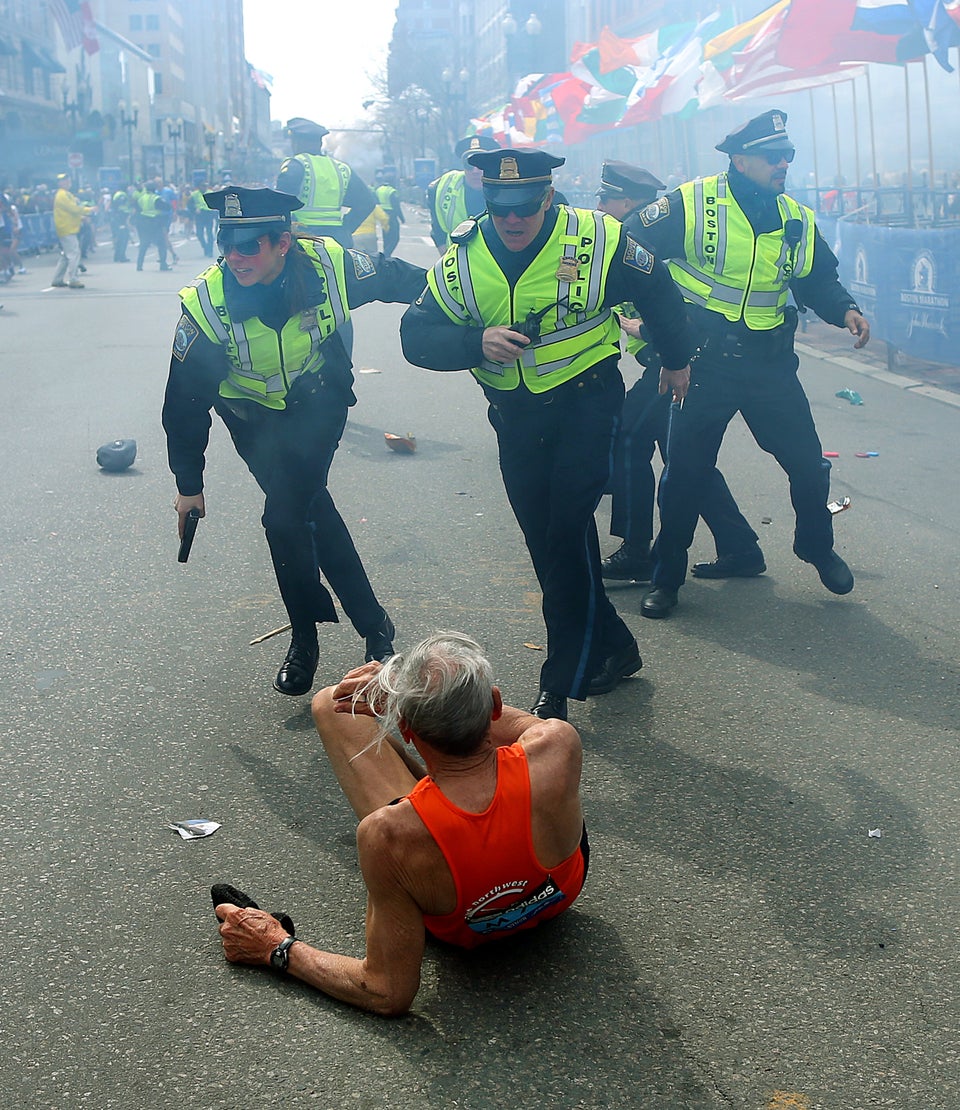 Boston Marathon Explosion (GRAPHIC PHOTOS)