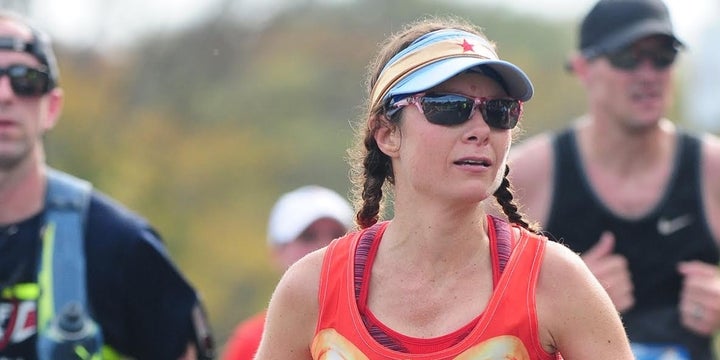 My first reaction was physical. Goosebumps. My first thought was: What?! You passed out and ran another 11 miles to the finish? That's Crazy Town. Then, after a moment of reflection, I was envious. This just might be the most epic marathon story ever told.
Kara Seager is a high school English teacher from New Hampshire. She's the mother of a college freshman, the head track coach, and chair of the English department. She's a bundle of nervous energy with a contagious smile and a switch that's stuck in the On position. She's the kind of person that walks into a room, fixes her glasses, adjusts her hair, tells you three unrelated things in the space of a single breath, and smiles before you can say hello. Her humor is self-deprecating and her quirkiness makes her easy to talk to. She's a distance runner through and through.
Kara and I see each other in the hallways of the high school a few times each week. We talk about running, racing strategy, and discuss things that sound strange to most people. There's a small group of us. We're mostly lean, sharp-eyed, high-energy people with tolerant attitudes towards others and high expectations for ourselves.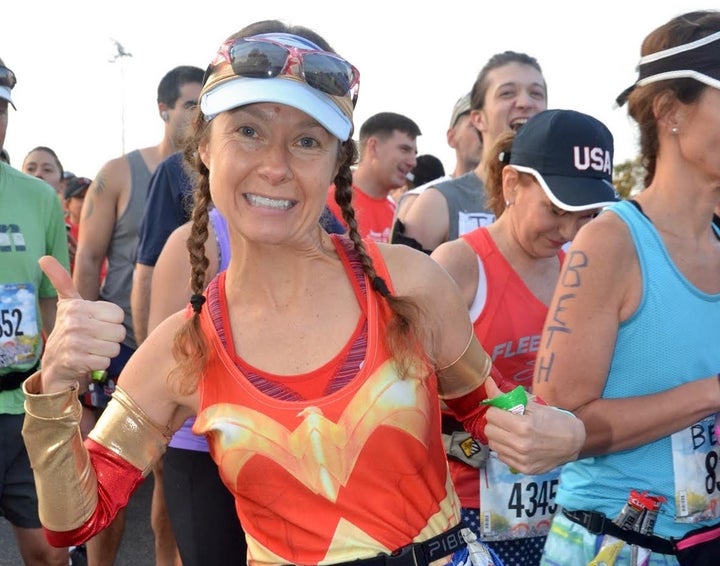 Kara has been training to break the 4-hour mark after running a 4:02:56 in her first attempt. The "People's Marathon" in Washington, DC seemed like the perfect place to do it. She was attracted by a flat course, a scenic route, and hundreds of thousands of passionate spectators. Personally, I think the young Marines in uniform had something to do with it.
The weather this year was unseasonably warm. Temperatures were in the 60's with high humidity at the start. Temperatures continued to rise into the mid-70's before most marathoners crossed the finish line at the Marine Corps War Memorial. Kara had spent the last few weeks running in 40 degree temperatures along the New Hampshire seacoast in a hat and mittens.
Kara was dressed as Wonder Woman. Well, Wonder Woman with a tutu to be exact. She'd need her super powers in a few short hours.
The race starts between Arlington National Cemetery and the Pentagon. Runners are well aware that this race is different from others. It is a race that begs for sacrifice and offers glory in return. Runners are acutely aware of the fallen heroes who've served our country for generations and those who continue to protect our freedoms. Kara's emotions run high and she reminds herself to stick with the pace group and not get carried away too early in the race.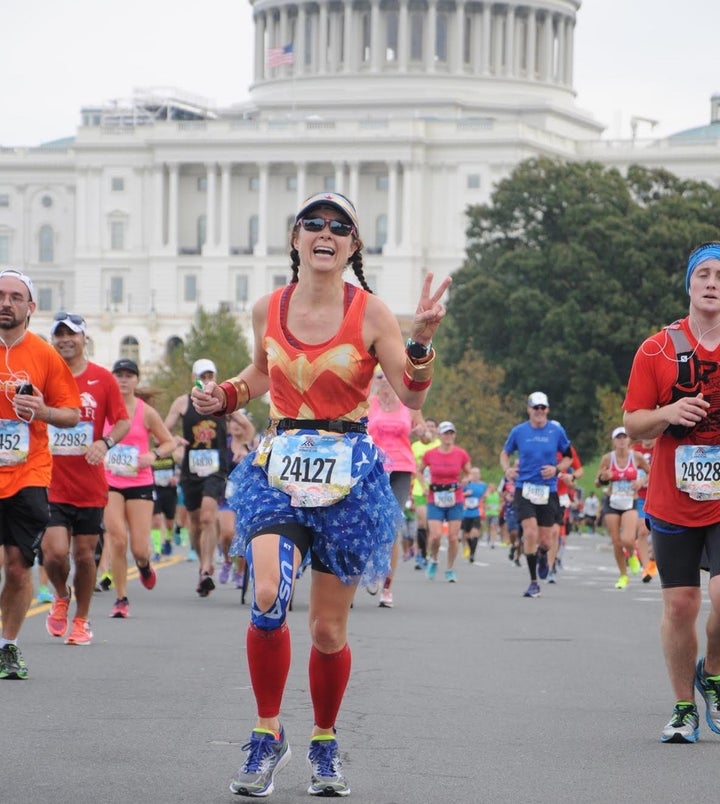 The first 13 miles are a filled with smiles and good thoughts. The first few miles are the steepest of the race as runners climb a few hundred feet of elevation along Lee Highway in miles 2 and 3. After that, they run through Georgetown and hear the cheers of the crowd urging them past the Lincoln Memorial and on towards the Potomac. Everything is easy. The miles slide by like hours spent in the company of good friends.
Kara is hot, sweaty, and starting to worry about things as she enters the Blue Mile. The emotional stretch of the course where military families and friends gather to honor their loved ones who have lost their lives in service of our country. As Kara passes the grieving families holding pictures of their loved ones and, yet again, generously offering their support to strangers, she's overcome with emotion. Big salty tears make tracks down cheeks as she continues to push on towards the National Mall.
Suddenly she was on the pavement. She remembers her hands reaching out to break her fall and then nothing. Her next memory is being helped to her feet by two men. Embarrassed and determined to keep going, she refused any help and began running as if on autopilot. She looked at her knees and expected to see bleeding or worse, but her compression socks and the tape on her knee saved her.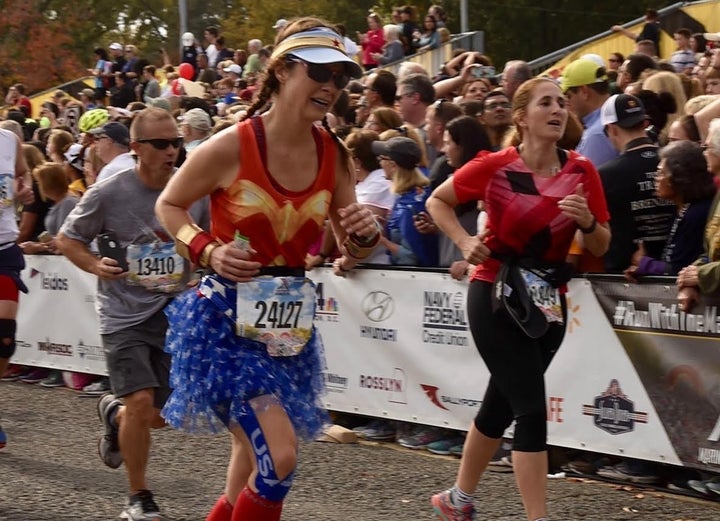 11 miles to go. Her boyfriend was supposed to find her by the Washington Monument to give her some applesauce. She looked for him. He was there too. Looking for her. They never found each other. Keep going, she told herself. You can do this.
The next several miles were full of convincing, suffering, walking, and jogging. She was moving in a confused stupor. But, to outsiders, she looked like she was enjoying herself and having a good time. They had no idea what was taking place inside her head and inside the heads of the thousands of runners that passed by in a rush of bright colors and heavy footsteps. The marathon is a grueling race both mentally and physically.
Drink. More water. Kara knew that if she was going to make it to the finish she had to hydrate. The weather and the early miles had left her dehydrated. She drank something at every aid station and soon had a belly full of water sloshing back and forth like the waves of the ocean back home during a classic Nor' Easter.
She walked and jogged her way to mile 25. At one point she realized her boyfriend had been sending her text messages. Where are you? Are you OK? I love you. She couldn't stop to figure out a response or how to deal with the technology. She just couldn't. That's what the marathon will do to you.
Eventually she let him know she was walking and not to worry. Kara ran the last mile and finished her marathon in a time of 4 hours and 22 minutes. Her sub-4 marathon had escaped her, but the feeling of contentment and quiet exhaustion that marathoners know and love did not.
She gathered herself on the concrete steps by the Marine Corps War Memorial and thought.. never again! But the euphoric post-race endorphins flooded her system and she smiled and embraced her son and her boyfriend and the world was a beautiful, perfect place for a moment.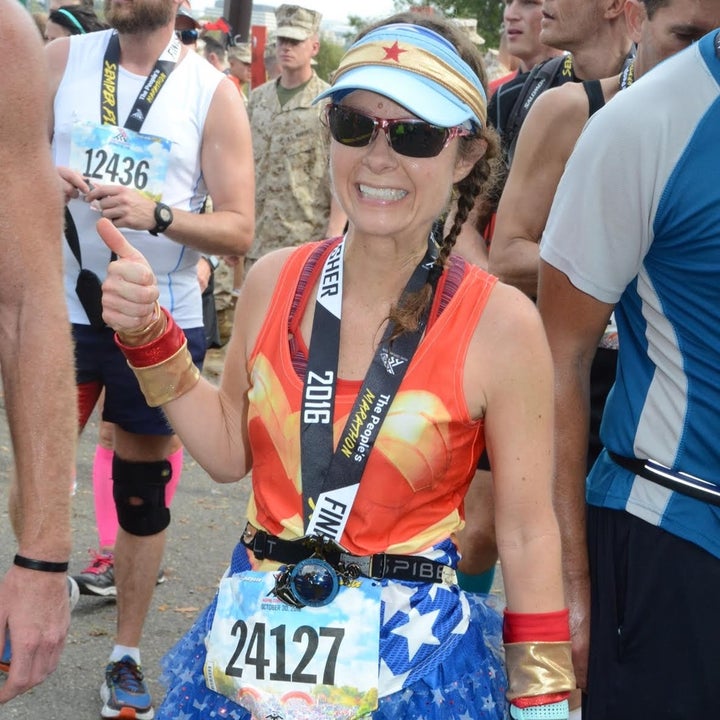 In our everyday lives we are tested very few times. The marathon reveals our true character, strips away pretenses, and gives us a chance to be heroes. Kara's race is more impressive than those who ran faster. Her race exemplified true grit and the spirit of the marathon. She made rocking chair memories that day. And, for that, I am envious.
Related
Popular in the Community