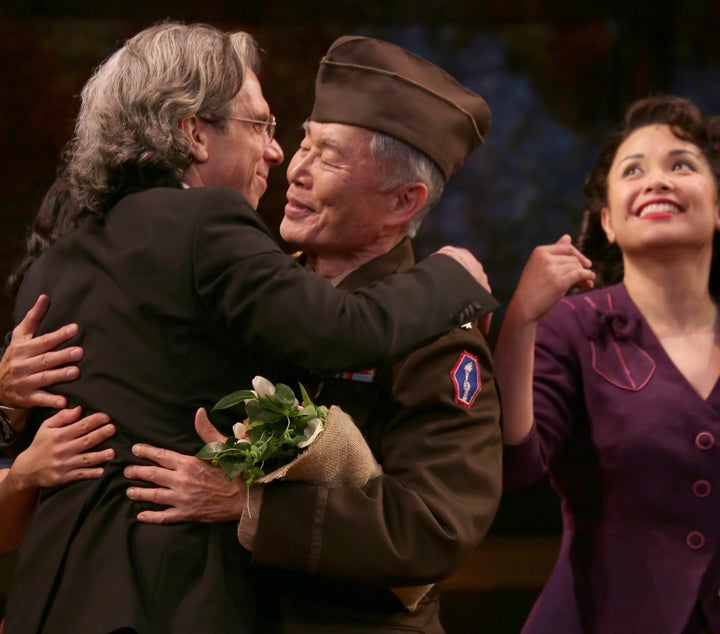 Each night as the curtain rises, the 78-year-old "Star Trek"  icon can thank Marc Acito, who wrote the "Allegiance" libretto along with composers Jay Kuo and Lorenzo Thione. For Acito, however, the show marks a career milestone for very different reasons. The 49-year-old writer, who is openly gay, relocated to New York from Portland, Oregon, in 2010 with two manuscripts and a determination to be on Broadway in five years.
While "Allegiance" is thrilling audiences in New York now, the show almost didn't move forward with Acito's involvement. In 2012, Kuo and Thione approached Acito with an offer to join the "Allegiance" team after seeing his musical adaptation of  "A Room With A View" at San Diego's Old Globe Theatre. With just months to go before rehearsals with stars Takei, Lea Salonga and Telly Leung were to begin, he had reservations.
"As a white guy, I'm really sensitive to the perception of cultural imperialism," Acito told The Huffington Post of the musical, which follows a Japanese-American family thrown into an internment camp when the U.S. enters World War II. "Never in a million years would I presume to tell a Japanese-American story. But to be invited by an Asian-led team to participate in that story is such an honor, and what I found in that story was something that fulfilled my own mission as an artist, [which is] to tell truthful stories that uplift and inspire."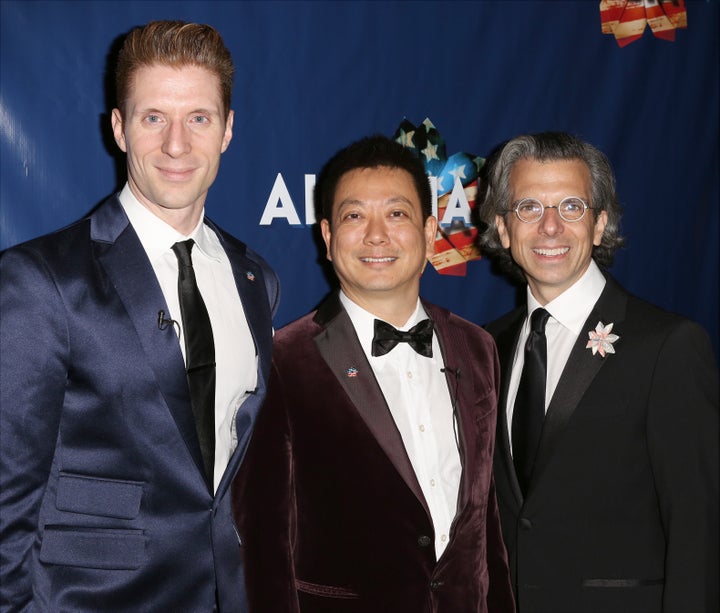 Although "Allegiance" marks his Broadway writing debut, Acito is no stranger to the public sphere. Prior to becoming a playwright, Acito was a journalist whose work appeared in The New York Times and on NPR; his first foray into book writing came in 2004 with the teen novel, How I Paid for College: A Novel of Sex, Theft, Friendship, and Musical Theater, which was well-received by readers and critics alike.
Still, for Acito, the bright lights of Broadway beckoned. In 2011, he made his stage writing debut with "Birds of a Feather," a comedy that was loosely based on the controversial children's book, And Tango Makes Three, about two "gay" male penguins who raised a chick together in NYC's Central Park Zoo. "Feather," which premiered in Fairfax, Virginia, nabbed him a Helen Hayes Award for Outstanding New Play.
The common thread in all of his work, Acito says, are characters who are considered outsiders and who are battling -- and triumphing -- over adversity. In cases like "Birds of a Feather," they also happen to be gay.
His latest project could very well endear him even more to the lesbian, gay, bisexual and transgender (LGBT) community. Days after the Broadway premiere of "Allegiance" in November, Acito flew to North Carolina to prep for the debut of his next musical, "Chasing Rainbows: The Road to Oz," which depicts the adolescent years of Judy Garland.
"The part of Judy's story that we deal with is that of a 13-year-old girl who is trying to support her entire family during the height of the depression. She is routinely bullied, mocked for her weight and openly criticized for not being pretty enough," he said. "She's somebody who ultimately lost, but put up a damn good fight. I think that's a really interesting story, to look at the person who put up a damn good fight."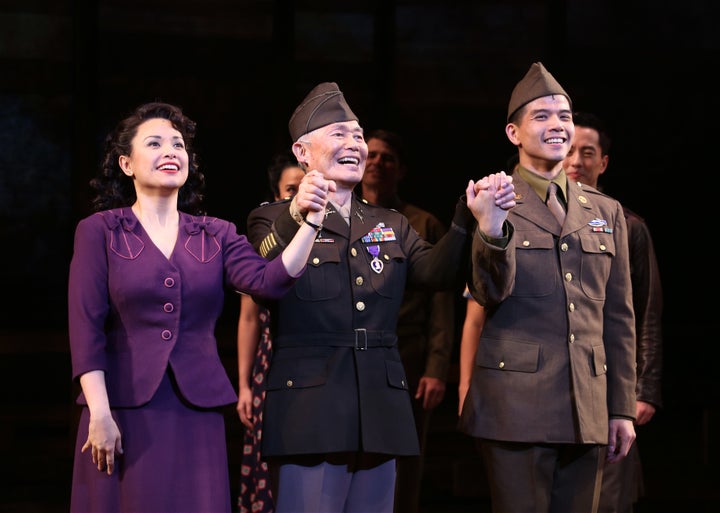 Whether or not "Chasing Rainbows" will see a Broadway bow remains to be seen. For now, however, Acito has Takei to thank for his own breakthrough on the Great White Way. The 78-year-old "Star Trek" icon spent years in a Japanese-American internment camp during his childhood and his experiences inform the plot of "Allegiance," the significance of which is not lost on Acito.
"We have living history onstage," he said. "We're not just re-telling this story; there's somebody who's re-living it onstage every single night. We all feel like we owe it to George. We owe it to all the internees."
PHOTO GALLERY
George Takei Through The Years
Calling all HuffPost superfans!
Sign up for membership to become a founding member and help shape HuffPost's next chapter