Following the exit of key "Batwoman" creative team members J.H. Williams and W. Haden Blackman from the franchise over an alleged opposition by higher-ups to a same-sex mariage storyline, DC Comics has reportedly hired openly gay writer Marc Andreyko as the series' head writer.
Blackman and Williams announced their controversial and highly-public departure from "Batwoman" last week, citing "editorial differences" and their publisher's opposition to Kathy Kane -- Batwoman's alter ego -- marrying her lesbian fiancée Maggie Sawyer.
The hire of 26-year-old openly gay Andreyko to replace the pair comes after his work on the Manhunter DC comics series. The writer broke the news of his hire to replace Blackman and Williams via Facebook over the weekend: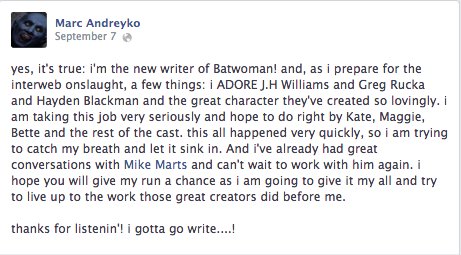 The "Batwoman" series, which has won multiple GLAAD awards, has been a source of controversy for DC comics since its inception, as a result of the visibility it provides an openly gay character. DC co-head Dan DiDio reportedly spoke about the trajectory of the "Batwoman" series at Baltimore Comic-Con, and discussed the entry of a new writer.
When we introduced Batwoman back in 2006, we took a huge risk at DC Comics – we went and did something unprecedented: we made one of our major characters gay ... When we did it, we knew there would be controversy and complaints, and there were. We got hit with so many different letters and so many nasty emails ... [but we] stood behind th[e] character 100 percent.
DiDio reportedly claimed that DC denied the nuptials of Batwoman because the Bat family "shouldn't have happy personal lives."
DC Comics did responded to a request for comment by The Huffington Post last week surrounding the departure of Williams and Blackwell: ""As acknowledged by the creators involved, the editorial differences with the writers of BATWOMAN had nothing to do with the sexual orientation of the character."
There have been same-sex marriages among superheros in mainstream comic book culture before. In summer 2012, Marvel penned a marriage between the character Northstar and his long-time boyfriend.
The Huffington Post reached out to DC Comics for a statement surrounding the hire of Marc Andreyko for the "Batwoman" franchise. The company did not immediately respond for comment.
REAL LIFE. REAL NEWS. REAL VOICES.
Help us tell more of the stories that matter from voices that too often remain unheard.
BEFORE YOU GO
PHOTO GALLERY
13 LGBT Comic Book Characters