Marc Anthony has a few choice words for Republican presidential candidate Donald Trump.
The singer shouted "Fuck Donald Trump!" as he wrapped his nearly sold-out show at New York's Madison Square Garden on Saturday.
"I want him to hear it in his house. Wake that motherfucker up," he continued, before launching into his final song.
Anthony's strong words about Trump came as he concluded an impassioned speech about Latino unity and pride.
"I'm proud to be Latino in the United States of America," Anthony said, looking around at the audience. "I see Peruvian flags, Uruguay. I see Panama. I see the Dominican Republic … Let me tell you something: We're all proud of our culture."
Anthony said that though Latinos are not all alike -- they all speak a little differently, have their own customs and food -- they should stand united. "But here, no matter where you come from, we're Latinos!" he said. "And we have to take care of each other. No matter where we come from."
After taking a brief pause to bask in the cheers from the crowd, Anthony cursed Trump, bringing the audience to their feet for a standing ovation.
The singer has lashed out at Trump from the stage before. He denounced the billionaire in a similar fashion during a joint concert with Carlos Vives in Las Vegas in September.
Trump has become a target for many Latino celebrities, politicians and activists since he made some harshly anti-immigrant comments while announcing his presidential candidacy on June 16.
Watch Anthony's speech in its entirety in the video above.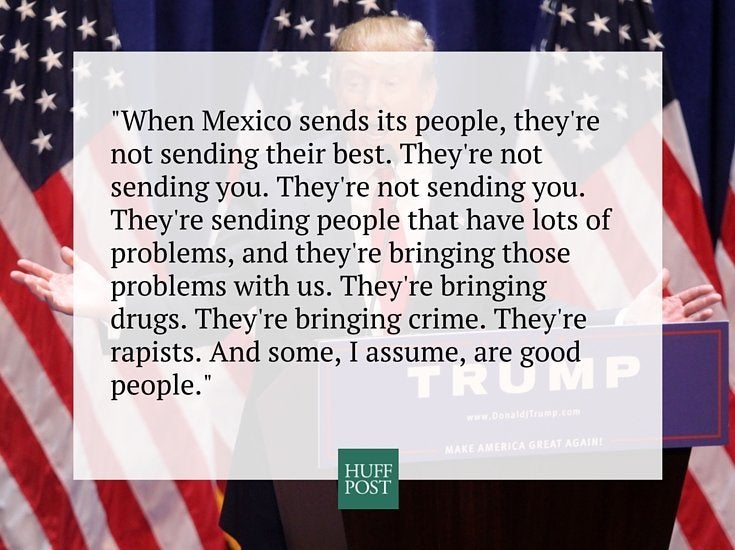 9 Outrageous Things Donald Trump Has Said About Latinos
Popular in the Community