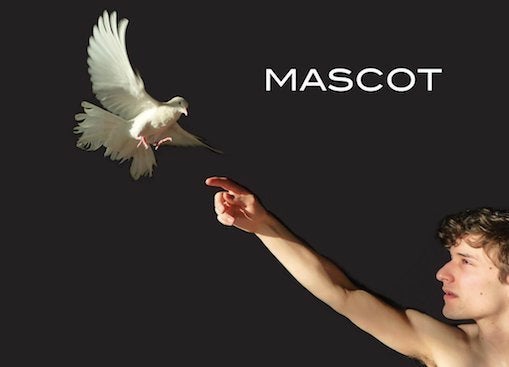 Anyone can tell you who's already made it, but HuffPost Arts & Culture's On Our Radar series is here to tell you who's about to blow up -- and, in some cases, go pop.
Marc Arthur could be described as the consummate theater nerd. But the artist's particular single-minded fixation involves a bit more description, starting with his affection for doves and including a fixation with live painting.
His latest project, titled "Mascot," is a perfect example of the artist's whirlwind style, blending avant-garde dance, painting, sculpture and art history all into one creative project. The hour-long performance features four painters using a plethora of materials such as latex and fiber to construct works on stage, acting out choreographed movements in the process. Think Merce Cunningham meets The Wooster Group (two of Arthur's influences), bundled into a beautiful and sometimes bizarre production meant to explore the nature of violence.
We spoke to Arthur ahead of the performance debut at the Martha Graham Dance School, which premieres on April 12. Here's what the cross-disciplinary artist had to say about his beloved doves, Béla Tarr films and cathartic art. (Scroll down for performance videos.)
Who/what was an early influence on your art?
My mom is a costume designer so I have a lot of vivid memories of sitting in the back of a dark theater watching rehearsals. Once a character was stabbed onstage and I freaked out and started crying and they had to stop the rehearsal and show me how the effect worked with the knife and fake blood. I think I was six. To learn how the craft of theater can twist and mimic reality was a very formative experience for me.
What have been the lowest and highest points in your career so far?
During my production of Peter and the Wolf, a piece that involved a cast of 10 child ballerinas painting a 20-foot canvas while speaking over 80 sources of text about wolves, there was an accident with powdered pigment. The powder created a really cool looking cloud of colored smoke but ended up being a pretty stressful experience. That show came with a lot of highs and lows.
How would your childhood art teacher describe you?
I think my art teachers thought I was weird. "Phantom of the Opera" and conceptual art were both really important to me when I was a kid so a lot of my early art projects ended up involving pyrotechnics.
What are you obsessed with right now outside of art?
I spend a lot of time with my doves -- Professor Pickles, Becky and Calle Wolf Spider. They each have their own personalities and even though we get in fights sometimes we love singing opera music together. I've also been trying to lucid dream.
Name a movie or book that you are embarrassed to have never seen/read?
I usually fall asleep watching Béla Tarr films; I've never seen one all the way through. I've also never read the Odyssey.
Why does this project -- "Mascot" -- matter?
I want to make tangible the passion, rage and beauty that often feels lost in our world.
"Mascot" is major because I've been developing it for over a year now and it's my largest scale project to date. In it you'll see live painting, birds and latex being ripped apart as performers enter cathartic states of dancing and acting. I'm trying to displace theatrical and dance traditions with the painting process, so that the moral and ephemeral essence of the piece is made permanent on the canvas.
When I first created "Mascot" I was thinking about how violence could manifest in the act of painting. I sifted through texts about madness, corruption, war and disease to lay the groundwork. Then I cut and pasted these texts, and through workshops with the performers, built a structure that enacts both painting techniques and the drama of spectacle.
PHOTO GALLERY
Marc Arthur
Calling all HuffPost superfans!
Sign up for membership to become a founding member and help shape HuffPost's next chapter