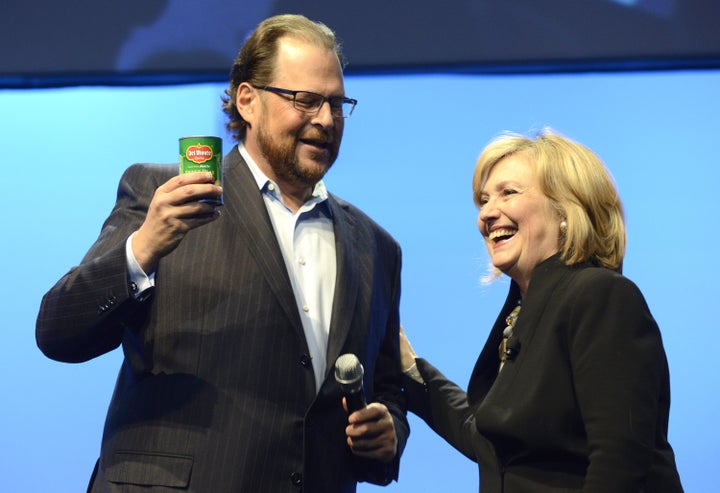 "What are we going to do about Trump?" That's a question Salesforce chief executive Marc Benioff gets a lot these days from other CEOs and entrepreneurs, he told The Huffington Post.
His answer is unwavering: "If you want to defeat Donald Trump, and you're that upset about him, then you should support Hillary Clinton, which is what I'm doing," Benioff said.
An increasing number of business leaders are starting to openly criticize the reality star and presumptive GOP nominee, but Benioff's strategy takes a higher road. The 51-year-old, already widely known for his social activism, hasn't made negative comments about Trump and instead devotes resources to supporting his opponent.
Benioff was supporting Clinton long before it was clear that Trump would emerge as the presumptive Republican nominee, he pointed out. He hosted a fundraiser at his home in San Francisco earlier this year that he said netted $500,000 and has donated $2,700 to her campaign.
"I'm not supporting her because I'm against Trump," he added, noting that he believes deeply in Clinton's positions. He first came out in support of the candidate in March during an interview on CNN.
"She supports equality for all, including gender equality and pay, which is important to me," Benioff told HuffPost. "She supports LGBT equality, which is important to my employees. I think she has the right economic policies and she is the most experienced candidate for the job. She's more likely to do the right thing than anybody else."
Benioff earned widespread recognition last year after publicly announcing there was a gender pay gap at his software company and that he would fix it. He then revealed he'd spent $3 million giving out raises to employees to ensure fair pay.
He's since become a corporate leader on gender pay equity and a number of companies have followed suit, announcing their own pay audits. In January, he urged other chief executives to stop turning "a blind eye to what's happening in their own corporations" during a conference call organized by the White House.
The chief executive also led a successful campaign to beat back several state laws that sought to legalize discrimination against LGBT people, earning wide acclaim and a profile in The Wall Street Journal, which credited him with kicking off a "new era of corporate social activism."
Though the political activism that puts him in line with the Clinton campaign took shape over the last two years, he has long partnered with the Clinton Foundation on other philanthropic endeavors. In 2014, he donated $3.5 million to Too Small To Fail, an early childhood education campaign founded in part by the Bill, Hillary and Chelsea Clinton Foundation. The donation fostered a literacy program at the UCSF Benioff Children's Hospital Oakland that helps low-income mothers teach their children to speak, read and sing.
"It's been a huge success story," Benioff said of the joint venture with Clinton's charitable organization. "She realizes that a child's health and education and fundamental ability to be a success starts prenatally."
Not all his fellow CEOs are taking the speak-no-evil route when it comes to Trump. On Wednesday, venture capitalist Chris Sacca, an early Twitter investor, and billionaire Marc Cuban took part in some Trump bashing on Twitter.
And earlier this week Airbnb CEO Brian Chesky said Trump was on the wrong side of history when it comes to his policies on immigration.
Don't expect Benioff to follow suit.
"Honestly, I'm not [worried about Trump]," he told HuffPost. "I don't think there's any way Donald Trump will be president."