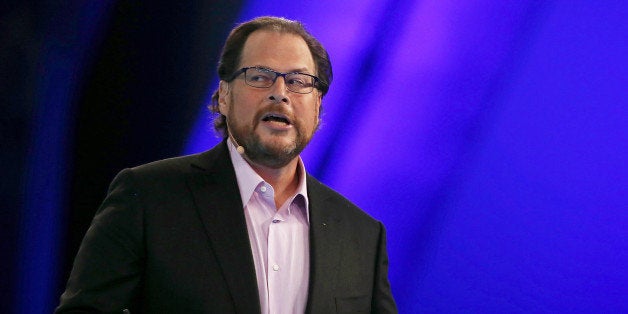 For Marc Benioff, the fight against Indiana's widely criticized "religious freedom" law was personal.
The Salesforce CEO was a leading voice in the national outcry against Indiana's Religious Freedom Restoration Act, which Gov. Mike Pence (R) signed last month. Critics argued that the original version of the RFRA would have permitted businesses to discriminate against LGBT people.
Benioff said his advocacy was an effort to help his employees and customers whom the law might have affected, something he describes as being key to his personal philosophy.
"I'm all for a healthy mind and a healthy body, but I'm also about having a healthy planet and a healthy country and taking care of others that don't have as much," Benioff, a habitual meditator, told The Huffington Post on Monday from his vacation home in Hawaii. "That's my spirituality."
On March 25, a day before Pence first signed Indiana's RFRA, Benioff became the first major business leader to speak out against the law by threatening to scale back his company's investment in the state. After the governor approved the measure, Benioff swung back even harder, posting what he called the "tweet heard 'round the world," in which he announced plans to cancel all Salesforce programs that would require customers or employees to travel to Indiana. Indeed, it was retweeted nearly 9,800 times and favorited more than 8,300 times and became part of the national conversation.
"CEOs are very much the advocates of their customers and employees, as well as of the environment and local communities," Benioff said. "The most successful CEOs today are advocates for their stakeholders, not just their shareholders."
After a week of backlash, Pence approved a revised version of the measure, this time explicitly banning businesses from refusing service because of a person's sexual orientation or gender identity.
Benioff may have been the first major CEO to express his opposition to the legislation, but he was soon joined by others. Corporate giants and organizations from Apple to NASCAR rallied behind LGBT rights groups in Indiana to fight the law.
Still, the Salesforce chief may have been uniquely positioned to champion the cause in Indiana. For starters, San Francisco-based Salesforce became the state's largest tech employer when it acquired the marketing software firm ExactTarget in 2013.
And, Benioff has a lot of powerful friends.
The day after the law passed, he said, he emailed the people he regularly meets and dines with in San Francisco, many of whom are top tech industry executives. Among them was Max Levchin, one of the co-founders of PayPal and the chief executive of financial management site Affirm. Four days after Benioff sent the email, when he flicked on CNBC as he started his morning workout at the gym, he saw Levchin railing against Indiana's law.
"I was completely blown away," Benioff said, noting that Levchin went on to organize more than 70 top executives to sign a joint statement condemning the law last week. "This is really the first time that we have started something, and the reason it got started -- the reason it was successful -- is because it was so many different CEOs banding together."
Benioff has long practiced the "stakeholder theory," a philosophy advocated by World Economic Forum founder and chairman Klaus Schwab, among others. The ideology views shareholders as second to employees, customers, suppliers, communities, trade unions and others who are affected by a company's commerce. Imbued with a strong sense of corporate responsibility and connected with its community, a firm that's guided by these principles might, the philosophy suggests, earn greater profits over time, translating into higher returns for investors. It's the corporate equivalent of building good karma.
In the two weeks since Benioff began his campaign, emails have poured in from workers thanking him for stepping up. He said he's never received so much positive employee feedback in his 16-year tenure at Salesforce.
"When the economic hammer came down, that's when things really started to change," he said. "There's one word that was continually used by everyone in Indiana, which was 'historic.' That's something that we in San Francisco, or those of us who don't live in Indiana, don't have the perspective to understand, but for them this was historic."
Benioff pledged to continue the fight by urging the Indiana legislature to add the LGBT community as a protected class under local civil rights laws in its next session.
"The conversation happened the right way," he said. "It opens the door for another change and another change, probably in the next legislature."
The CEO admits that not every step in this push to change the law has been graceful. He became the target of some criticism after a CNN interview last Wednesday, in which he said, "One thing that you're seeing is that there is a third [political] party emerging in this country, which is the party of CEOs." The comment provoked pushback from those who already fear the influx of money in politics. Benioff said he misspoke as a result of his excitement over the business community's rapid response to the situation in Indiana.
Benioff hopes business leaders can continue to push for important legislation that affects their stakeholders, and cites patent and immigration reform as specific examples.
Asked whether Indiana just happened to provide the right place and time for business leaders to unite behind a particular political cause, or whether the momentum would continue to grow, Benioff said he was unsure.
"This was so spontaneous, it happened so quickly," he said. "But CEOs do have a lot of power, like it or not, so they need to bring on a stakeholder philosophy."
Related