A Kansas City police officer is under scrutiny after he weighed in on the Michael Brown shooting on Facebook.
KCTV reported on Monday that Marc Catron is under internal review after he published two racist Facebook posts, including the one below.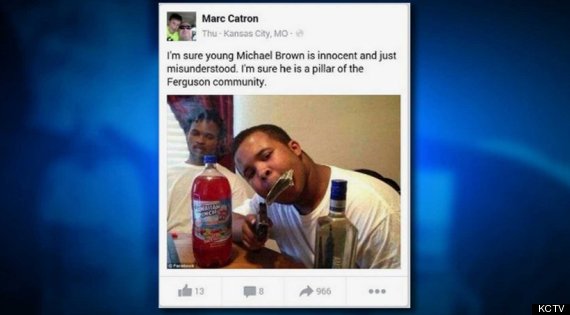 The photo is not of Michael Brown, who was killed by a Ferguson police officer earlier this month. As the Oregonian reports, it is actually a picture of a Washington County murder suspect.
But, as Gawker points out, "if you're a racist and all black men look alike to you, then, sure, it's Michael Brown."
Catron also re-posted a meme that said "Remember how white people rioted after OJ's acquittal? Me Neither."
Again, as Gawker notes, Simpson had access to a team of high-priced lawyers, something most caught up in the criminal justice system do not have.
It's unclear when the Facebook posts were published, and the department wouldn't tell KCTV anything about what punishments Catron could face.
But the department's social media policy says officers can't post anything that could "negatively affect the public or professional perception of the department."
Officers must also refrain from posting anything that would "ridicule, malign, disparage or otherwise express bias anything any race, any religion or other protected class of individuals."
Like Us On Facebook |

Follow Us On Twitter |

Contact The Author
Related
Popular in the Community