WASHINGTON -- Most corporate executives and would-be politicians tend to be careful about what they post online. But Marc Cenedella, the CEO of TheLadders.com who is mulling a challenge of Democratic New York Sen. Kirsten Gillibrand, took a decidedly different course.
On his blog, which until recently was cross-posted on his company's website, he posted about and linked freely to just about anything. Among the things he cited or referenced were explicit pornography sites, publications that objectified women, volumes of material criticizing infamous Apprentice contestant Omarosa Manigault-Stallworth, and various stories about criminals that involved marijuana.
In a questionable choice for a man likely planning to challenge a female senator, he approvingly tweeted a photo of a knife sharpener in the shape of a woman being sliced in half.
He allows readers to ruminate on "Skanky vs. Sexy," and links to a site that offers dating advice for sluts. He also jokes that maybe he can "cotton to" the Bible after linking to a post that says the holy book advocates marriage between a man and one or more women.
Although many of his posts and tweets could be written off as stemming from a low-brow sense of humor or bad taste, he is planning to run for office in a state that has been home to some unfortunate recent examples of politicians who were a little too free with their online antics, including Reps. Anthony Weiner (D), who resigned after tweeting and texting inappropriate photos to women, and Chris Lee (R), who quit after trying hook up through Craigslist.
Gillibrand told NY1 news, a local New York news outlet, that the material shows poor judgment.
"I feel like the nature of the rhetoric is very anti-women and very disrespectful and disregards women," Gillibrand said. "And I think it's a matter of judgment and a level of inappropriateness that's not appropriate for anyone seeking any office."
Gillibrand's campaign followed up on her remarks with an email blast to supporters Tuesday. "This kind of garbage isn't suitable for any office, let alone one of the highest offices in the land," said Gillibrand campaign aide Lillian Choi, calling Cenedella's online posts "obscene, offensive, and sexist."
"This lack of judgment from a CEO that wants to go from NSFW (not safe for work) blogging to the U.S. Senate is shocking." Choi added.
Bill O'Reilly, a spokesman for Cenedella, said his client was simply doing what people did on the Internet to attract eyeballs, and that attacks on such antics miss the point.
"Kirsten Gillibrand has once again shown today that she does not understand the Internet," he said in an emailed statement. "Last week she almost destroyed it with her PIPA legislation, and today she shows her ignorance about the blog world," he added, referring to the much-maligned anti-piracy bill that was shelved last week.
"The site in question, Stone.com, was a popular site between 2003-2008 with five or six authors, including Marc Cenedella," O'Reilly said. "It riffed off material moving around the Internet in those days. Stone didn't write the material Senator Gillibrand's opposition research team is spreading, it commented on it as did thousands of others. There is a huge difference between writing original content and remarking on that content. Ms. Gillibrand needs to do her homework."
Still, Cenedella did offer some of his own commentary and, of course, chose what he was tweeting himself.
O'Reilly characterized that as just part of doing business.
"The Stone site and tweets linked to lots of controversial things, like The Onion or Gawker or lots of other sites do. That's the nature of the medium," he said.
Canedella echoed his spokesman later Tuesday, telling the Albany-based program Capitol Tonight that the site was meant to be "edgy," and that regardless of whether he was the author of specific posts, he was in charge. "I can't tell you which author wrote which one," he said. "I'm the publisher, I take responsibility for the whole thing," he said in an interview posted on the show's website.
The New York Times first reported on Cenedella's online doings with differing explanations of them, but The Huffington Post has obtained dozens of examples of his work, including items he has tweeted recently. Many of them are included in the slideshow below:
Before You Go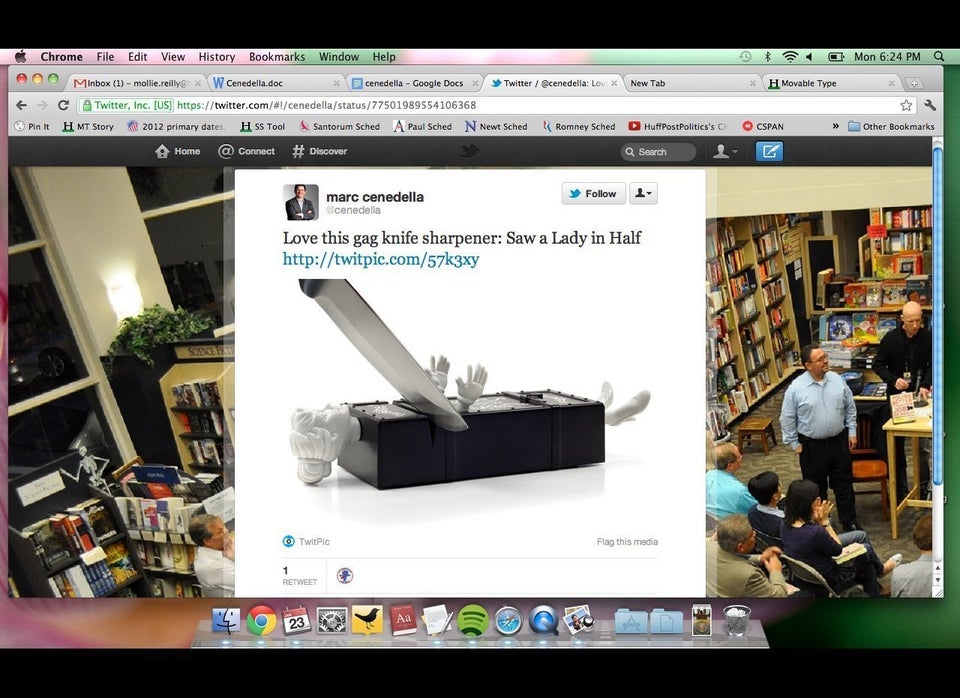 Cenedella's Lurid Web History
Popular in the Community