Paradigm Shifters is a series of interviews with a select group of women and men from eclectic walks of life. It will highlight unspoken, real-life insights on how they have been able to turn weakness into strength. A naked soul point of view of how their breakdowns were really a preparation for breakthroughs. They are your quintessential paradigm shifters; internal shifts converted into genuine change.
Everything I have ever done has been focused on this underlying theme of shifting the paradigm because, "What we think determines what we feel and what we feel determines what we do." Hence, why Empowered by You takes lingerie, which has traditionally been seen merely as a tool of seduction and redirected that energy as a tool of empowerment.
I hope from these stories you will look at your own situations, struggles and accomplishments through a different lens. At the very least you will be more equipped with real life tools to change your own paradigm. At the end of the day, we are our own Alchemist turning the silver we were born with into the gold we are destined to become.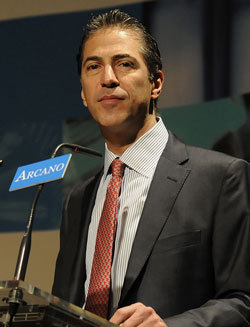 Marc J. Leder - Co-CEO, Sun Capital Partners, Inc.
What made you want to start Sun Capital?
Rodger Krouse and I both went to Wharton with an interest in business. When we got out of college, investment banking was the highest and best career for a numbers-oriented graduate of Wharton. Private equity was just evolving as a formal industry when we started on Wall Street.
During our time with Lehman Brothers--Rodger was there eleven years, I was there nine--private equity evolved into this incredible industry. Rather than advising clients about mergers and acquisitions and financing, you actually would make your own investment decisions with your own money and capital entrusted to you by investors. You would be able to work with the portfolio company to improve the business, to grow sales and profitability and to ultimately monetize the investment. It just seemed like a way to take what we were doing to another level.
But when we talked to our friends who were in private equity, no one wanted to hire us as we didn't have experience in private equity, just investment banking, so Rodger and I decided we'd start a firm from scratch. We moved to Florida where the market was less competitive, and our strategy was to buy companies that others didn't want to buy. We started off sharing an office the size of a small conference room; I made the coffee, he made the copies. We had no capital. We spent the first five years just finding deals by hustling. Once we found the deal we would go around and raise the money. We passed the proverbial hat around to get our first twelve deals financed.
What are the main factors you look for in a company you feel is worth buying?
Unlike other firms, we often invest in under-performing or challenged companies that need fixing. Whether that is because of misguided strategy, lack of investment in the business, a cyclical industry or a bad add-on acquisition, the companies face real challenges.
It's incredibly rewarding to come in and provide the necessary capital and human resources to transform potential into results. Sometimes our work saves companies and jobs that might otherwise have gone away because the business became uncompetitive. Before we buy a company, we make sure of three things.
First, that it's a business where we can make a difference through our operational expertise. Second, there is a management team in place or available to partner with us and looking for a true partner to collaborate with to help achieve the company's untapped potential. And third it's a market leader and is important to its customers.
Since 1995, we've invested in more than 330 companies worldwide across a broad range of industries.

What's the "secret sauce" you implement in the companies you buy?
We have a handful of great operating tools in our toolkit to improve performance. However, the one which is most frequently overlooked by other firms is culture.
We invest in formalized culture studies for each portfolio company, and then we work with management to improve the culture. After a large number of portfolio companies underwent a cultural study, we found that culture was an excellent predictor of performance over time. It's not intangible--our approach has been rooted in measuring four attributes: Adaptability, Mission, Involvement and Consistency. Specifically, "involvement" has the strongest correlation with performance. By "involvement" we mean team orientation, empowerment and capability development.
What's the biggest breakdown to breakthrough moment that you've had yourself?
Divorce was a big change in my life. I never expected to get divorced so when it happened I was shocked. You go through every possible emotion--anger, fear, loneliness, and even sadness for my kids. I expected to be married forever. I'm a very loyal person. My ex and I were great friends throughout our marriage, and remain so, but three kids and a demanding career can create a lot of obstacles. I was so two-dimensional--kids and work.
I'm much more balanced now, but I still try to use every minute of every day. I've become an active collector of art. I'm a Director of the Berggruen Museum in Berlin and the Rush Philanthropic Arts Foundation. The art world is so different from my work and it provides a bit of an escape.
The more I grew to love the arts, the more I felt it important to lend my support and help ensure that artists of all kinds can continue to bring their creative expression to life and in their communities across the globe. Everyone can enjoy art and the creative process and it makes artists' work so important to our society.

What kind of legacy do you wish to leave behind?
First and foremost, to be a great parent and to raise great children that excel at whatever they choose to do.
Second, to be one of the best private equity investors ever.
And third, to give back some of the economic benefit of my work to charity. Rodger and I support two nonprofit charter schools in Florida, and we support other causes through the Sun Capital Foundation. There's a real intersection between philanthropy and business.
If your life were a book, what would the title of 2015 and 2016 be?
For 2015, I would say "Finding Great Balance"--between work, family, philanthropy and relaxation.
I still work very hard but I've been working the past several years to find a better balance and learning to rediscover some of my broader interests.
For 2016 I would say, "Taking Everything to the Next Level." I want to be a better person, a better parent, a better friend, better at private equity, and better at philanthropy.
Here's a perfect example of that. Rodger and I have given money to well over a hundred important charities. We're proud of that, but we felt we weren't impacting our home state of Florida enough. There are many unmet needs. So Rodger and I set up a charity committee at Sun Capital.
Four to six people from our firm volunteer each year and everyone else nominates local charities that they think are great. What I mean by getting better is that every cause sounds like a great cause, but you still have to pick and choose because you can't contribute to all of them. And we need to look at how many people we're helping and obviously, there are different levels of help.
How can we maximize the number of kids and families we can impact positively? For one charity, a sizable donation can help a thousand individuals, and for another charity it would only help twenty.
Related
Popular in the Community