 Here's the Marc Jacobs item you never knew you never needed: a condom.
Some lucky (and safe!) eBay-er has put up for sale a "100% Authentic!" Marc Jacobs condom. Yes, it's blue. Yes, it matches his hair. (When his hair was blue, at least.)
It even comes with a handwritten note that says: Remember, Safety First! xxoo, Marc Jacobs.
At the bargain basement "Buy It Now" price of $1.99, this makes for one cheap label splurge... If it's real, that is. (We make no guarantees.)
And we can't help but wonder what on earth would compel Marc Jacobs to design (?) a one-of-a-kind, cerulean blue, collector's condom. Do the proceeds go to charity?
We did a little research and found this post from June 13, 2007 and this one from September 2006, which links to eFashionhouse.com - which was presumably the online home for MJ's condom creations.
Here's a photo: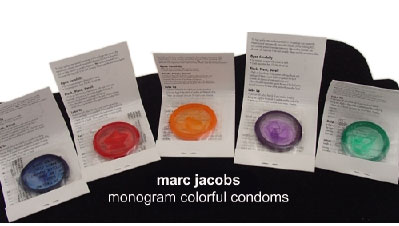 Looks like we have a winner. And it also looks like the condom business didn't bring Marc the business he expected. So: one-of-a-kind it is not. Collector's item? Maybe. After all, it does come with a handwritten note.