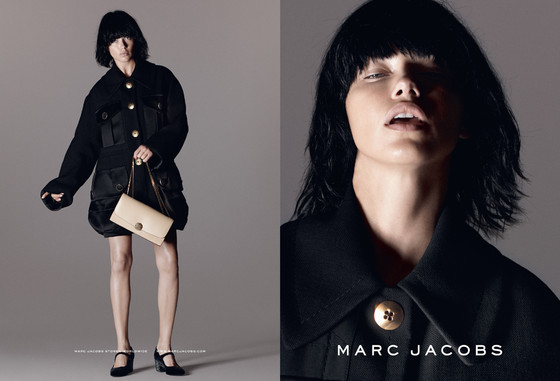 Over the years, Marc Jacobs has developed his own identifiable campaign aesthetic: take 1-2 up-and-coming models, throw them against a stark background, add a couple quirky (or sometime downright eerie) props and let Juergen Teller do what he does best. But for spring/summer 2015, is appears that Jacobs is taking his namesake brand into a different direction. Shot by David Sim, it stars nine of the most talked-about models in the game -- a glimpse of which we got back when the first image was released back in December. Now, after much anticipation, the label has released the full campaign, and as expected, it does not disappoint.
In the same bare-faced makeup looks and black shaggy wigs spotted on the runway in September, Anja Rubik, Kendall Jenner, Karlie Kloss, Joan Smalls, Jessica Stam, Natasha Poly, Issa Lish, Adriana Lima and Anna Ewers come together this season to form the Marc Jacobs army-- all cast and styled by Jacobs's longtime collaborator Katie Grand in the same military uniform-inspired outfits. Much like the show, it's also a challenge to tell who's who at first look, which must be some kind of testament to the clothes considering the stature of the models at hand.
Scroll down for more of Marc Jacobs' SS15 army!
Popular in the Community