Marc Jacobs is known for creating fantasy. His fashion shows for his eponymous labels and for Louis Vuitton are the stuff fairytales are made of: carousels, escalators and Kate Moss are often involved. So when we heard the designer was playing the role of a porn baron in the new film "Disconnect," we wondered, how different can making a movie be from creating the vision behind his renowned brands? Pretty different, it turns out.
Jacobs was happy to share the story behind his role in the film (it involves a little-known actress named Winona Ryder), what psychotherapy has taught him about being emotionally fluent and his adventures on MySpace.
How did you become involved in "Disconnect"? "I met the director, Henry-Alex Rubin, years ago in Paris via a mutual connection, an actress named Winona Ryder. He was shooting a mockumentary around her shoplifting scandal and wanted to shoot in my showroom."
Years later, in July 2011, the director reached out to Jacobs again, this time regarding his first feature-length film.
"I never wanted to be an actor, so for me, it didn't matter that the role was a porn baron. It could've been a circus clown; it would've been no different. It was the fact that someone wanted me to act that was the real 'draw' to this film. To this day, I have no idea why he'd want me to be involved. It must have been something humorous or perverse about having me in that role."
What was the difference between creating a fashion show and filming a movie role? "Firstly, I don't speak the language of movies. I didn't understand 90 percent of what they were saying, so I really felt like I was in a foreign land where I didn't speak the language. There are some similarities in putting on both productions, especially when it comes to the tedium.
I'm used to the tedious aspects of putting together a fashion show. I can spend eight hours in a room discussing the width of an elastic on the hem of a skirt. I'm not used to freezing my ass off in a parking lot while filming with heating pads strapped to my torso. I couldn't wrap my head around filming one scene over the course of eight hours. So I guess it's the devil you know versus the devil you don't."
Between designing for three different brands, living between two countries and acting in a film, how do you disconnect?
"I'm not attached to phones or computers. I'm with my team so often that other than sending a silly text here or there, I'm not dependent on the internet. The film deals with the greater problem [concerning the internet], which is people's inability to deal with honest feelings. The internet is one way that people's problems manifest themselves, similar to a pint of Haagen Daaz for someone with an eating disorder or drugs for an addict. This is what comes of people not being able to honestly communicate and connect."
What advice would you give to parents of children in the internet age?
"I have no advice. It's like what Marilyn Manson said in 'Bowling for Columbine' when he was asked what he would have said to the shooters. He said, 'I wouldn't have said anything, I would've listened.'
After years of psychotherapy, I've learned that we need to be able to express our feelings, be able to tell a parent or a friend, 'I need your love.' There has to be a healthier way of communicating, rather than fearing confrontation and looking for escapes.
After a lot of group therapy and psychiatry I'm learning to become fluent in expressing anger and fear. For instance, with my psychiatrist, it's easy for me to tell him about the resentments and difficulties that I'm feeling with people, but I can't tell the person about whom I'm feeling this way. It's a practice, and I'll never feel like, 'Oh yeah, I've got this. I'm good.'"
"I'm the best version of myself and the most productive when I sleep seven to eight hours a night, when I spend two hours at the gym in the morning and when I'm following a healthy diet. A few years ago, I was diagnosed with ulcerative colitis, and the doctor prescribed a very restrictive diet: no caffeine, no sugar, no dairy, no white flour. Since then I only eat spelt flour and I continue to avoid sugar and caffeine (as best as I can).
When I see friends, laugh a bit and take time for myself, I'm in a better mood. I can be present and not fear the future. I'm in better shape physically and can enjoy things like shopping." (For the record, Jacobs told us he does wear his own line as well as Prada and Comme des Garcons.)
What are the lessons we can take away from "Disconnect"?
"I don't want to chat online with people I don't know. Firstly, there's something deeper there. Boredom? Years ago I had a MySpace account and I had all these friends I didn't know and that fed my ego. I'd stay up until 2AM chatting with people I don't know. Who does that benefit? Me or them?
Even today, I'll find myself on the treadmill on the gym and people will come up to me and say, 'Why won't you talk to me now? You were talking to me on Facebook at 4AM.' That's not me, that's Marc Jacobs the brand. People will approach me at restaurants and say, 'We're Facebook friends, why don't you say hello?' Again, that's not me, that's Marc Jacobs the company.
I grew up in New York City going to nightclubs, going to museums. I love the experience of seeing people, talking to people and interacting. Whether it's sitting outside and watching people walk by, or saying hello to people who pet my dog. I don't want to live virtually, locked in a room, interacting with a screen."
See more fashion people in movies: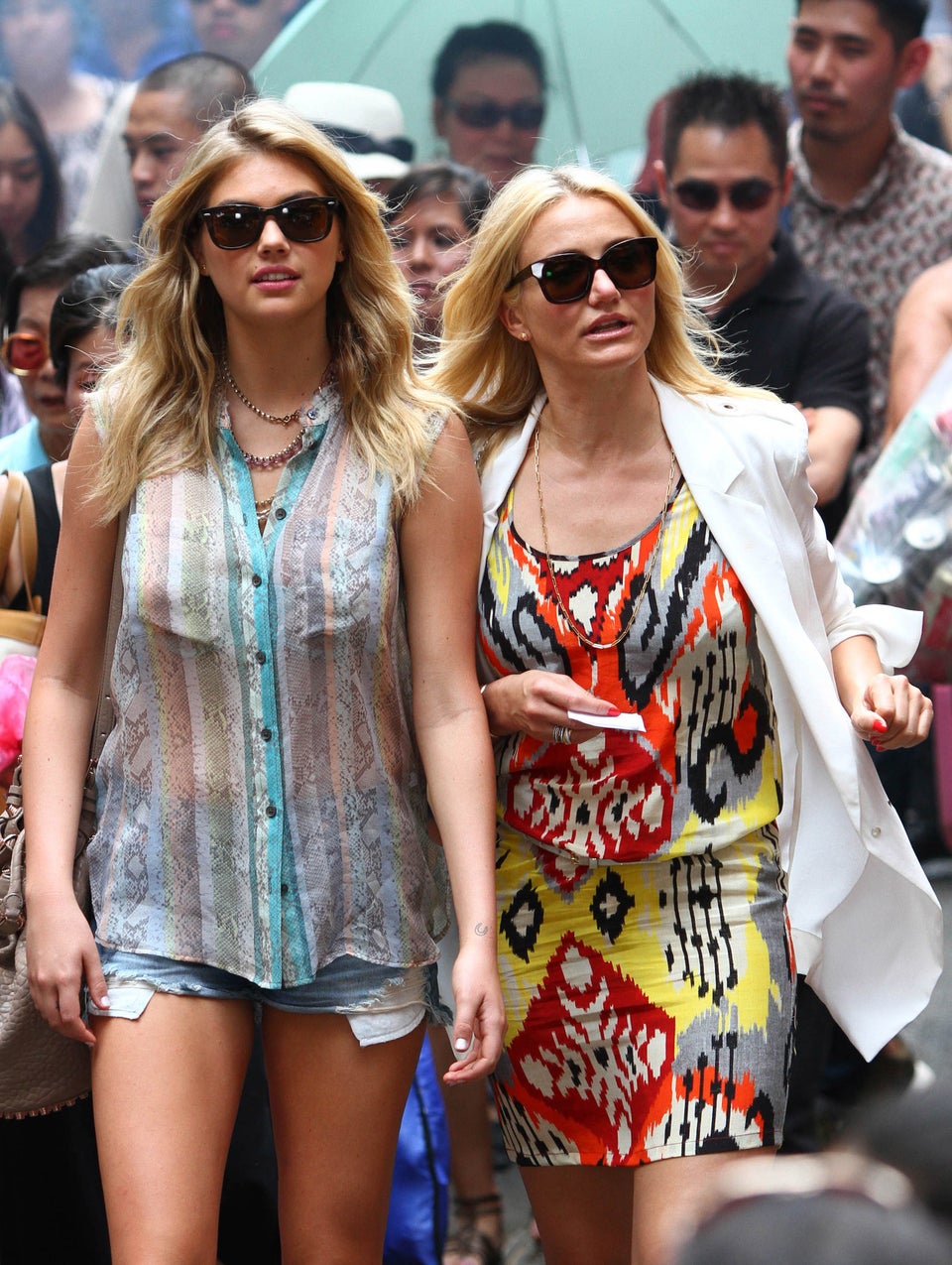 Models Take A Shot At Acting...