Seems like it's not all fun and games at the Haus of designer Marc Jacobs. Over the weekend, an intern had a very public breakdown on the brand's Twitter account, @marcjacobsintl, calling CEO Robert Duffy a "tyrant." The Daily Mail writes:
A posting from an iPhone at midnight EST read: 'You guys and gals have no idea how difficult Robert is. I am only an intern. My last day is tomorrow. I wouldn't be tweeting this if not!'

'Good luck! I pray for you all. If you get the job! I'm out of here. See ya! Son't want to be ya! Roberts a tyrant! Seriously! He is tough!' another read.

He continued: 'I can call him out! I'm out! Won't work in this town again! I know that! Learned a lot. But, I don't have the energy for what is expected!'

Signing off, he added: 'Yea, walk in my MJ shoes! Don't judge me! I'm alone in this office having to try and entertain you all. This isn't easy. I have tried. Done!'
The Tweets were later removed and replaced with some life lessons: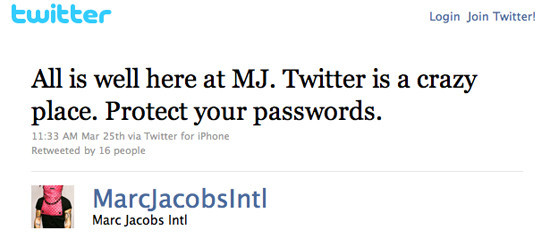 And so continues the label's love/hate affair with everyone's favorite microblogging site.
In fall of 2010, Marc and Robert were all about the TwitPics, posting a preview of their show. Come February 2010, Robert, who did most of the Tweeting, deleted the account after reportedly posting a very naked pic of a man dancing at the Marc Jacobs Show after-party. But last summer, Robert reactivated and since then, the feed has amassed nearly 115,000 followers. We hope, by now, they're here to stay. We mean, to Tweet.

Related