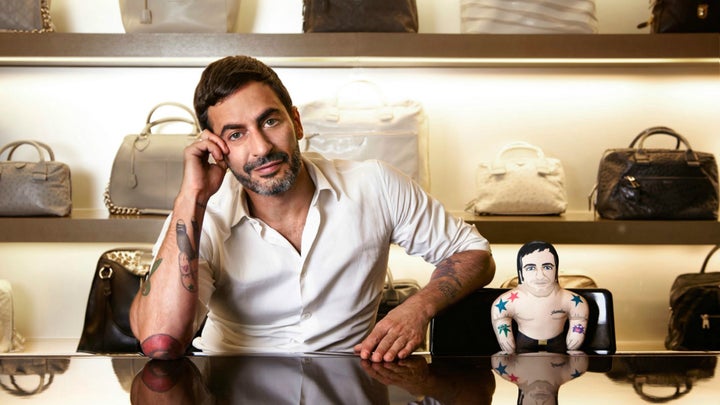 "Even I'm a little bit nervous about tonight's conversation," Fern Mallis told the sold-out crowd as she introduced Marc Jacobs at last night's 92Y event. It's been a year and a half since the woman who founded New York Fashion Week started her "Fashion Icons" lectures, but it is Jacobs who was her first choice to participate in the series. She's already featured Calvin Klein, Tom Ford, and Michael Kors, and after the talk was postponed due to Hurricane Sandy in the fall, Jacobs finally joined Mallis on stage to discuss his illustrious career.
We were there to soak it all in, so we could share the best things we learned about how Jacobs became one of the industry's most successful designers.
His very stylish grandmother knew he was going to be a fashion star even when he was a kid. "She loved to dress up and was very, very well-dressed," he explained. "She was someone who had me move her spring shoes to the top of the closet and the fall shoes to the bottom of the closet. She changed her handbags with different outfits." She also taught him to knit and embroider, skills that served him well during the start of his career. "My grandmother was amazing. She completely believed in me and was very encouraging. She would go to the supermarket or the butcher or wherever and tell people, 'My grandson is going to be the next Calvin Klein.'"
Snagging a job as a stock boy at New York's famed Charivari boutique as a teenager put the wheels of his career in motion. "I was folding shirts, taking clothes once they'd been pinned by the tailor down to get alteration tickets, taking tissue paper to the register," he said of his humble beginnings. It was at the store that he met Perry Ellis. "I had already been a huge fan of Perry. He stood out in what was the 7th Avenue design scene. He was this representative that felt more European to me. Although [his brand] was completely American, it had the kind of whimsy and humor and spirit and exaggeration of proportion that you would see more with European designers. They were fantasy clothes." Jacobs approached Ellis ("I'm not shy"), who told him that if he serious about designing, he should go to Parsons.
When Jacobs was in high school, he took a summer course in Paris offered by Parsons and fell in love with the city. He toured Yves Saint Laurent's atelier and heard Sonia Rykiel speak, and stayed far longer than the program's four weeks. "I had to take a loan to go. I had this thing in my mind that I had to go to Paris before a certain age... I cried on the plane home. I was so happy in Paris and still am. I spend just under six months a year there. There's not one morning that I go to work or one night that I come home where I don't pass the Place de la Concorde or see the Eiffel Tower sparkling with electric lights. It's beautiful and special."
He then enrolled as a full-time student at Parsons, where he had his very own fashion clique and worked incredibly hard. "Every day was like a fashion parade," he said of his college years. "There was a little troop of us. It was me, a girl named Susan Martin, Chris Iles, and Tracy Reese. The four of us were inseparable. We were the overachievers.. We would do five times what was required just because we really enjoyed it." When he graduated in 1984, he was named the student designer of the year and caught the eye of Robert Duffy, who would become his lifelong business partner.
Bill Cunningham's photos of Jacobs's very first sweater collection propelled him into the big leagues. "It definitely started it all," he said of the photos Cunningham took for the New York Times. "He photographed people on the street. That same season there was a very popular Gaultier sweater that looked like tapestry, so there were four women wearing that sweater and four wearing my sweater. That's when people started to say, 'Who's this kid?'"
At just 25 years old, he was hired on to design for Perry Ellis, a company he had always revered. He joked, "The first day I showed up with my motorcycle, and they said, 'Delivery's around the back!'" Duffy headed up the business side of the company, and Jacobs hired Reese and Tom Ford to work for him. He said of Tom, "I thought it would be really great, because of his sense of sophistication and his taste, if he did the jean line. It was clever because he would bring this sophistication to something that was considered casual."
In 1992, Jacobs showed his landmark grunge collection for Perry Ellis, and the rest is fashion history. He won a CFDA Award for his work, was promptly fired by the company, started Marc Jacobs International with Duffy and later got hired by Louis Vuitton, where he has been for 15 years. So, what's his advice for aspiring designers? "What's worked for me is not quitting and being passionate about what I do and not giving up -- and when I don't believe in myself, turning to others who believe in me."
Popular in the Community