Closing out what seemed like an endless month of Fashion Week after Fashion Week, Marc Jacobs partied with his best high-fashion friends on Wednesday night in Paris, feteing the launch of his new exhibition, "Louis Vuitton — Marc Jacobs: The Exhibition."
And in true Marc Jacobs fashion, the designer showed up in a rather irreverent celebratory outfit: a pink polo dress and pirate-like buckle boots (or are those more pilgrim-y?).
The designer looked thrilled as he toasted the new exhibit with his pals, who included architect (and biker dude) Peter Marino, Kristen Stewart, Gwyneth Paltrow (in a black Louis Vuitton suit so chic we were rendered speechless), Dianna Agron, Charlotte Gainsbourg, Natalia Vodianova and Sarah Jessica Parker.
Well, an entire museum exhibit devoted to his work, launching at Paris' Musée des Arts Décoratifs, would be a good place to start. "Louis Vuitton — Marc Jacobs: The Exhibition" features one floor dedicated to the original Louis Vuitton, maker of those signature leather trunks; a second floor features the work Jacobs has done for the house, including collaborations with Takashi Murakami, Vuitton ad campaigns and even a clip of his "South Park" cameo.
But nobody does Marc better than Marc himself, in all his pink polo shirtdress glory. Check out the designer and his chic buddies partying up in Paris.
And with that, Fashion Month is a wrap! 'Til next time, fashion lovers -- bisous!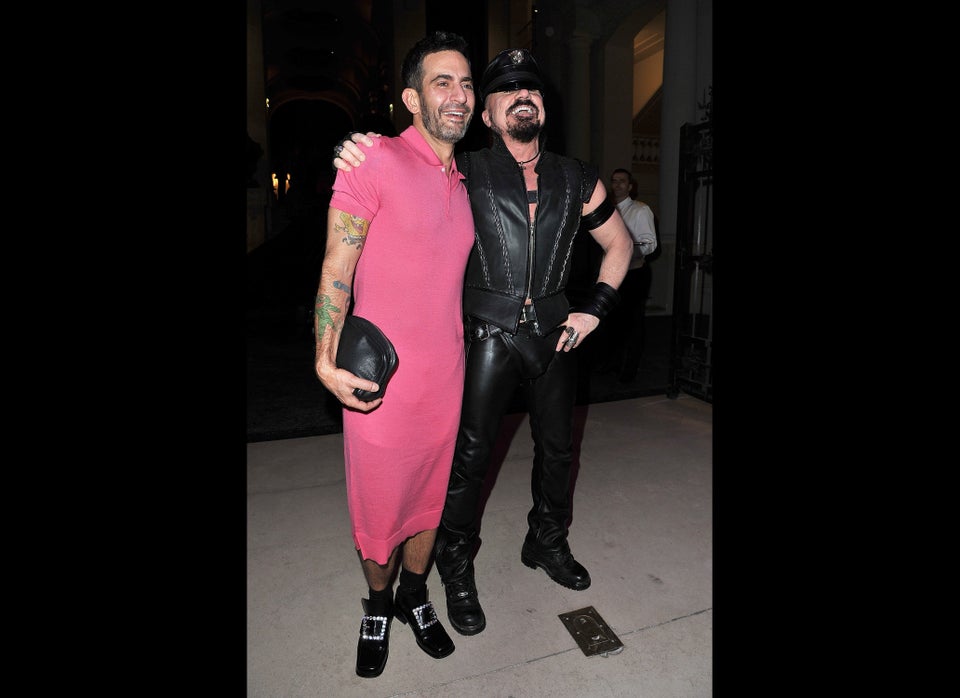 Marc Jacobs -- Louis Vuitton exhibit