UPDATE: A rep for Marc Jacobs denies that the designer married Lorenzo Martone this week, telling Us Weekly "Someone had a party for them, but there was no wedding." The rep added that the couple is "still engaged." A party with two grooms in white. And a wedding cake. With a cake topper. It's possible that it was a theme party: a wedding theme party. Looks like the saga of Is-He-Or-Isn't-He? continues....
*****
It seems that Marc Jacobs just can't stop marrying Lorenzo Martone. Today Guest Of A Guest reports that Marc Jacobs tied the knot with boyfriend Lorenzo Martone in St. Barts this week, where the couple has been vacationing. The website also published a few snapshots of the ceremony, which show Jacobs wearing his signature kilt in bridal white and his n' his cake toppers.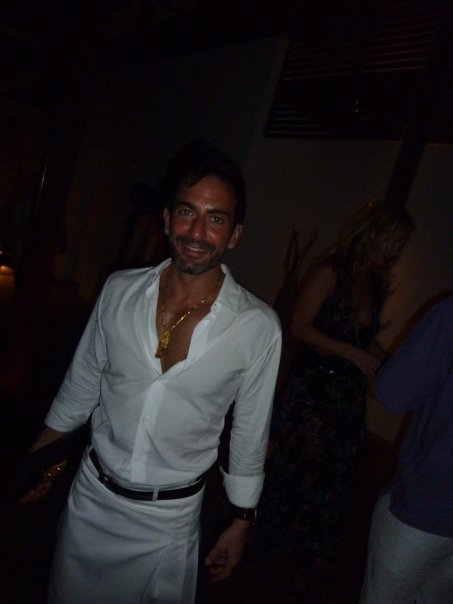 Nuptial rumors have been swirling around the lovestruck couple since they started dating. In 2008 there were conflicting reports that they married in France. Then came word that the pair got hitched in Provincetown, Massachusetts (where gay marriage is legal) this past August, which Jacobs confirmed with Elle, telling the magazine: "'I am so grateful and happy to share my life and for him to share his life with me, and we do really get on so well, and we do care about each other so much....I don't know...it seems like a really incredible relationship, so perfect. And so balanced.'"