Marc Jacobs stripped down to be the face and body of his new men's fragrance Bang, WWD reports. In the print ad, the designer lies naked on a silver Mylar bed, with a strategically-placed, over-sized bottle of the scent, revealing his muscles and multiple tattoos.
"Once I agreed to be the model, I couldn't see what I would wear to express this. We tried it with clothes, but it didn't work. Then Juergen [Teller, who shot the campaign] had the idea for the silver Mylar, and it all came together," Jacobs said.
Posing nude was Robert Duffy's idea (surprise, surprise!) but not all markets will see the full version of the ad. The "Midwestern" image is cropped at the shoulders and the Middle East ad is just a picture of the bottle.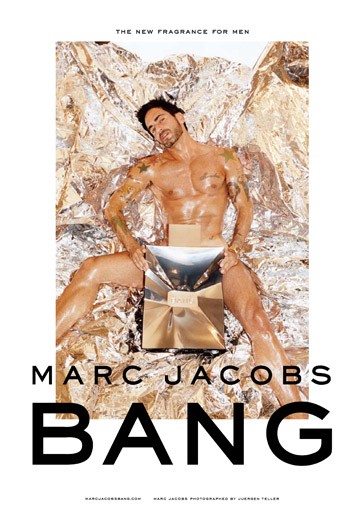 Related