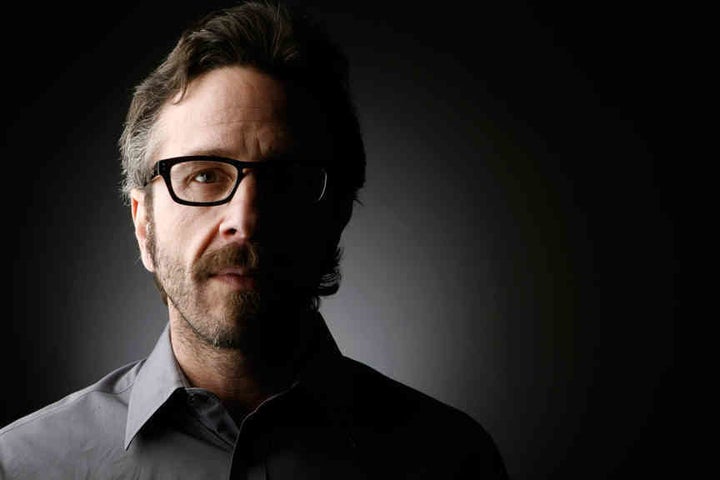 In the days that followed September 11th, one of the many questions that seemed to be on most New Yorkers minds was, when will things get back to normal? When will we feel normal again? Will we ever feel the same about our city, our country, our world? Or will the emptiness of what we lost that day always be somewhat perceptible?
Another more specific question seemed to immediately follow on the heels of those: When is it ok to laugh again? Huffington Post writer Brad Hill wrote a lovely piece about attending David Letterman's return to "Late Show." While not a night of laughter, the sight of Dave at his desk, speaking with such palpable emotion about his city and feelings of loss, might have been the most striking argument for going through the motions anyone had ever made. No, Dave couldn't be funny that night, but he could occupy the space where his comedic voice lived, and wait for its return.
While Letterman returned to his national network stage, comedians all over New York City were returning to their stages as well. In comedy clubs, bars, cabarets. And, as if by some unspoken mutual agreement, comedy audiences began to do the same.
I was a 26-year-old comedy fan who frequented the Comic Strip (I lived around the corner) and had just discovered the "alternative" comedy scene with its Demetri Martins, Todd Barrys and "oh my god, that guy who did the voice of the son on Dr. Katz," (H. Jon Benjamin). In one week, I had seen Jim Gaffigan do a drop-in spot at Carolines and a 20-minute set at an alternative show at the Public Theater called Moonwork (which remains to this day my favorite show in the city). I didn't know then that a few years later, I would change my life completely and pursue a career in -- or at least around -- comedy. But I did know that a new world was beginning to open up to me.
And then, for a moment, it seemed to close completely.
It's been said before but it bears repeating, September 11, 2001 was a goddamn gorgeous day. I walked to work. A few hours later, I walked home... along with four of my coworkers who lived in the outer boroughs. We had a sleepover, we watched the news, we cried, we got a pizza from the slice shop that I would later frequent after stumbling home from comedy shows, and we drank everything in the house.
The next day some of us went to work. Two days later most of us went to work.
Like David Letterman, Jon Stewart and thousands of comedians you've never heard of, Marc Maron also had a job to get back to. He was a working comic. His job was to go out every night and perform at clubs all over the city. But how do you perform for an audience that's either not there, or not sure it should be?
That question is what brings us to a new documentary whose release coincides with the 10th anniversary of 9/11. The 18-minute film, "The Voice Of Something," follows Maron as he travels from his home in Queens into Manhattan to perform comedy on September 19, 2001. The director is Jodi Lennon, a veteran of Chicago's Second City, former cast member of the brilliant and unsung sketch show "Exit 57," and Maron's neighbor at the time.
"I had been doing other documentaries, following people through their creative process: artists, chefs, musicians, comedians," Lennon told me over the phone. "When this happened in September, I had already been talking to Marc about shooting him anyway, and I knew he was going back to doing standup, so I said, 'Why don't I follow you for a day?'"
Following a comedian as they work out new material is one thing, but following them as they work out the whole concept of being a comedian in an unfunny time is quite another. As Lennon put it, "I think everyone was wondering how to handle it comedically. I'm not a standup, I'm an improvisor and filmmaker. But Marc was a working standup at the time, that's how he was paying his rent. So in his position it was a matter of figuring out how to get back to work."
In the documentary, Maron performs at the famed Comedy Cellar in the West Village. When I asked what that night was like, Lennon explained that the audience itself seemed to be working out their role as well.
"The audience was sparse, it was about half full. And it was an odd mix of tourists -- I think some people were doing their duty, putting money back into the city -- and then there was a local crowd."
Maron is known for his scathing political commentary and dark wit. When I asked how his set went over that night, Lennon said, "The material he was doing was received in a way that was different from the standard jokes. He's a political comedian and people were looking to him to have strong voice."
As she explained, it sparked a memory of my own. I spent an evening at the Comic Strip around the exact same time. Comic after comic went up and avoided anything topical, other than earnestly thanking the audience for being there. The small crowd received everyone well, but there were no huge laughs. We weren't ready. Until, however, one comedian took the stage and sheepishly asked if we minded if he tried a few jokes he had written about the last week. Our response was immediate, "Yes! Please!" I don't think any of us in that room knew that we needed the catharsis of laughing about what we'd gone through that week until that moment. The comic did his jokes and they were pretty good. We loved him for it.
I asked Lennon what surprised her most about her day of shooting with Maron, and she described the car ride in from Queens to Manhattan: "We were in Astoria for the day, and then we got in a car and went to the Comedy Cellar. And I realized, you can be in your home and feel a sense of normalcy. But the second we got in the car and went over the Queensboro Bridge, drove down the FDR and saw the police presence... it was just so odd."
After shooting with Maron for the day, Lennon applied for a grant to edit and complete the film, which she didn't get. So the footage sat and waited. Flash forward ten years and here we are at an auspicious anniversary, and Maron's career is at apex of his own making. His WTF Podcast is among the most popular on iTunes, his live shows sell out wherever they go, and everything he's accomplished has been on his terms.
"I didn't want to look at the footage before this. But Marc's voice is so strong now, I wanted to see how it compared. And I think we all have a stronger sense of what it was like ten years ago."
Back then, it felt like the entire city gave itself that one week to not be normal. After that, we faked normal. David Letterman returned. "The Daily Show" returned. On the street in midtown, a truck honked at a cab, the cabbie yelled, "Fuck you, buddy," and someone -- I didn't see who -- said, "We're back."
And everyone who heard it laughed.
"The Voice Of Something" will be screening in New York City several times over the next month. For a complete schedule go here. You can check out the trailer below.
REAL LIFE. REAL NEWS. REAL VOICES.
Help us tell more of the stories that matter from voices that too often remain unheard.