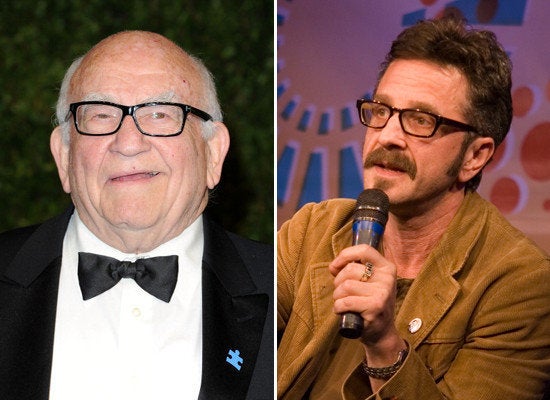 On Monday's episode of "WTF with Marc Maron," host Marc Maron announced that he had recently shot a pilot for a TV show based on his life as a comedian who hosts a popular podcast out of his garage. The pilot, which was cofinanced by an unnamed studio and production company, casts veteran actor Ed Asner as Maron's father.
"There has been a shift in the way show business operates," Maron said, noting the irony that he had spent decades slaving away in entertainment before reaching his current peak popularity with a homegrown podcast. "I was bordering on obscure."
Maron then revealed that he had pitched and filmed a TV show based on his current life, focusing on comedy stars chatting with Maron in his garage for his podcast.
"Would Ben Stiller have come to my garage ten years ago? Would Conan O'Brien have been sitting here amidst my mess ten years ago, or even five years ago? Absolutely not," Maron said, referring to previous podcast guests.
Maron, whose previous credits include stints at Air America and a record 44 appearances on "Late Night with Conan O'Brien," is currently experiencing a career resurgence thanks to his podcast. His show, whose guests have included comedians as varied as Garry Shandling, Dane Cook and Gallagher, has provided the Jersey-born comedian an unfiltered platform.
In addition to Asner as Maron's father, the mini-pilot features Ken Jeong ("The Hangover," "Community") playing himself as a guest on Maron's podcast, Matt Jones ("Breaking Bad"), Seth Morris ("Funny or Die"), Erin Daniels ("The L Word"), as well as comedy favorites Angela Trimbur, W. Kamau Bell and Sean Patton. The episode was directed by Luke Matheny, who won the 2011 Academy Award for Best Short Film (and received almost as much attention at the ceremony for his hairstyle and enthusiasm). Maron cowrote the episode with writer Duncan Birmingham.
Maron confirmed that the mini-pilot was shot in his house last week, but provided no additional details about its distribution, other than that the episode is intended as a presentation for television networks. "It's not something you're going to see, it's something we hope TV stations will be interested in." Any further details will likely be announced through Maron's podcast.