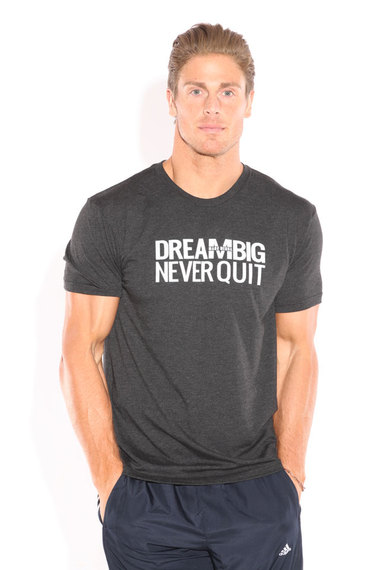 Maybe you don't believe you can achieve massive dreams in your life. Maybe you are the chunky kid living in a housing project in the industrial city of Fall River, MA being raised by a single mom who busts her ass to provide a place you can call home, warm meals, and enough love to make up for a dad who rarely visits. Maybe the odds of doing something amazing with your life seem impossible. Maybe. Or just maybe, there's a way to achieve every massive goal you have ever dreamed for yourself. Perhaps all you need to do is Dream Big and Never Give Up. This is the story of Marc Megna.
He's six feet tall, chiseled, with piercing blue eyes and long blond hair, making it hard to believe that he was the chubby, insecure kid growing up in the blue collar city of Fall River, MA. At seven years old his passion was watching sports movies and documentaries about athletes. But, it was more than just watching them. He studied them. He obsessed about them. He wanted to be them. He loved sports, but was anything but a good athlete. He was heavier than the other kids, slower too. He knew he wasn't good. At eight years old, after expressing his frustrations, his grandfather brought him to The Fall River Boys Club, and this was where his journey really started. He started working out, losing weight, and getting lighter, faster, and confident. The trajectory of his life was about to change. Not only did Marc go on to become a star athlete in high school, his skill and determination got him a college scholarship to University of Richmond and a career as a professional football player with the New England Patriots, New York Jets, and Cincinnati Bengals. He went on to be endorsed by massive fitness brands like Muscletech and he's graced the cover of all the big fitness magazines including Muscle and Fitness, Maximum Fitness, and Muscle and Body, and today is a contributing writer in the fitness world. He's also one of the remarkable entrepreneurs behind a one of a kind performance fitness center in Miami called Anatomy at 1220.
He is Marc Megna, the self-made, body builder, pro-football player, writer, model, entrepreneur, motivational speaker, trainer, and coach. Here are his 5 secrets to winning everything you want out of life.
Outwork: Marc said that what he learned from watching endless sports documentaries and from his own weight loss journey at a young age is that it is impossible for anyone to be better than you at something when you are so passionate that you will outwork everyone else. The theme that is prominent throughout Marc's entire life is that he has no problem putting a massive amount of hours and effort into achieving whatever he's after. Growing up was no different. If his coach told him to do 10 sprints as part of his workout, he'd do 30. If his coach told him to work out three days a week for an hour, Marc would work out seven days a week for two. Marc says that if you want to be unbeatable in your career or on the field, then your preparation has to be unbeatable too. Put in your 10,000 hours of practice, and there's a good chance you will win, because you will have eliminated most of your competition at the 1000 hour mark.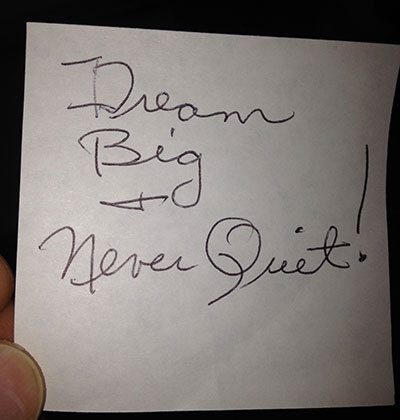 Dream Big + Never Quit: Marc's hero is his mom. He said that he wouldn't be where he is today but for her unconditional love and support throughout his life. He got into University of Richmond on a football scholarship while most of the other students at the school got in on their academic merits. He got a 1.6 GPA his first semester and he was now playing on a football field with really good athletes. He recalled the night that he called his mom to tell her that he couldn't compete with the other students on and off the field and he wanted to come home. His mom said, "If you come home, I will love you and we will never talk about it again, but you will regret it for the rest of your life." Two days later his mom sent him a letter encouraging him to stick with it. There was a Post-It-Note on the letter which said, "Dream Big + Never Quit." Marc carried that note around and used it as his inspiration to go from being a 219 pound 3rd string linebacker to a starting defensive tackle and two time All American. From there he got drafted to the New York Jets which was the start of his 9 season professional football career.
Eliminate Their Risk: Upon the sunset of his professional football career, Marc was now totally hooked on fitness. He started taking classes on everything there was to know about fitness, anatomy, and nutrition. This would be the start of his career as a trainer and entrepreneur in the fitness world. Marc recalled taking on his first clients and his value proposition was simple, "I'll train you for free until you think I'm worth the money." Before long Marc's training sessions were starting at 5:30 am and he wasn't leaving the gym until 10:30 pm and every client was happily paying him his fee. Marc said that sometimes, when you are just starting out, you are asking people to take a risk by using you. He said that the best way he could think of to get people to take a chance on him was to take away all the risk. If he didn't perform, he wouldn't get paid. He used that value proposition to build a massive client list and once he did he never had to offer free services again because his business snowballed from client referrals.
Be Patient - Greatness Takes Time: Today Marc and his partner, Chris Paciello own an elite fitness club in Miami called Anatomy at 1220. Referring to Anatomy at 1220 as a gym is like referring to a Ferrari as just a car. Anatomy offers cutting edge training equipment as well as massage therapy, cold therapy, and IV therapy. It is 14,000 square feet of artistic beauty, contemporary lighting, and artwork and motivational mantras gracing the black and taupe walls. It feels more like a spa than a fitness club and when you work out at Anatomy at 1220, you feel exclusive. This is just the first of many performance centers that Marc and Chris plan on opening around the country. Marc says that his number one piece of advice for entrepreneurs is to be patient and invest the time needed to be great. Marc noted that Mark Zuckerberg didn't create Facebook overnight, he invested years of his life developing code from his room. As well, Richard Branson didn't magically accumulate wealth overnight. There's a backstory to every entrepreneur who has amassed success. Marc says that the entrepreneurs whom we all want to emulate have invested a lifetime of work into their craft. Marc laughs when people refer to Anatomy at 1220 as an overnight success because he knows that it took him 20 years of hard work, studying, and life practice to become the entrepreneur who could successfully launch a one of a kind fitness empire.
Pay Attention: I asked Marc if he has any mentors who have shaped his life or career. He explained that he hasn't had mentors in the traditional sense. Instead, he has become really good at paying attention to people. Marc says that one person who he has paid close attention to is his good friend, a serial entrepreneur by the name of Randy Frankel. He says Randy is by far the best business person he has ever met and so Marc simply observes how Randy evaluates business decisions, creates business plans, and changes course when needed. Throughout the years Marc says that he's had so many people that influenced his life including his brother, his wife, Coach Ried at UofR, Joe Cullen at UofR, and others. Not only have they offered him priceless advice, but more importantly, Marc has learned about hard work, inspiring others, and building teams, by simply observing these people who have made a difference in his life. Marc notes that you can learn a considerable amount about business and life by paying attention to people you admire including customers, co-workers, competitors, and anyone you spend time with. Marc's dad died at the young age of 49, the same age at which his dad's dad passed away. Marc notes that in paying attention to their lifestyles, it caused him to create his own on a foundation of fitness and healthy eating. Marc says that life is busy and it's really hard to pay attention when there are so many simultaneous distractions, but if you can step back and analyze how people interact and make decisions, you can build your life and business by combining your own wisdom and theirs.
So, maybe the odds are against you in life. Get over it. The odds are against everyone. Take a page out of Marc Megna's book, DREAM BIG + NEVER GIVE UP.
Calling all HuffPost superfans!
Sign up for membership to become a founding member and help shape HuffPost's next chapter