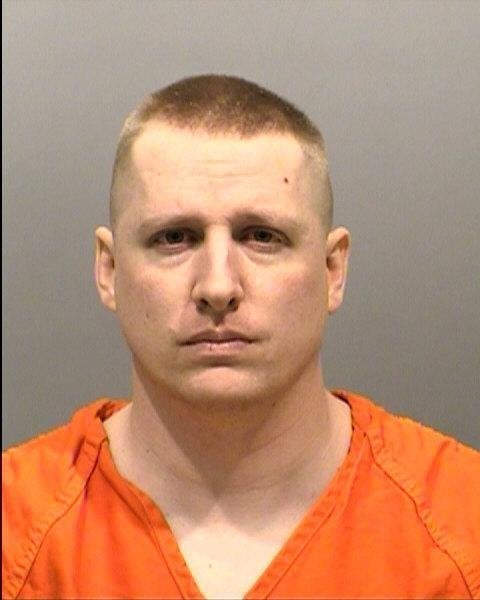 An alleged serial rapist being held in Jefferson County Jail is facing additional charges in the 2008 Washington rape of a 63-year-old woman.
On Tuesday, prosecutors filed charges accusing Marc Patrick O'Leary, 33, of breaking into the woman's apartment and sexually assaulting her at knifepoint in Kirkland, Wash. O'Leary is also being charged with the 2008 rape of an 18-year-old in Snohomish County, Wash., an 18-year-old woman in Lynnwood, Wash., and has racked up 39 felony counts thus far.
SECOND UPDATE:
A judge sentenced O'Leary to over 300 years in prison this morning after apologizing to his victims and pleading guilty to 28 of his 39 counts.
It was the defendant's position that he was allowed to have sex with whoever he wanted to. He was a predator. He preyed on his victims, he stalked them. Then he kept his trophies, he kept photographs of these assaults as his trophies.
According to the Denver Post, some of O'Leary's victims addressed the courtroom this morning while O'Leary's sister covered her ears to their detailed accounts.
O'Leary spent about 45 minutes explaining to the courtroom his belief that his sexual deviancy began at age 5.
"I'm standing here because I need to be in prison," O'Leary said. "I know that probably more than anyone in this room. I've known it for awhile."
The prosecutors came to a plea deal to save O'Leary's victims the trauma of having to go through a trial and to make sure O'Leary spends the rest of his life in prison.
Judge Philip J. McNulty sentenced O'Leary to 327.5 years in prison, and is still expected to plead guilty to crimes in Washington.
7News reports that alleged serial rapist Marc O'Leary, who has been accused of sexual assaults in Aurora, Golden, Lakewood and Westminster in Colorado as well as two sex assaults in Washington state, has plead guilty to 28 counts including sexual assault, burglary, aggravated robbbery, assault, menacing with a deadly weapon and kidnapping.
O'Leary is expected to be sentenced to 16 years to life in prison.
When O'Leary was arrested in February, one day before Valentine's Day, investigators from at least four Colo. cities and the FBI found over 400 photos at O'Leary's Lakewood home that he had allegedly taken of victims in various poses including the now 21-year-old woman in Lynnwood, Wash. who had been charged with false reporting.
After the photos were found, authorities apologized to the woman and reimbursed her $500 fine.
According to interviews cited in the arrest affidavit in Snohomish County, Wash. and CBS4 News, O'Leary believed he was part of a "secret society" and that "the world is divided into alphas and bravos." Calling himself an "alpha," O'Leary allegedly said that he was entitled "to have sexual intercourse with whomever he wanted."
An arrest affidavit in Golden, Colo. describes a victim's report in which O'Leary allegedly assaulted the woman for nearly five hours after breaking into her home early one morning in January. According to the report, the woman did her best to obtain as much information with her assaulter at the time of the attack.
He expressed an interest in mathematics and talked about others believing it to be logical and code, though he found it to be chaos. The perpetrator talked about people in society wearing masks to not reveal who they really are. (Redacted) got the impression the perpetrator may have been military...He told (redacted) he spoke multiple languages and has travelled to many different countries. He did not speak any other language other than English during his contact with (redacted).
The affidavit also cited similar rape reports in Aurora, Westminster and Lakewood.
O'Leary was stationed at Joint Base Lewis-McChord in Wash. from November 2006-September 2009, according to the Seattle Times. It is believed that O'Leary then moved to Colorado.
All of the victims tied to O'Leary have claimed that he made them shower after the assaults, that he bound them with ribbon or shoelaces, wore a black mask and disposed of most of the evidence. Nonetheless O'Leary's DNA matched several confiscated items, and computer forensic analysts found the name of the Kirkland woman on O'Leary's computer.
According to prosecutors, O'Leary faces lifetime sentences if convicted and will be returned to Wash. after his sentencing is concluded in Colorado. Prosecutors in King County, Wash. have already asked that there be no bail, according to the Kirkland Reporter saying that he is extremely dangerous and uses "surprise and fear as his weapons of choice."
O'Leary pleaded not guilty to 32 counts in Jefferson County court in June, and District Judge Philip McNulty has set bond at $5 million. O'Leary's next scheduled court date is October 13.
WATCH:
Popular in the Community