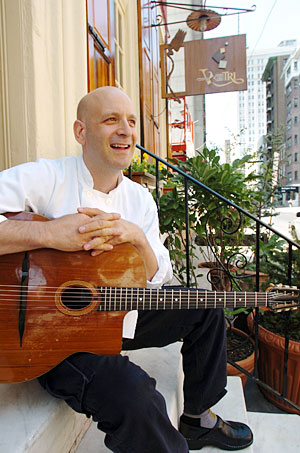 In this world of bug-chomping, mean-spirited, limelight-loving chefs, comes a new breed of nice, clean-shaven, family guys with no tattoos -- who actually feel good about themselves and their customers. Ben Pollinger, the Michelin-starred chef of Oceana in Manhattan is one such guy. His buddy Dan Kluger, of abckitchen, recently deemed New York's best new restaurant, is another. This new crop of chefs cook for the pleasure of their guests (and thereby themselves) and whose goal is for others to experience culinary enlightenment rather than mirror their own hype. These chefs create a kind of dining "sangha" (community) where all participants feel interconnected, whether to some intrinsic food memory, to the earth, to nature, or to other sentient beings. And while I'm certain there are many who fit this description, cooking under the radar in kitchens all across America, by chance I met the kindest, gentlest chef of all.
Just last week, at a small press dinner in New York entitled "Sounds Good, Tastes Good," I met Marc Vetri from the city of brotherly love, Philadelphia. Vetri is the real deal: a philanthropic, guitar-playing, accomplished, brilliantly modest chef who owns three restaurants, has two cookbooks, runs a million dollar foundation, and by happenstance embodies the "six perfections" that a Bodhisattva must generate -- hence the title of this piece. These are: generosity, ethics, patience, effort, concentration and wisdom. Never mind that Marc met his wife at a yoga class (he summoned the nerve to talk to her after one year) and has been known to meditate, but his divining attributes shown brightly through the food that night. We ate the intangibles that separate one guy's food from another's. More soul, than craft. More you, than me. Food Network TV producer and host, Marc Summers, a Philadelphia neighbor, who often has holiday meals at Marc's home, says, "Vetri is the sweetest, most generous soul I've ever met. I love the guy. And while you couldn't pay me to eat a liver, I love his rigatoni with chicken livers. I wanted to dive in the bowl and swim around."
Marc's three Philadelphia ventures -- Vetri Ristorante, Osteria and Amis -- are considered among the best Italian restaurants in America. A new place, called Alla Spina, is on its way. Mario Batali has called Marc the "best Italian chef in the country." (Big praise from the buddha himself.) Dana Cowin, editor of Food & Wine Magazine, has said when it comes to Marc's hospitality and philosophy, "It's all about the cooks and the cooking. No pretension, just genius food." James Beard award-winning Vetri, whose grandmother is Sicilian, trained in Bergamo, Italy and himself has trained several chefs who went on to win their own Beard awards. He treats his restaurant family and home family with equal compassion.
Last week's dinner was a fabulous throw-back to experiences of another generation. Hors d'oeuvres (homemade fennel salami and artichoke mostarda, gutsy caponata, and even gustier bread), were served "family style" as guests meandered with a glass of wine getting to know each other. The seated dinner was served around one long, farm table that sat 24 generously, in a West Village dining spot owned by The Little Owl group. The meal was one of the most authentically Italian imaginable -- both rustic and perfect. Ethereal tuna-ricotta fritters, lusty meatballs, the aforementioned pasta with chicken livers, and the best "plin" -- a stuffed pasta from Piedmont -- I've had. The roasted lamb shoulder tasted like it came from a salt marsh, the fish braised in olive oil was an exercise in radical simplicity (my mantra), and dessert -- an olive oil cake with amaretti semifreddo and chocolate sauce -- was a crowd-pleaser. Thankfully, all of the recipes can be found in Marc's new book, Rustic Italian Food from Ten Speed Press which is hot off the press this month. But the real dessert was the music that followed. Singer/song-writer Phil Roy sang his heart out while Vetri played "sous-guitarist" to his good sounds.
But perhaps it is Marc's charitable efforts that affords him the Bodhisattva award. Just this past summer, Marc gathered some of the country's best chefs to come to Philadelphia to raise $800,000 for Alex's Lemonade Stand (for children's cancer research.) In 2009, he founded the Vetri Foundation for Children, whose mission is to "support the development of healthy living habits for underserved youth." The foundation recently launched the "Eatiquette" program whose destiny is to have every school in America serving a fresh, family-style lunch. A kind of eating "sangha" (community) for kids. You see, for Marc, it's never just about the food. It's about the people who eat it.
--Rozanne Gold, award-winning chef and author of "Eat Fresh Food: Awesome Recipes for Teen Chefs"; "Healthy 1-2-3," and "Radically Simple."

Rozanne can be found on Facebook at www.facebook.com/RozanneGold.
Calling all HuffPost superfans!
Sign up for membership to become a founding member and help shape HuffPost's next chapter