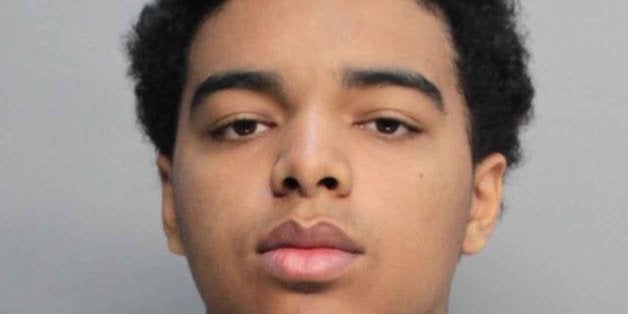 MIAMI, May 27 (Reuters) - The 15-year-old son of the Canadian consul general in Miami who faces murder charges from a botched drug deal appeared in state court on Wednesday seeking to be released on bond.
Marc Wabafiyebazu has pleaded not guilty and is being held in jail awaiting trial as an adult.
The teenager was arrested on March 30 after he and his brother went to a Miami-area home to buy an estimated $5,000 worth of marijuana, according to police reports.
A shootout ensued that led to deaths of his older brother, Jean, as well as suspected drug dealer Joshua Wright. Both were 17.
A Florida grand jury in April charged the younger Wabafiyebazu with murder and armed robbery charges. Under Florida law, anyone who participates in a violent felony in which someone dies can be charged with murder.
Lawyers for Wabafiyebazu say he sat in the car weaponless as his older brother entered the apartment, adding that a video exonerates him and shows he tried to call for help after the shooting.
At least one other suspected drug dealer was wounded in the incident and it remains unclear who fired the fatal shots.
Wabafiyebazu's lawyers have disputed the admissibility of a statement police say he made threatening to kill an officer and admitting he and his brother went to the house to steal the drugs.
Wabafiyebazu was left in an interrogation room, handcuffed to a chair for about seven hours before detectives told him of the death of his older brother, the court heard.
"He began to yell at me, to scream at me," said Miami police detective Rolando Garcia. "He said he was going to kill me, was going to blow my head off."
Garcia said "Marc told me it was a job gone bad, that his brother was smart and took two guns to the scene."
Prosecutors seeking to keep Wabafiyebazu behind bars said on Wednesday gunshot residue was found on his hand after the shooting.
Wabafiyebazu's attorney, Michael Corey, said he fired the handgun to get the police's attention.
The Wabafiyebazu brothers had recently moved to Miami with their mother, Roxanne Dubé, Canada's consul general. A veteran diplomat, she worked with the Canadian Parliament and also served as ambassador to Zimbabwe.
Wabafiyebazu hopes to persuade the judge he is not a flight risk and that the prosecution's case lacks evidence to prove his guilt.
The bond hearing is set to continue Friday. (Writing by David Adams; Editing by Doina Chiacu and Sandra Maler)
Calling all HuffPost superfans!
Sign up for membership to become a founding member and help shape HuffPost's next chapter