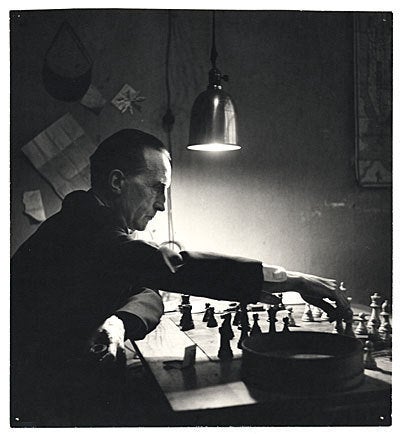 In honor of Marcel Duchamp's birthday, we are revisiting a post originally published last year honoring the artist's life and work.
Today is the 126th anniversary of the birth of French artist and readymade master, Marcel Duchamp.
The artist was born in the upper Normandy region of France in 1887 to a family of aesthetes. His siblings all demonstrated talents in printmaking, sculpting and painting and served as the young artist's early influences. He produced his first serious sketches and watercolors at the age of 14, developing his interests in Post-Impressionist, Cubist and Fauvist styles through academic training at school at the Academie Julian, a private studio for art students in Paris.
During his year at art school, Duchamp began drawing humorous cartoons, frequently incorporating visual puns or wordplay. In 1905, he added typography to his artistic resume, a craft he learned as a result of a compulsory stint in the military, working for a printer in Rouen. Still following in his older siblings' artistic footsteps, Duchamp used his older brother Jacque's connections as a reputable professional artist to enter into the French art world and begin showing his work at salons. Soon the brother duo began hosting a regular discussion session -- known as the Puteaux Group and later Orphic Cubists -- that attracted the likes of Jean Metzinger and Juan Gris. Duchamp created his first widely-received piece in 1912, titled "Nude Descending a Staircase, No. 2." In the painting, he depicts with mechanical precision the motion of a nude figure that showed aspects of both Cubism and Futurism. He submitted the work to the Salon des Independants and was asked to voluntarily withdraw (which he refused), and he experienced further scandal upon submitting to the 1913 Armory Show in New York City. In 1912, Duchamp turned away from painting circles and began working at a library that would later be the stage for his famous art-science experiments.
At the start of WWI, Duchamp emigrated to the United States where he immediately found company and fame with art patron Katherine Dreier and artist Man Ray. The three friends started the Société Anonyme in 1920, collecting modern works and arranging exhibitions together. But it was in 1917 that Duchamp made his now famous Dada statement with his masterpiece of a urinal, "Fountain." Submitted to the non-juried show by Duchamp, though the piece may have been conceived by someone else, "Fountain" was rejected by the Society of Independent Artists, a move that eventually led to Duchamp's departure from Dada and head-first jump into "Readymades."
PHOTO GALLERY
Marcel Duchamp
Readymades were found objects that Duchamp reclaimed as works of art. They began with a project called "Bicycle Wheel" (1913), a bicycle fork and front wheel turned upside down on a wooden stool, and continued with works like his "Mona Lisa" (1919), which consisted of a cheap reproduction of the da Vinci favorite with added facial hair and an inscription of "L.H.O.O.Q" (phonetically implying, "she has a hot ass").
In the few years following, Duchamp dabbled in musical compositions, art-science experiments and kinetic studies, and continued to create visual and verbal puns. Under the pseudonym "Rrose Selavy," a pun in itself, Man Ray and Duchamp collaborated on a series of photographs of Duchamp as a woman. But after returning to France and briefly moving back to New York, Duchamp made his way back to Paris in 1923. His departure from the US marked his departure from art-making and foray into the professional chess world. He competed professionally and contributed greatly to chess theory, only working with artists and art collectors on a consultative level. In the mid-1930s, he associated with Surrealist artists like Andre Breton and Max Ernst, editing a Surrealist periodical called VVV, and in the 1950s and 1960s he became an influential figure for emerging artists like Robert Rauschenberg and Jasper Johns.
Duchamp did create one final piece of work, titled "Entant Donnes," which he worked on secretly from 1946 to 1966, while traveling back and forth between Paris and New York. He died two years after it was completed on October 2nd 1968 in France, and is buried in a grave that famously bears the epitaph "D'ailleurs, c'est toujours les autres qui meurent (Besides, it's always other people who die)."
So raise your glass to Marcel Duchamp today, on his 126th birthday! Scroll up for some images of Duchamp's paintings and readymades, and maybe you will be inspired to turn your own found objects into masterworks in celebration.
REAL LIFE. REAL NEWS. REAL VOICES.
Help us tell more of the stories that matter from voices that too often remain unheard.