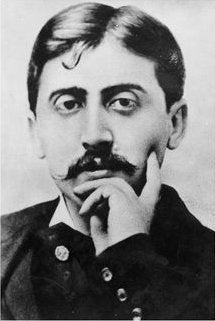 Proust considered that describing what one sees in nature is the ultimate sign of a great artist. His asthma attacks did not allow him the joy of the outdoors.
Janet Malcolm's Burdock, and its scrutiny of the 28 photographs of uncelebrated leaves, would have been a huge comfort to him. Shame and guilt are essential themes explored by Proust. He would have recognized his obsessions in The Absolutist by John Boyne, a tale of the destructive power of a painful secret.
He would have found an echo of his own taste for walking around Paris at different times of day and night in Teju Cole's New York in Open City.
Proust who depicted so precisely the contrasts between the turned in on itself provincial small town of Combray and the freedom and bewildering confusion of Paris, would have been fascinated by Colm Tóibín's Brooklyn, the story of a young Irish immigrant as well as by the exquisitely cruel portrayal of English high society written in a crisp, witty style by Edward St. Aubyn in the Melrose Novels.
Operation Shylock, which is all about a narrator and his double, deals with the relation between the life of the writer and his art.
Would Proust have believed the novel was a confession as Philip Roth claimed in a NY Times interview? I am not sure but he would have been mightily interested in the question. And he would have been moved by Daniel Mendelsohn's The Elusive Embrace, an essay weaving together family and personal history, readings of classical texts, and a meditation on gay culture and Jewish heritage.
And finally, I would suggest that he read Why the Dreyfus Affair Matters by Louis Begley, not because Louis is my husband but because Proust loved having all the facts right and I think he would have been immensely gratified to see that his interpretation of the social importance of the affair was admired and accepted by future generations.