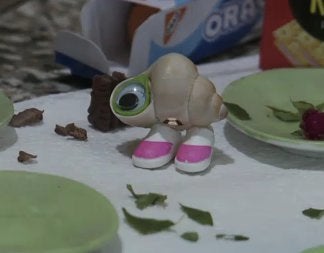 Once just a shell with just a lentil for a hat and a Dorito for a hangglider, Marcel is now the proud owner of a new book and a television development contract. Not too shabby for a tiny animated creature who skis on a man's toenail.
Brought to life in a stop motion animated YouTube video made by Dean Fleischer-Camp and former "SNL" actress Jenny Slate, who gave him his squeaky, lovable voice, Marcel has been watched nearly 12 million viewers. The national attention earned Slate and Fleischer-Camp a deal for a series of children's books, with the first title slated for release on November 1st. Jezebel interviewed the two creators about the book, and buried in the conversation was a very notable piece of news.
"There's definitely more Marcel coming and yes, we are in the development process of a TV show," Slate said. "The future's open for him. I think we'll do as much with him as we can until either he changes for us or there isn't anything more to say. But for now, there's so much more to say. There's so much more about Marcel that we haven't even told you yet. I don't even know if I can say it! Marcel has some pretty amazing talents that he's really proud of and there will be a lot more."
What adventures could a show bring? Will Marcel leave his gentle home? Will he venture to the sea to find fellow shells? Get a dog? Time will only tell. To read the rest of the interview, as well as excerpts from the book, click over to Jezebel.
Popular in the Community